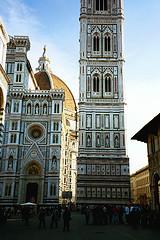 Image by ChrisYunker via Flickr
Are you currently interested to learn Italian language in a foreign country? If you want to be fluent with Italian language, regardless of the various learning methods we are familiar to avail nowadays, language learning abroad is still and will always be the most outstanding way people still prefer.
Speaking of language learning abroad, where else would you want to go for Italian learning but to the place where it is widely being spoken? Italy is one romantic and beautiful place to learn Italian not just because it is the country's native language but because the place in itself is a good place to nurture a beautiful idiom such as this.
Italy is one of the top five economies in the world and the country undeniably boast that both English and Italian businessmen are roaming around the country. It was estimated that there are approximately 7,500 American companies established in Italy with more than 1,000 U.S. firms situated. It is not even surprising that that this nation ranks to be the seventh largest global market for the British exports. That's why progressive their economy really is.
And since Italy is one progressive country, it is not surprising as well that progressive language schools are established to teach us Italian language effectively. When you subscribe into our language school's information, you will see that your stay and your learning is worth spending time and finances for.
The courses you will be taking, the lessons you daily receive from your teachers, the memories you will be spending with your friends, the practices and socializations you will be going as you practice your Italian language learning, the accommodations you will be staying, the advantages you will be availing in the language school's facilities—and more! It's really a whole lot more. The experiences you will have while staying in a foreign country will never be converted with finances.
From Rome, and Siena, to Florence, language schools in Italy are all available for you. As long as you make an inquiry, we will freely assist you.
So what are you waiting for? Enroll to any language schools in Italy and decide to travel abroad in this country for remarkable Learning Italian Language!