It's the second-to-last of The Daily Constitutional's 50 Greatest Hits Posts…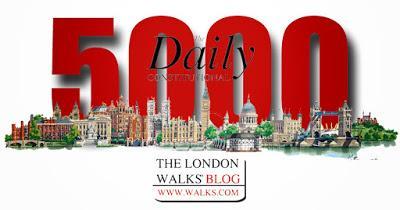 DC Editor Adam writes…


In December 2016 I posted the The Daily Constitutional's blog post number 5,000.


To mark the occasion I've been digging in the archive and over February and March 2017 I'll be reblogging The DC's "Greatest Hits" – my 50 favorite posts. 


In addition I'll be sharing my 50 favorite London photos to have appeared here since October 2008. 

I hope you enjoy them

A.S-G
London 
March 2017


This one was first posted back in 2011. Since then, Dulwich Hamlet FC has undergone something of a transformation, gates are up and the team get feature coverage in The Guardian. An energised support also gets involved in all sorts of good causes. It's been a while since I've visited Champion Hill (being, these days, a South Londoner trapped in a North Londoners body) but it remains my favorite football place in London. This post was originally published as part of the It's A London Thing series…

The name sounds like some final resting-place of the gods: Champion Hill. Sadly, the only business the gods would have in this corner of South East London these days would be stocking up on Sainsbury's own-brand ambrosia: a supermarket now dominates the location where 20,000 souls once crammed themselves in to watch Dulwich Hamlet play football in the Isthmian League.
The name of the approach road to the now more compact football stadium – Edgar Kail Way – commemorates Dulwich Hamlet's contribution to Football's own pantheon. Edgar Kail won three caps in 1929 as the last amateur to have played for England and scored 427 goals for Dulwich between 1919 and 1933 – fifty-three of his strikes in the Isthmian League Championship-winning season of 1925/26. In this, The Hamlet join illustrious Londoners such as Arsenal in making a lasting contribution to the municipal landscape – Gillespie Road tube station on the Piccadilly Line was renamed after the Arsenal football team in the 1930s…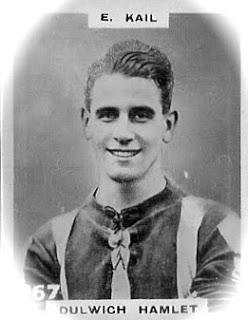 Kail was born in the Lordship Lane area in 1900, and lived in nearby Tintagel Crescent. He graced the pink and blue quartered strip – a livery redolent of the Edwardian era – in the early part of the 20th Century, and was the star of the 113-year-old club's golden age. Although coveted by many professional clubs, Kail could not be tempted to turn his back on his beloved Hamlet.
In 2003 when Southwark council polled its burghers for Peoples' Plaque nominations – a version of the Blue Plaques commemorating important sites and people from London's history – Kail's enduring legend was affirmed when he was honoured among such luminaries as Sam Wannamaker, Isambard Kingdom Brunel and Charles Babbage.
To acolytes of Chelsea and Arsenal, such bald nostalgia will sound like the alliteration-fuelled outpourings of Word 'Smitty' Smith, the nonagenarian sportswriter protagonist of Philip Roth's The Great American Novel. But while the standard of football may be at best erratic down Hamlet way, at least the essence of Saturday afternoons gone by, free from corporate marketing and obtrusive tannoyed music, can still be found at Champion Hill.
The area takes its name not from glorious deeds on the football field, but from Philip Champion de Crespigny who had an estate here in the 18th Century. The name could be seen as something of a millstone to a team who plies its trade some six leagues below the millionaire's playground that is the Premiership. At time of writing, Dulwich Hamlet lie more than 100 places below exiled south east London neighbours (the formerly Woolwich) Arsenal in the English football pyramid. Further obscurity for both the area and the team came in the 1960s when Champion Hill station was re-christened East Dulwich.
In 987, Edgar the Peaceful (as opposed to Edgar the Goalscorer) granted Dilwihs (meaning 'meadow where the dill grows') to a favoured thane. For Hamlet supporters, the glory days may feel almost as remote as that act of largesse. But Hamlet remain the best supported team in the Isthmian League – a league in which devotion can be tough going when considering the remoteness of glory and prestige.
The new, modest Champion Hill stadium lies but five stops from London Bridge. Glory is a rare bird in this neck of the woods: but the spirit of Saturday afternoon is alive and well. And they will not charge you – as many London teams can – more than the price of some seats at the Royal Opera House on the gate.
Dulwich Hamlet: It's a London Thing.
A London Walk costs £10 – £8 concession. To join a London Walk, simply meet your guide at the designated tube station at the appointed time. Details of all London Walks can be found at
www.walks.com
.