TheSodaShop.us has delivered an exclusive world premier of the video for "City Nights" from Dallas, TX heavy rockers Mothership.  
Directed by Alan Fillencia for Scything Touch Productions, the video comes from the band's self-titled debut album, which is due out on February 12th on Ripple Music. Check it out atthis location.   
70's-tinged U.S. hard rock with a sound that satisfies like a steaming hot stew of UFO and Iron Maiden, blended with the southern swagger of Molly Hatchet and ZZ Top, Mothership's goal from the beginning has been to carry on the tradition of the classic rock style; updated and amped up for the modern day. Originally self-released in 2012, Mothership and Ripple Music have joined forces to re-release this stunning debut record on CD (includes lyrics) and LP (packages to include an 11" x 17" poster and download cards). 
Late last week, Ripple Music held a special online pre-sale for limited edition copies of ofMothershiponpurple splattered vinyl with signed poster. All 100 copies of the album were sold-out in less than two hours. If you weren't one of the fortunate few, it would be wise to visitwww.ripple-music.comon or around the release date to secure yourself a copy of what is destined to be one of 2013's greatest rock records.  
Mothership will be playing two Dallas-area CD release shows next month and is currently putting together a West Coast tour. Confirmed dates are as follows:
February 8th @ Curtain Club - Dallas, TX February 9th @ Lola's Saloon - Ft. Worth, TX March 8th @ Club Red/ Red Owl - Tempe, AZ March 29th @ Johnny B's - Medford, OR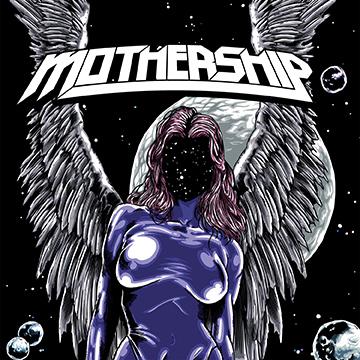 "Such a killer find, man. Can't wait to see them live!"
- Dom Lawson (Metal Hammer / Classic Rock)
"Been listening to Mothership all day now and if feels like UFO and Orange Goblin got drunk with St. Vitus, smoked some weed with Blue Cheer and spewed out the tuffest blues-drenched, no frills love child I've heard all month. Some ridiculously badass guitars. And heavy above all else!"
-- Sword of Doom
"Try to resist a band that plays blues-laden metal with heavy guitar riffs that is also hoping for intergalactic travel. Mothership is a three piece from Dallas that alternates between an almost AC/DC-like sound on a track like 'City Nights' and a broader, heavier and more epic sound on tracks like 'Cosmic Rain,' 'Angel of Death' and the opener, 'Hallucination.
'   
-- Vue Weekly.com  
Mothership Bio
Rock n' Roll history is rife with brothers working together to create their artistic vision. But rarely do we hear about a full-fledged family unit embarking down the treacherous path of a musical career. In the case of Texas based Mothership, the Brother Juett (Kyle on bass, younger brother Kelley on guitar) enlisted the aid of their father, John Juett, to help get the 'ship off the ground. Raised on a healthy dose of their father's 70's-era record collection, the brothers began crafting songs fueled on the raucous and raw good time vibe when music seemed to know no bounds. Lifting off the pad for the first time in 2010, the band began to gain momentum and notoriety with their unabashed live shows. Knowing that the service of the family patriarch was temporary, Father Juett actively helped his boys find his replacement, and in late 2011, enter the mighty Judge Smith to hammer away on the skins. In early 2012, Mothership entered Crystal Clear Studios with Wo Fat mastermind Kent Stump manning the boards and by mid-year, the band self-released their debut album. It was the combination of the 70's-era heavy rock fuzz and fury mixed with the blistering guitar solos of the NWOBHM-era that drew the bands attention to California-based Heavy Rock label, Ripple Music. In the waning months of 2012, after a successful year of traveling regionally throughout Texas and opening for national acts such as Prong, Red Fang, Gypsyhawk, Earthen Grave, and Lo-Pan, Mothership officially dubbed Ripple Music as its Home Port and began plotting a course for their first U.S. Tour in early 2013.
Kells Juett- Guitars/Vox
 Kyle Juett- Bass/Vox
Judge Smith- Drums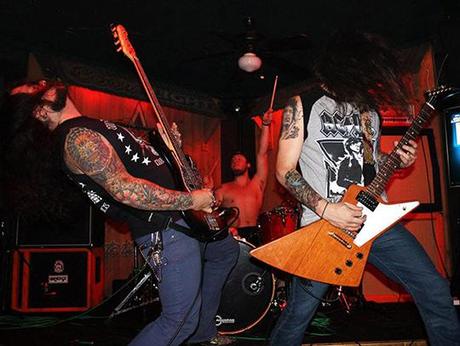 www.facebook.com/mothershipusa
www.ripple-music.com