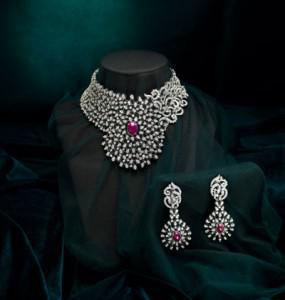 Every girl dreams and plans for her wedding day, since the day she is old enough to understand the beauty of a blissful marital life.  All the girls share the same dream – a handsome Prince Charming awaiting her at the altar; she walking down the aisle clad in a magnificent wedding gown; she and her partner saying 'I Do' and exchanging the wedding bands and the dream goes on. But like any other things in life, these major happenings are based on the little details that can either make or break a wedding. Be it the bridesmaid's attire for the ceremony or floral arrangement at the reception venue, every aspect is scrutinized closely. But of all, the most precisely inspected element during a wedding is the bridal diamond jewelry.
As a celebrity's attire and accessories are being watched closely, either in a positive manner or to be criticized, similarly a bride's diamond jewelry catch the eyes of all present, to either accentuate her beauty and bring her into limelight on her wedding day or to be the limelight in itself. Therefore, it is very essential to carefully select the bridal diamond jewelry.
Fascinating Diamonds brings a few questions to help you ensure whether the diamond jewelry selected for the bride will be ideal for her on the wedding day:
Does the bridal diamond jewelry complement the bride in every aspect, without engulfing the bride in its brilliance? To adorn the bride with sparkling, luxurious diamond jewelry is a great idea, but be careful not to cross the limits into the realm of flamboyancy. It is her big day with her in the limelight, not her diamond jewelry.
Is the bridal diamond jewelry expensive enough to leave you bankrupt for months? Though weddings are meant to be an expensive affair, but it should never drain all your savings dry that you are left paying off your debts for several months even after the wedding. It is always advised to set a budget for bridal diamond jewelry and limit your shopping within the limits.
Yet another important question to answer, Does the bride's diamond jewelry match with the theme of the wedding? Though platinum and silver encrusted diamond jewelry vibe well with any theme and décor of the wedding, but yellow or rose gold diamond jewelry may clash with the wedding theme's décor. Always plan and decide on the bride's diamond jewelry accordingly before heading for the actual purchase.
So all the brides-to-be, plan wisely, purchase carefully and look like a damsel with your diamond jewelry on your big day. Have a fun filled wedding!