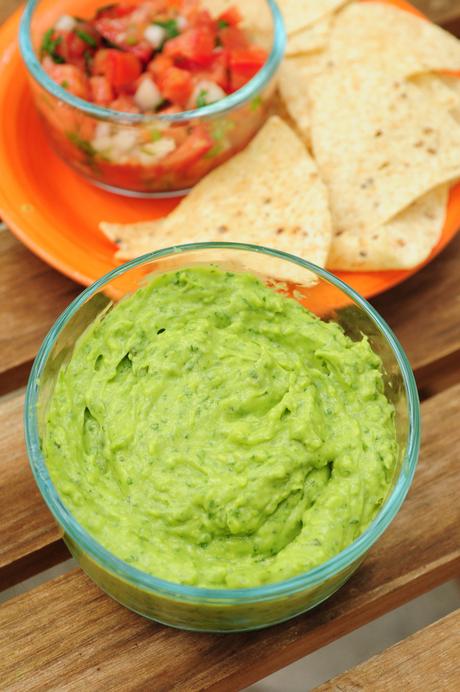 Summertime is perfect for enjoying cookout foods at your outdoor BBQ, on a picnic, or just lounging on your deck at home! One of my favorite summertime foods are different, unique, and healthy versions of "chips and dip." While the traditional "chips and dip" can run you over 500 calories per serving, my made-over guacamole is insanely rich and creamy and you can enjoy 1/3 of a cup for under 100 calories! Add to that one serving of healthier chips that are organic, high in fiber, and all natural and you end up with a perfect summertime snack for about 200 calories.
My secret ingredients in this guacamole are edamame and Greek Yogurt. An added bonus: This version packs about half the calories and three times the protein as regular guac!
The Ingredients
2 cups shelled edamame beans
1/4 cup Organic NonFat Greek Yogurt
2 Tbsp lime juice
3 garlic cloves, minced
1/4 cup red onion, diced
1/2 cup fresh cilantro
1/2 jalapeño pepper, minced (optional)
2 Tbsp green onions, minced
1/2 tsp salt (more to taste)
1/4 tsp freshly ground black pepper (more to taste if needed)
1 Tbsp olive oil
Serve with healthy, organic, chips (about 100-120 calories per serving) - I used Late July
The Directions
Step 1: Place edamame in the bowl of a food processor and process to a paste, stopping to scrape down the sides as necessary. This should take less than a minute.
Step 2: Add yogurt, lime juice, garlic, red onion, cilantro, jalapeño, green onions, salt, pepper and olive oil to the food processor. Process to combine. Add more salt and pepper if needed, to taste. Serve immediately.
Ingredients
Directions