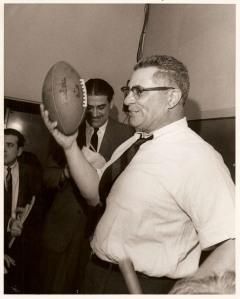 "Gentleman, this is a football. . ."
Back in the days of the late, great coach Vince Lombardi, the Green Bay Packers had a most interesting beginning to pre-season training. All the players knew that at the first team meeting, the legendary coach would waste no time getting straight to the point. Many of the men, half Lombardi's age and twice his size, were openly fearful, dreading the encounter. The coach did not disappoint them, and, in fact, delivered his message in one of the great one-liners of all time. Football in hand, Lombardi walked to the front of the room, took several seconds to look over the assemblage in silence, held out the pigskin in front of him, and said, "Gentlemen, this is a football." In only five words, Lombardi communicated his point: We're going to start with the basics and make sure we're executing all the fundamentals.(source)
I have thought a lot about this and I want to share with you a bit about my journey in working out.
Being a former military guy and when I was single, I had access to three incredible resources: lots of cash (well, as much as a E-5 could make), a state of the art military gym, and GNC.
I would buy truckloads of supplements (I should have owned stock in GNC at the time due to all the business I gave them), buy or read the latest workout programs to escape my evil genetics and the curse of being skinny-fat, and work out like a madman (German Volume Training anyone?).
Now mind you, I blew up from a scrawny 130 lbs to 160 lbs.  I received many compliments on how my body had changed and I had to deal with the problem of tight clothes and rubbing thighs when I walked (I kid you not).
A Funny Thing Happened On The Way To Marriage
Then I got married to my beautiful bride and I did my best to still keep my size yet my Sweetie was concerned that I was getting too big.  So I slacked off.  The slack off went from months to years until I found myself back to my 130 build and looking like the Crypt Keeper.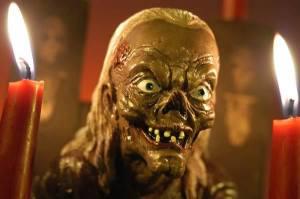 The result of not working out can be ugly. - Copyright 2011 Photobucket
The Journey Back Home
A month ago, I got back into natural health and working out again.  I became consistent by using the Marble technique (I may expound on this in a future post).   I was feeling more energy and getting physically active.
Then one day I came across Jason Ferruggia's site and downloaded his Mass Building Sins PDF.
Everything changed then.
Keeping The Main Thing The Main Thing
From Jason, I learned the importance of compound exercises and how compound exercises are the way to unlocking muscle growth.
I didn't believe it.
So I searched over Jason's site and found an article (rated PG-13) where he talked heart to heart to someone who wanted to gain weight.  Jason shared with him the importance of compound exercises and how this would lead to Hulk-like results.
I had finished my workout program consistently and decided I didn't have anything to lose so I started a program Jason laid out:
Program A:
5 sets of warm-ups
3 sets x 5 reps
- Squats (Note: I modified these to Sumo Style)
- Incline Bench Press (Substitute: Incline Push Ups)
- One Arm Rows
Program B:
5 sets of warm-ups
3 sets x 5 reps
- Deadlifts (Note: I modified these to Sumo Style)
- Chin-ups (Substitute: Bodyweight Rows using the Kitchen Sink…literally)
- Miltary Press
Since being on the program, my Sweetie has noticed that my shoulders have exploded into size and my trapezius muscles are starting to pop out like the Hulk.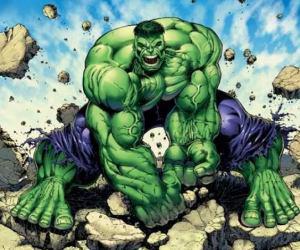 Real Hulkamania running wild! - Copyright 2011 Photobucket