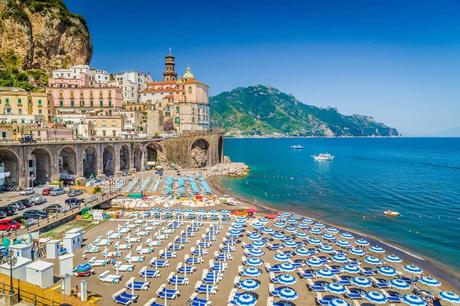 Want to walk in the footsteps of the rich and famous and chill out at the best beaches Amalfi Coast has on offer?
The rough and rugged coastline of the Amalfi Coast is thought to be one of Italy's most beautiful reagions, and rightfuly so.
What has for some time been considered as the excursion spot for the rich and famous is also a very popular beach destination for foreigners and locals alike.
However, the best Amalfi Coast beaches are not long sandy beaches.
Villas with pools are still in high demand due to the coastline's somewhat rocky and pebbled beaches; which are not always the most swimmer friendly.
Regardless of the rocky shores, Amalfi Coast still remains to be one of the most popular destinations for Italian beach holidays.
If you are in search of a beautiful place for your holiday, then Amalfi coast in Italy is best suited for you.
The Top 7 Best Amalfi Coast Beaches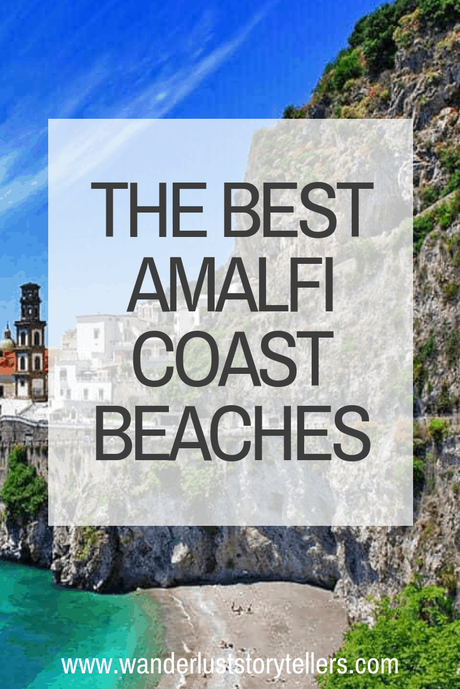 There are loads of stunning beaches to explore, but some of the more hidden, secluded and lesser-known beaches make up the best beaches Amalfi Coast has to offer!
It is because of these beaches that Amalfi Coast delivers some of the best beach holidays in Italy.
1. Castiglione di Ravello Beach
Ravello is the most well-known destination for tourists who visit the Amalfi Coast.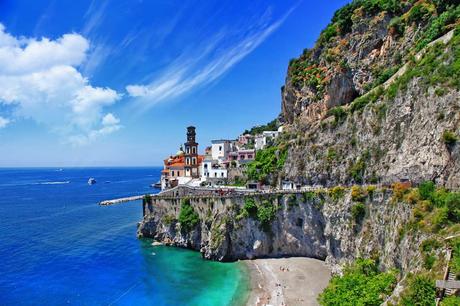 Villas here draw in individuals consistently, and there are numerous magnificent things to see and do in the town.
The shoreline is known for being truly outstanding in the locale; it is little, protected and exceptionally excellent, particularly in the morning when it gets the full force of the direct sunlight bouncing off the Mediterranean.
Not many people know about this little hidden gem and it is for this reason that Ravello beach is one of the best beaches in Amalfi Coast.
2. Gavitella Beach
This stunning beach is situated in Vettica Maggiore; another famous destination on the Amalfi Coast.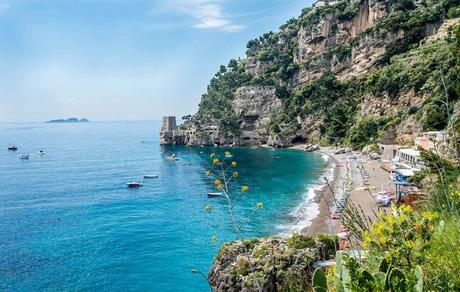 Villas to lease here are popular with guests who want to experience the joys of having a stunning beach being located so close to the town center.
The most stunning features of this beach are that it stays sunny throughout the afternoon, compared to others in the area. There is a decent eatery here, and you can lease sun loungers for the day.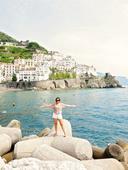 3. Lannio Beach
Lannio Beach is situated in Cetara, which is a charming small angling town.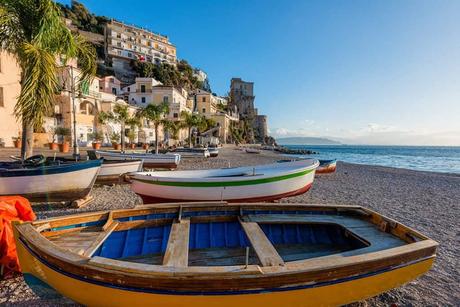 It is extremely famous with local people and vacationers, so securing a parking spot can be tricky unless you arrive early in the morning.
Be that as it may, it's not hard to spend a whole day here. Bars are scattered around the beach area, where you can purchase beverages and snacks. You can grab a detailed and comprehensive guide to Cetara here.
4. Tuoro Vecchio Beach
This is private sandy beach close to Cetara; it is very famous as there are relatively few Amalfi Coast sandy beaches in the area.
This beach can be easily accessed via car or bus, and you can also use the bar and restaurant facilities of the hotel while you are there.
5. Arienzo Beach
Whilst we do personally love the Positano beach, you will generally feel like you are competing for space in between the masses of tourists. If you wish to get away from the crowds, why not head to Arienzo Beach Positano.
This delightful beach is near Positano, one of the most picturesque and popular places to stay on the Amalfi Coast. You can walk or take a car to the beach, and the trip itself is charming as well.
The water is clear and you can lease sun loungers for the day. Some portion of the beach is free, while the other part is private.
This is one of Amalfi best beaches.
6. Tordigliano Beach
Near Positano, this is one of the biggest beaches in Amalfi Coast. It is both sandy and rocky in different degrees and, regardless of its size and magnificence, it is not swarmed or overdeveloped.
It's a bit of a hike down to the beach (and up again!), but it's well worth the effort. You can also approach it by boat.
7.Fiordo di Furore
A unique beach loved by tourists and locals alike is that of the Fiordo di Furore.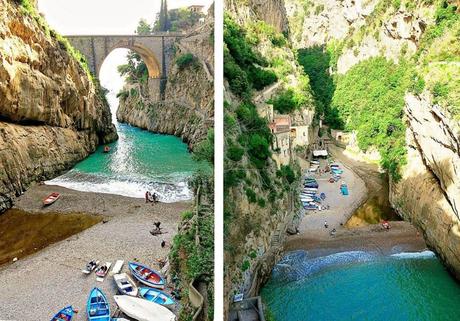 This is a rocky beach located in a gorge that cuts underneath the mountain range. It is one of the best hidden beaches Amalfi Coast has on offer and it is deservably so named as one of the Amalfi Coast best beaches.
A bridge runs across the top of the gorge, and each year there is an international diving competition where divers from all over the world unite to strut their stuff on a 28-meter drop.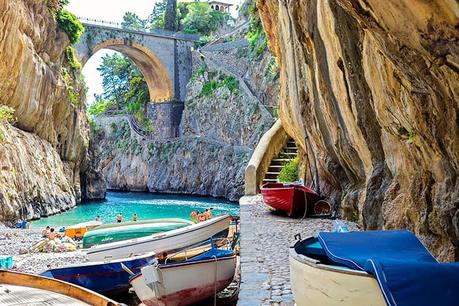 It is due to its unique look that this beach made it to the 'best beaches on Amalfi Coast' list.
To get to the Furore beach, you can hike down to it from the town (about 1 hour, mostly steps) or drive down and park along the bridge, then follow the stone steps into the gorge.
Other Best Beaches in Amalfi Coast
Here are the best beaches on the Amalfi Coast worthy of a mention:
Southern Italy beaches, including best Amalfi beaches, are some of the most beautiful in the world! From the colour of the water to the unique backdrop of the towns lying behind.
Make sure to go on a boat tour so that you can enjoy these beaches from the best vantage point ... from way out in the Mediterranean Sea.
After more Amalfi Coast Inspiration
Are you looking for more inspiration on top of all of the above information regarding the best beaches in Amalfi?
If you need more info to help you plan your Amalfi Coast trip, sign up for our Insider Amalfi Coast Travel Guide. We will send you bitesize info each day to help you make your travel planning a piece of cake!
Marina Grande Beach Positano - also known as Positano Hollywood Beach due to the fact that you might run into someone famous! This is one of the most popular and rated as the best beach Amalfi Coast by many of travellers.
Fornillo Beach Positano - Possibly the best beach in Positano itself
Atrani Beach
Marina Grande Beach Amalfi
Duoglio Beach Amalfi
Beaches in Capri - La Fontelina and Il Riccio Beach Clubs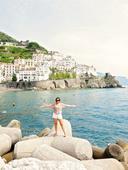 Do You Want Even More Amalfi Coast Inspiration:
Best Beaches in Positano
Where to next?
Amalfi Coast Bucketlist Experiences
Prepare yourself for your trip to Italy by reading up on all the things you should know!
Which Town should you stay in?
Use our list of popular Italy Accommodation choices to help you plan your trip!
Best Amalfi Coast Town to Explore
Connect with Wanderlust Storytellers!
A Day Trip to Capri Island
Be sure to follow us on our social media, so you never miss a post!
What to do in Positano
Leave us a Comment:
Do you enjoy heading to the touristy people where you can enjoy the vacation buzz? Or do you prefer finding hidden gems that are more peaceful and secluded?
Which one of from our list of best beaches in Amalfi is your pick for the best beach on Amalfi Coast?
Which beaches on the Amalfi Coast will make it to your itinerary?