Manatees make up for their lousy sight with super sensitive hairs! Big animals, including ourselves are noisy and clumsy beasts that spare little sympathy for the smaller fauna around us. However there is one animal that is an honourable exception to this rule, the Florida manatee.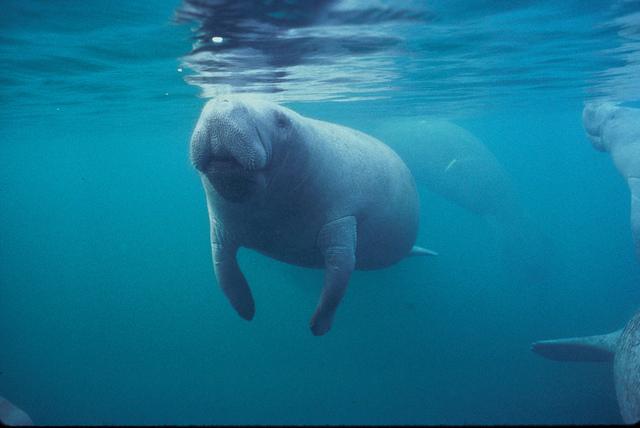 Image courtesy of USFWS/Southeast

The Florida manatee is a large aquatic relative of the elephant, mainly found in the warm waters off the coast of Florida. They are greyish brown in color and have thick, wrinkled skin on which there is often a growth of algae. Their front flippers help them steer or sometimes crawl through shallow water. They are a lot larger than a human and can measure up to 4 metres long in some cases. Although it is large, it can still detect nanoscale movements generated in the water by a fellow swimmer.
At first glance the Florida manatee could be seen as a slow and unskilled animal, that swims with little intention or grace. It is commonly referred to as the 'sea cow' as they graze on underwater sea grass and look a lot like overstuffed seals. There movements struck a conundrum for the biologists who studied them. For such a lumbering animal, they are remarkably adept at navigating through muddy waters, cluttered with obstacles like fallen trees. Scientists were very surprised that they can get up to 30 kilometres an hour in short bursts, and still navigate without any trouble. To confuse scientist even more, manatee's sight is very poor and unlike river dolphins they do not have electro-sensing to help them find their way through an obstacle course of debris.
Dr Joe Gaspard of the Mote Marine Laboratory and Aquarium in Sarasota, Florida decided to test two manatees for their sense of touch, in hope it would lead them closer to how manatees are so good at navigating their surroundings. Two manatees called Buffett and Hugh were trained to approach a 6-centimetre sphere that was dangled in the water on a rod and made to vibrate gently. If the manatees sensed the vibration, they touched a paddle with their muzzles and were rewarded with pieces of their favorite foods – apples, carrots, beets and monkey biscuits. Dr Gaspard found that the movements the manatees could pick up were minuscule, even as a small as a nanometre. The manatee Hugh was slightly more sensitive than Buffett, detecting movements of just 0.9 nanometres.
After more investigation, manatee's hairs were found to be rather like whiskers in cats, allowing their entire body to be one large super-sensor. To check the strength of their sensitive hairs, Dr Gaspard covered the bodies of the manatees with mesh netting so that their hairs were less exposed to their environment. The manatees became a lot less sensitive during this experiment showing that their hair is their primary sensory system. This is very unique in the mammalian kingdom!
By Jennifer Pearson-Farr