The fun part of summers is the trendy sculpted look. Every year I would just stare at the posters feeling an itch to try it out, and this year I finally could. Honestly speaking, no one needs to contour & highlight everyday, but its something you can do for a day out or some special event. Today I'm going to review a Contour-Highlight-Bronzer trio from Sleek Makeup.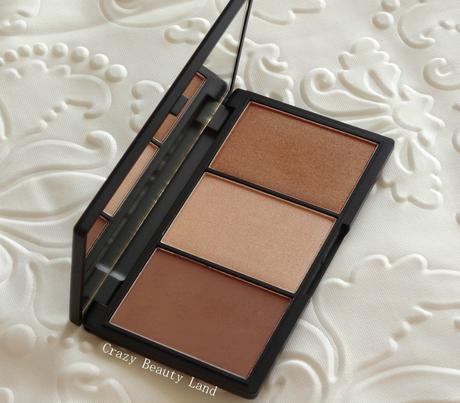 You can see my shopping experience with Luxola here & with Sleek Makeup Website here.
Face Form is the sister product of the Face Contour Kit. Available in 4 shades - Fair, Light, Medium & Dark.
With multi-tasking elements such as contour powder, highlighter and/or blusher or bronzer, Face Form is the ultimate face definition kit in one neat compact designed to suit all skintones. Please note: Face Form in Fair and Light come with contour powder, highlighter and blush. Face Form in Medium and Dark come available with contour powder, highlighter and a bronzer.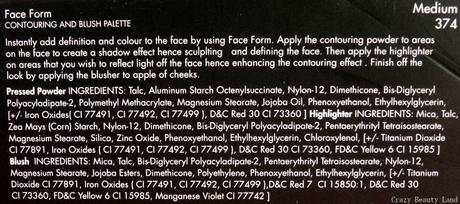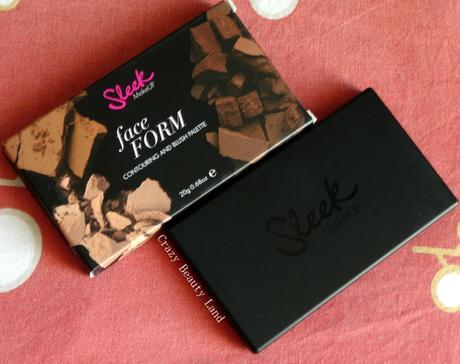 The trio is housed in a black plastic case which is very chic and convenient to store & carry. The only problem is that if you own multiple of these or the Sleek Blush by 3 trios, you'll have to search through the bottom of each case to get the right one. However, this is a problem with even luxury brands like Nars, so, its okay!
Shades: The shade Medium (374) has a contour, highlight & a bronzer.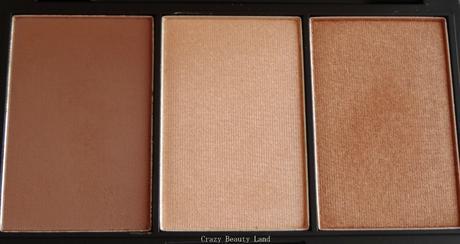 The Contour shade (left) is a neutral brown on my skintone . It looks light in the pictures but its 3 shades darker than my skintone. I do wish it was cool toned though (it might be on lighter skintones), cool toned browns are great for sculpting and creating shadows. Nevertheless, the shade is really great for contouring; it works perfectly with my skintone and gives me a naturally chiseled look. If needed, you can layer it more to create a strong obviously defined look, but that's not my thing.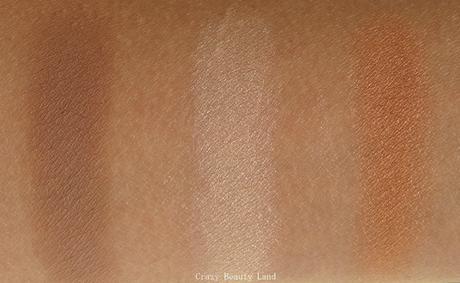 The Highlight shade (middle) is a champagne color . The best part about this highlight is its pearly finish. It does show 1-2 glitter bits on the cheek but its not made up of chunky glitter. It gives a beautiful glow to the skin. I personally hate glittery products for the face and I was quite nervous about this being too chunky but its just perfect.
when a little sunlight showed up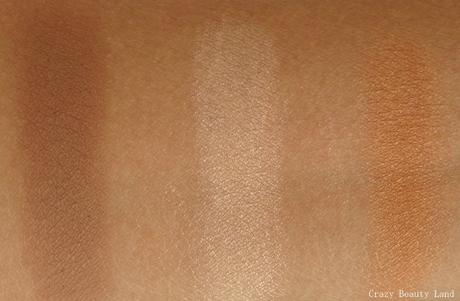 Just like the highlighter, it has a lovely pearly finish which leaves just 1-2 glitter bits on my cheek but overall gives a beautiful sun kissed glow to my cheeks. As you can see from the swatch, its quite orange so I refrain from any place other than cheeks. My absolute favorite way to use this bronzer is The Bronzer shade (right) is a warm coppery color with gold shimmer. under a matte pink blush; this color + Maybelline Fresh Coral = Glowy pink-coral which makes my cheeks look like their glowing from within! It looks lovely on its own too, and I like to use it as an eye shadow as well.
All the shades are intensely pigmented.
The contour & highlight shade are creamy smooth while the bronzer is relatively not creamy, but very smooth. All three blend into the skin so effortlessly, it truly makes this palette a pleasure to use.
This is the part that's little disappointing, the Sleek Face Form doesn't last for more than 3-4 hours on my currently normal-combination skin, or even on my sister who has dry skin. I've used it over a primer but it doesn't help prolong the wear time of this either.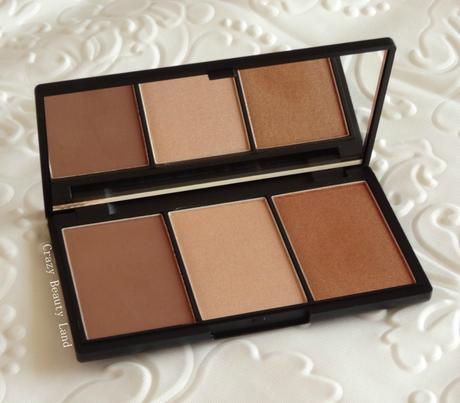 I really like the Sleek Makeup Face Form palette, its great quality and there's nothing I have to complain about except for the wear time. I didn't think I'd have much use for the bronzer but its my current favorite blush color. Sleek Makeup caters to a wide range of skin tones so even deeper skinned beauties can enjoy the sculpted look. Recommended!