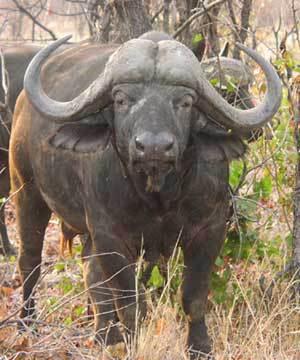 What, me online date?
Congratulations!  Like a lobotomized water buffalo in heat, you have decided to charge ass first – because its larger size will cause more damage – into the increasingly flatulent world of online dating.  You've brushed up on the pointers  and have learned to filter other profiles for nut jobs.   Now all that's left is -
YOUR PROFILE
In their 2005 extensive study of online dating sites, the highly-accredited sex research firm of "Masters & Their Johnsons" found that, while women were most impressed by a man's ability to express his sense of humor, sincerity, and maturity in his online profile, men had much lower expectations, requiring only that the women have the right parts and be able to tolerate the men for at least ten minutes at a time, without breaking into laughter and/or tears of disgust.
However, a 2008 landmark case lowered the tolerance of men requirement to five minutes, after Maria Lockschneider sued "Bilbo Baggins" Boyd for mental anguish, as he subjected her to two months of fourteen-hour days, during which he'd sit in his Fruit of the Loom boxer briefs worn backwards on their cat-pee couch, eating Cheetos and playing World of Warcraft.  It wasn't so much the gaming as it was the Cheetos, according to Ms. Lockschneider.  "When he switched to Cheetos Puffs, I knew our relationship was over.  I mean, Cheetos Puffs?!  How can you respect a guy after that?"
What does this all mean for a lady who hopes to get lucky through online personals?  Well, if your expectations are lower than the elevation of Death Valley and your tolerance for idiocy is high because you work at the DMV, then the online dating world is your long-expired, farm-raised oyster.  By utilizing the laughably-simple techniques I've learned through decades of moronic online dating, you, too, can attract the man of your nightmares in a very short period of time.  So, let us begin with…
Your Picture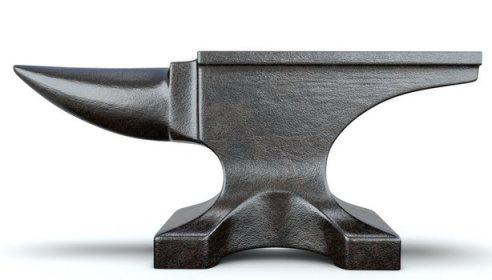 Haphazardly-educated (I was raised by a family of chimpanzees, who were test subjects at Oxford University), HWP, Lithuanian, bi-curious, transgendered woman with a Styrofoam cup fetish seeks a monogamous, loving and long term relationship with a man who won't mistake me for his mother.  Must not wear his pants all the way up to his nipples.  Must love cabbages, tipping 10% or less in restaurants (my mother's half-Chinese) and quicksand.  Serious replies only.
ABSOLUTELY NO WEIRDOS!
As part of a losing bet with his cronies over whether the world was really flat or round, Dr. Hsin Sung Wu of "The Institute for Nothing in Particular, but We Take Lots of Government Grant Money Anyway" was forced to place an advertisement in an online dating site, pretending to be a woman.  In what is now a textbook case for online daters everywhere, Dr. Wu contended that (1) most men never thoroughly read a woman's profile; and, (2) as long as you show up in a man's profile search results as a woman, he'll write to you, regardless of what your profile pictures looks like.
To prove his point, Dr. Wu's online profile under the handle, "Ample Annie Anvil", the above picture and description received one-hundred-and-four replies in two days.  The results are documented in Dr. Wu's highly-acclaimed thesis, Only Blondes and Anvils Have More Fun: A Man's Guide to Online Dating as a Fake Woman, free for a limited time with your purchase of an Advil or Tylenol bulk pack.  Following is an excerpt of Dr. Wu's findings: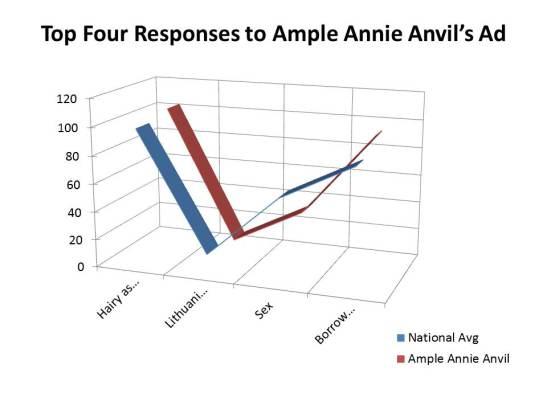 #1: Are you as hairy as a chimpanzee?  I like to have sex with hairy women.
#2: Is Lithuanian anywhere near Hackensack, NJ?  There's a Motel 6 off of I-80.
#3: You want to have sex?
4: Can I borrow $10?  No?  Then how about $5 and sex?
From the above graph, it's clear that your intended male audience has the collective IQ of ten pairs of galoshes and that you really don't need to try very hard to impress one.  However, for those of you who want to maximize the effectiveness of your online profile picture, here are a few pointers:
–> Always have a money shot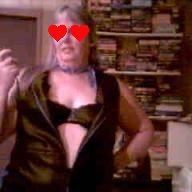 Sleeveless leather jacket – check. Sleeveless leather jacket opened at the navel – check. Sexy black bra revealed – check. Picture taken amidst a backdrop of old eight-track tapes – check.
–> Pose suggestively in suggestive clothing with suggestive props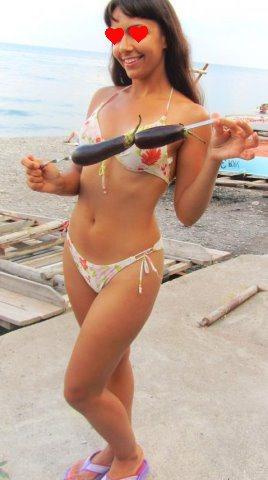 Assume suggestive pose in suggestive clothing.  Eggplants on a skewer = male genitalia on a skewer.  A blood-smeared rolling pin on the ground = the ultimate culmination of the relationship.
The value of posing with a prop in your online picture cannot be over-emphasized.  As online dating has evolved into a bloodsport with lesser men and women clamoring over each other for the few most eligible men and women, both sexes have upped the ante.  Traditionally suggestive objects, such as bananas and carrots have now been replaced by a new generation of fruits, vegetables, fowl and musical instruments:

H1No Seeks Fair-feathered Friend for Life: Into whole grains, millet and sunflower seeds, looking in the mirror all day long, peanut butter on a stick and bathing in small containers of water. Has a 500+ word vocabulary, most of them very complimentary to a lady (ie. "Who's a pretty bird? You're a pretty bird!").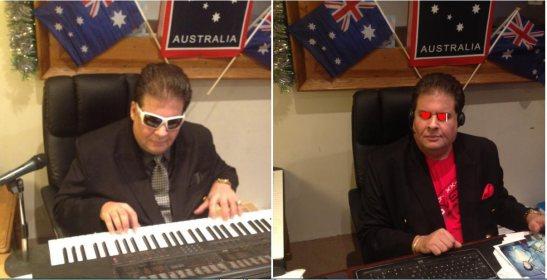 ThunderFromDownUnder69: Slap another roo on the barbie and pour me some more of that piss, mate. Make me quid as a six-figure telemarketer by day and karaoke king by night at the local boozer, "The Castrated Wallaby". (That's me and me Hammond Organ there. Won it in a bet with a wombat, I did.  Boy, was he a wowser!)
Me doodle's seen its day, but fair crack of the whip is all I ask. Just don't be a dog, be dinky-di and we'll get along.
PS: Since it's not the dog's balls from my profile, care to guess where I'm from?
To maximize the effectiveness of your profile picture, I've compiled a list of common props and the messages they convey.  Hopefully, with these pointers, we'll be seeing your online dating profile in happy cyberspace shortly: