New to little Indiana? Subscribe for free to my RSS feed. Thanks for stopping by!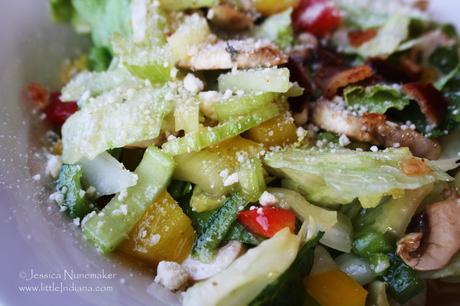 The Rustic in Rockport Indiana: Artichoke Salad
The Rustic Country Club in Rockport, Indiana is part of the Lakewood Country Club. I couldn't imagine a more peaceful setting in which to dine!
The Rustic Country Club in Rockport, Indiana
Overlooking the golf course and a pond, this rather large Indiana town restaurant certainly has location in its favor. It was a beautiful evening. Hubs, both kids, and I unanimously decided to sit outside.
Can you say fire pit? Actually, you can say it again because there were two of them. I couldn't think of a nicer spot on a crisp Autumn evening. Or, in our case–the Summer!
The Rustic Menu
There's a lot to like about the menu at The Rustic. Although I could have gone for the Nineteenth Hole Nachos, we skipped the appetizer and went right for dinner!
We were hungry after our busy day exploring Abraham Lincoln's Indiana Boyhood Home and Historical Living Farm! We know by now that the kids? Can only take so much.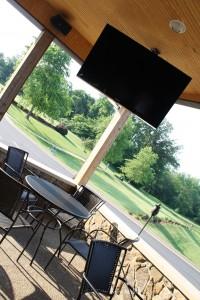 The Rustic Restaurant in Rockport, Indiana: Outdoor Seating
The kid menu had a few tried and true favorites. Kid #2 got a Grilled Cheese Sandwich. Kid #1 is such a fan of shrimp that we ordered off the adult menu for him. Would you believe he actually made a huge dent in his 21 pieces of Fried Shrimp?
Hubs got the Ribeye and I got the two 1″ Pork Chops. Our sides were the same: An amazingly fresh House Artichoke Salad, and a Sweet Potato (I don't know why I find that Oprah clip so funny–but I do).
I admit I ate my leftover pork chops right out of the fridge the next morning (and maybe a few of Kid #1′s shrimp snuck in there, too). They were still delicious! Hey, I woke up early while we were staying at Lake Rudolph Campground and RV Resort. I was hungry!
The Rustic Country Club had great food–hot or cold! We are so glad we got a chance to return to this nifty little small town.
Quiet Dining
I'm sure it isn't always so quiet and peaceful–there were a ton of seats here so I imagine a much larger, festive crowd. But while we were there? little Indiana and family were the only ones sitting outside. It was the perfect way to recharge after a very long (but super fun) day out and about in Spencer County.
See images of The Rustic Country Club and other pictures in Rockport, Indiana on my Flickr photostream.
The Rustic Country Club
1375 S ST RD 45
Rockport, IN 47635
812.649.9258

View Larger Map
Special thanks to Spencer County for the Dinner Vouchers. My opinions remain mine and mine alone (as always).
little Indiana: Where to Stay, Play, and Eat in Small Towns in Indiana. Discovering Indiana's best small towns! Now get little Indiana on your Kindle.
New! Offering affordable online advertising for your small Indiana business! little Indiana Businesses is the online presence that you've been looking for.