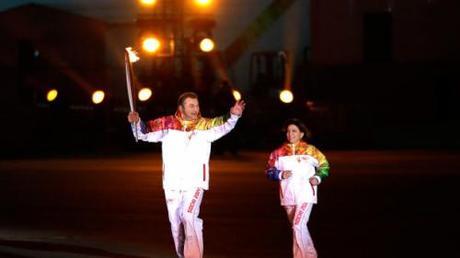 Russian Who Lit Olympic Cauldron Tweeted Racist Picture Of Obamas Last Year
SOCHI, Russia (CBS DC) — A three-time gold medalist who lit the Sochi Olympic

 cauldron Friday tweeted a racist picture last year of the Obamas.
Irina Rodnina, who won the gold in women's figure skating in the 1972, 1976 and 1980 WinterOlympics

, posted a doctored picture on Twitter last September of President Barack Obama, who had a mouth-full of food, and Michelle Obama staring at a banana that is being waved at them.
The Guardian reported at the time that Rodnina immediately deleted the tweet but never apologized for posting the picture.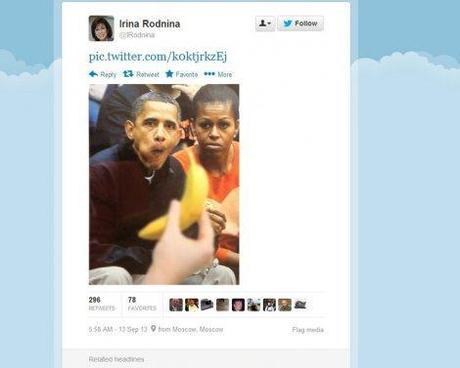 "Freedom of speech is freedom of speech, and you should answer for your own hang-ups," she said, according to The Guardian, adding she got it from friends in the U.S.
At the time, U.S. Ambassador to Russia Michael McFaul called it "outrageous behavior, which only brings shame to her parliament and country."
The relationship with U.S. and Russia has been frayed, especially with Russia harboring former National Security Agency contractor Edward Snowden.
Rodnina is currently a member of the Public Chamber of Russia.
TD here. What I am getting at here, is not to make us more mean and nasty. I just want to help us get over the tired old false accusation of racism. Heck, I'm of Irish descent. You could just as easily substitute my face for Barry's, and the banana with a beer, and you would be accurate. But I'm not making a big deal of it. So let's not give Barry's thugs the ability to make us feel ashamed for recognizing the obvious.