TAKEAWAY: The marriage of Prince William and Kate Middleton is now over and we have spent part of today Saturday looking at the morning after front pages of newspapers around the world.  It is THE KISS photo on page one for 95% of the newspapers I have sampled.  Ok, so when is a kiss just a kiss?
When is a kiss just a kiss?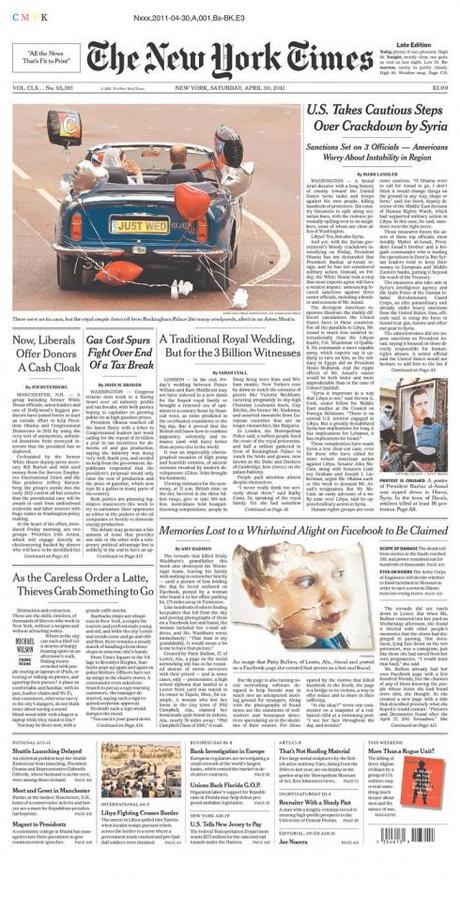 The New York Times, USA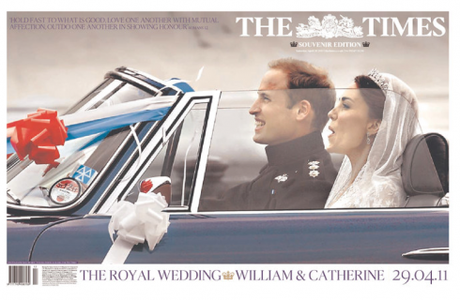 The Times of London

Il Secolo XIX, Genoa, Italy

Of course, the photo of the beautiful couple sharing their first kiss as man and wife on the balcony of Buckingham Palace shows the moment when this fairytale wedding between the middle class girl and the Prince became a reality to billions around the world.  And, in fact, it was a historic moment when the couple shared a second kiss.
But, to me, the highlight was seeing the couple emerge from the gates of the palace in an Aston Martin convertible, complete with the hanging cans that are so symbolic of newlyweds everywhere. It was a common touch, a fun moment, the couple showing the world that, at the end, fairytale or not, they are like other couples in love celebrating their big day.  That moment took all those experienced TV presenters by surprise. I was watching it on ABC, and the seasoned Diane Sawyer and Barbara Walters were speechless momentarily when the couple appeared, with the Prince driving himself. To me, a highlight of the ceremony.
So I am happy to show some front pages here that put that one moment on their front page.
See here The New York Times, Il Secolo XIX (Genoa, Italy), and the Times of London. Bravo.
Note: I like the first kiss photo, of course, and I go on the record saying that I have nothing against kissing, but the surprise photo was the couple in the car!

TheMaroiBlog post #762
Ink+Beyond Conference in Vancouver: Live reports follow

TAKEAWAY: Today I am in Vancouver, British Columbia, to speak at the annual meeting of the Newspaper Canada group.  This year's conference is titled Ink+Beyond.  I share a panel with The Globe and Mail visual editor Adrian Norris. Stay tuned for updates
This blog is live between 9 and 10 am, Vancouver time, today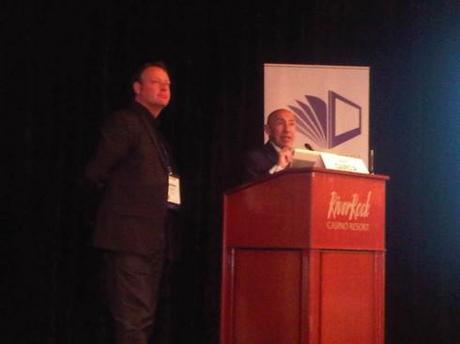 Adrian Norris and I answer questions from the audience following our presentations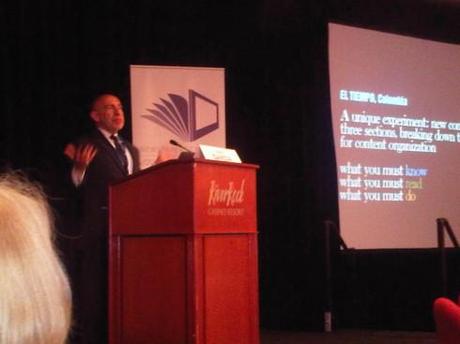 My presentation in Vancouver this morning (photos courtesy of Jim Jennings)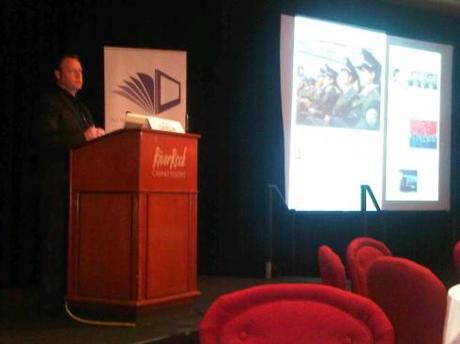 Adrian Norris, managing editor for visuals, The Globe and Mail (Toronto), presents the case study of how that newspaper's revolutionary design was created


I am in scenic Vancouver today Friday to do a presentation for the Newspapers Canada group.  I will plan to report live during the opening plenary and also offer commentary and a sense of where the Canada newspapers are, based on my experience here, later in the day. Do stay tuned for updates.
If we look over the conference program, it is obvious that the Canadian newspapers, as the rest of newspapers in the world, are totally involved in embracing a multi platform environment.
The opening session today is titled Strategies for Multiple Platforms, and will be led by Geoff Tan, senior VP, Singapore Press Holdings.  This will be followed by my own session, which I share with Adrian Norris,  the managing editor for visual presentations of The Globe and Mail (Toronto)..
In addition to establishing the fact that it is a multiplatform world, the Ink+Beyond conference is also a celebration of newspapers generally: our session is titled Proudly Print, and a luncheon presentation answers the question Why Newspapers are Hot!.  At the same time, the conference addresses the important issue of revenue with a session titled: Rethinking Newspapers Digital Paywalls or Premiums?.
And no newspaper conference is complete without a session on Reaching Young Readers, this one about a Newspaper In Education program that has yielded good results for some Canadian newspapers.
Follow me on TweetsByDesign!
Geoff Tan
Geoff Tan, Singapore Press Holdings, takes the stage:
Tan begins with a video "show me the money", marketing and SPH. Then a historical perspective, from 1439 on: 1605 first newspaper, and, the Canadians happy to see the Quebec Gazette, still going and the oldest newspaper in North America.  The Singapore newspapers since 1945.
Newspapers are 400 years young, says Tan.
Highlights of the Tan keynote:

Singapore: #2 in the world for IT, 84% broadband penetration, a hungry information consuming society, pushing technology to be in the forefront; 7,2 mobile phone penetration, most people carry two phones; 18 newspapers published; 20 radio stations; 160 TV station providers; Singapore Press Holdings, close to grabbing 49% of the advertising pie in 2009, currently 52% advertising share; advertisers asking for multiplatform strategies
Innovation a big thing for us; we are a true testimony of Ink and Beyond, new media , digital and mobile fast coming into monetizing units for us
We now try to build upon new media platforms.  But print is important, the cash cow, we are trying to bring excitement back to print, so that advertisers will be happy with it too.
Tan suggests experimenting with advertising: Don't be afraid to try very different shapes and configurations: staircase ads, slanted ads, subliminal ads (water marks of logo or message), editorial around it.
  And how about belly bands, where the ad goes across the page, like a seat belt?
And not all the excitement and innovation is on the newspaper itself. Tan suggests recycled bags and products that carry the brand and extend it.
Tan goes into 3D Technology
Did you ever think of a 3D Newspaper
On the 12 of May we had one issue dedicated in content and advertising to 3D and Samsung sponsored the glasses, and then you could look at the ads in 3D
Appeal to the senses
Also, follow us on flourescent technology, multi sensory marketing, important for all of us in this business.  Appeal to all the senses: sight, smell, touch technology, taste technology and sound
Video into print
As part of its constant innovation push, says Tan, Singapore Press Holdings is looking at incorporating videos into magazines.
Currently quite expensive, but one can play up to 40 minutes of video, says Tan.  "We are also looking at augmented reality," he said. "We are looking to do our first augmented reality as early as next month."
The
SPH

 Vision
We have created our Vision statement, and the idea is to go after advertising in a multimedia, multiplatform strategy. It should not reside with editorial alone, but also advertising/marketing.  We have newspapers, magazines, and new multimedia platforms, with vertical platforms for specific communities, two radio stations, outdoor digital screen platforms, internet web based TV, online.  The important thing is that we put all of these into one focal point for the advertisers to see , called SPH is ON, like a switch, with all the products shown as a unit, as oppposed to separate units
Tan emphasized the importance and efficiency of one stop shopping for the advertisers.
And, says Tan, they have gone after tribal targeting, going after specific groups or communities, and helping advertisers focus the message of their products. "Advertisers love it," Tan says.
Identify potential readers
"It is important to attract groups.  We targeted babyboomers, those aging members of the population, monetizing and connecting with those members of the audiene. We have published a number of supplements called Silver and Active," Tan said.
It is also important to emphasize consumer engagement: a shift of paradigm, emphasizing the selling of an idea, not just the inventory; "we don't sell boxes, we sell solutions, that is what we emphasize.  We work with the advertisers as partners, consultants.  We now tell the advertisers what to do with the space they buy from us, not so much selling the idea behind the product, NOT the product itself."

Tan is getting ready to wrap up his opening speech to this conference.
Many wonderful and revolutionary ideas have been presented, especially the relationship between publishers/editors and the advertisers who populate the pages and screens of their publications with ads, an area that needs to be emphasized.
The person sitting next to me, a publisher himself in North America, had a comment for me: 'Many of the people here are looking at this and gasping, as in they are not ready for this yet," he whispered in my ear.
'Indeed," I said.  "They are at least ten years away from some of what Tan has suggested here."
"At least," said the publisher next to me.
It does not have to be.  In a world where three weeks is like six months of another era, ten years is definitely NOT an advisable time to wait to incorporate some of the type of strategic thinking and solutions that Geoff Tan has so well presented here.
Today's pop ups

If you are a fan of the Argentine super football star Lionel Messi, then look at this Bild app pop up moment and see him score a goal:
TheMarioBlog post #761
Vancouver: Canadian newspapers ready for Ink+Beyond Conference
TAKEAWAY: I am on my way to Vancouver today to speak tomorrow at the annual meeting of the Newspaper Canada group.  This year's conference is titled Ink+Beyond.  I share a panel with The Globe and Mail visual editor Adrian Norris. Will be reporting live from Vancouver tomorrow.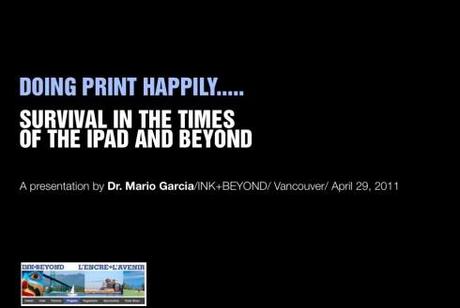 Here is opening screen for my presentation in Vancouver: Doing Pring Happily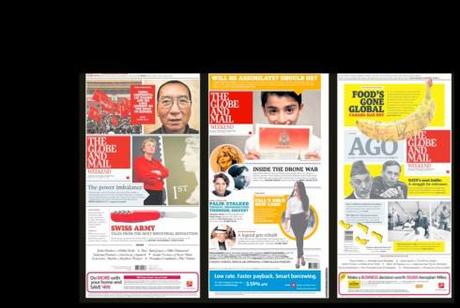 Sample front pages from The Globe and Mail, whose visual editor, Adrian Norris, will share panel duties with me in Vancouver Friday

The Ink+Beyond conference opens with a presentation by Geoff Tan, senior vice-president of Singapore Press Holdings, Southeast Asia's leading media organization, will share his insights on the company's breathtaking business strategies from niche publications to cross-platform initiatives.
My session follows, a plenary with the interesting title Proudly Print, and a program description that reads: Ink on paper is still the core of our business, and design and visual journalism is more important than ever. Renowned American newspaper designer Mario Garcia will present some innovative newspaper visuals from around the world. The Globe and Mail visual editor Adrian Norris will explain the strategic thinking behind the paper's new look.
I look forward to sharing the stage with Adrian, as I admire much of what has taken place at The Globe and Mail after its highly publicized redesign of 2010 (see front pages here).  I will be reporting from Vancouver Friday.
It is interesting that I title my portion of the presentation: Doing Print Happily, a feeling that I try to convey in all my workshops. One cannot produce exciting newspapers and magazines if one is not doing so with a sense of passion, and feeling happy about it.  The products that are done happily reflect that spirit.

Of related interest about The Globe and Mail:
http://www.niemanlab.org/2010/10/doubling-down-on-print-canadas-globe-and-mail-unveils-a-new-print-edition-to-complement-the-web/
For the full conference program:
http://www.newspaperscanada.ca/program
Today's pop ups

With one day to go before the Royal wedding, Bild does a parody with the old style comic books,telling the story of Prince William and Kate's romance: it starts with their first evening together when they met, then the confession of love, and when William is in Africa and prepares to ask Kate to be his wife.  Notice the clock ticking away down to one day and so many minutes and seconds before tomorrow's wedding. By the audio, the pop up includes audio: click and hear the voice narrating the story

By the way, Bild's app will provide live coverage of the Royal Wedding tomorrow: from the official TV signals and the Bild cameras at the scene.

Leave it to Bild of Germany to have a little pop up fun with Donald Trump's hair

Sports story from Bild about a well known football (soccer) player, Manuel Neuer. The headline says: Wall of God; the arrows point to 1. his scar, 2. family, 3. escapade to handball, 4. nerves of steel

WoodWing Xperience seminar May 24-25 in Amsterdam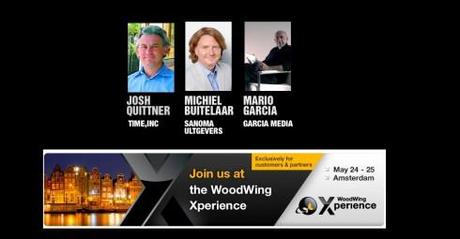 I am honored to be one of three keynote speakers at the upcoming WoodWing Xperience seminar in Amsterdam May 24-25
I did a previous keynote for a WoodWing Tour function in London in 2010.
For those interested in attending, here is more information:

May 24-25, 2011, Amsterdam, Netherlands
http://xperience.woodwing.com
TheMarioBlog post #760