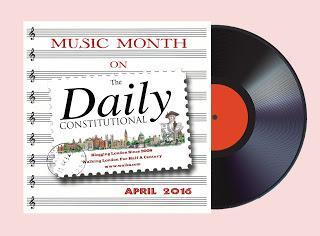 With the launch of The Rolling Stones Walk on the 5th May 2016 and the return of the Rock'n'Roll London Pub walk on Wednesday nights from the 4th May 2016 the London Walks summer programme 2016 will feature no less than FIVE regular musical-themed walking tours.

To mark the occasion, April is Music Month on The Daily Constitutional!

A month of plaques, locations, facts, reviews and more lies ahead. And I'm compiling the Ultimate London Playlist – get in touch with your favorite London song or piece!




DC Editor Adam writes… During Music Month I'm collecting London music to shape The Big London Playlist. Get in touch with your faves!




In the run-up to the new Rolling Stones Walk I've been blogging about the band every day - and it would seem odd not to add them to our Big London Playlist.
1966's Mother's Little Helper namechecks two London neighbourhoods to illustrate a fall from social grace - "Now she gets her kicks in Stepney not in Knightsbridge anymore." 


The song features one of Jagger's landmark vocals. Imagine if you could hear the Bow Bells below the Mason Dixon Line and you're in the ball park. Listen out for the line where his 

Mockney delivery comes to the fore… "Though she's not really ill, there's a little yella pill…"

Back in West London, the famous Chelsea Drugstore on the King's Road gets a mention in '69's You Can't Always Get What You Want. The demonstration mentioned in the lyric refers to Grosvenor Square and the ant-Vietnam war protest outside the American embassy.
This tracks finds the Stones on uncharacteristically pacific form – very much in keeping with the tone of the roughly contemporaneous efforts of The Beatles (Hey Jude) and Simon & Garfunkel (Bridge Over Troubled Water). Hymns to the passing of the 60s?
You Can't Always Get What You Want was recorded in London, at Olympic Studios in Barnes and features the London Bach Choir. The sleeve for the album Let It Bleed features a cake created by the (now famous) cookery writer Delia Smith.
The Rolling Stones in London Walking Tour launches on Thursday 5th May 2016!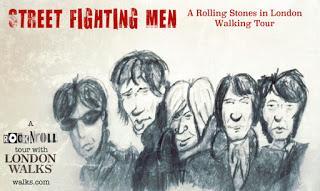 Curated & guided by the team that brought you the Rock'n'Roll London Walk, we'll be prowling in the blueswailing, drug-busting, establishment-baiting footsteps of the savage young Stones in their 60's pomp – from the studios where they created to the shebeens where they, er, socialised – this walk provides the ideal "bonus tracks" to Exhibitionism, the blockbusting Stones retrospective at the Saatchi Gallery. Meet at Tottenham Court Road station Thursdays at 2:30p.m. STARTS THURSDAY 5TH MAY 2016.


A London Walk costs £10 – £8 concession. To join a London Walk, simply meet your guide at the designated tube station at the appointed time. Details of all London Walks can be found at

www.walks.com

.