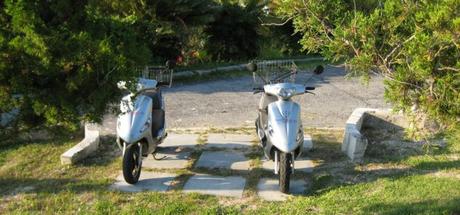 I had that creepy feeling you get when you know you're being watched. I scanned the water around me to find three big barracudas floating about 10 yards away, just checking out what I was doing in their neck of the woods. The fisherman's reassurance that they weren't aggressive did little to make me feel a whole lot better, but I kept swimming nonetheless.
I bumped into those barracudas just a few short swimming strokes from our little VRBO cottage in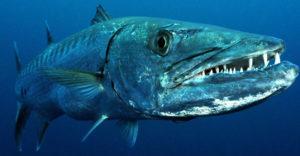 Bermuda. The beaches nearby were pristine and empty - possibly because of the giant fish with razor-sharp teeth in the water. When a local fisherman saw me swimming for a little exercise after the plane ride, he flagged me down to give me some advice: "Don't wear your wedding ring or goggles because the barracudas may mistake them for small fish glinting in the sunlight - and take a chomp out of you. Other than that, you'll be fine."
Going off the beaten path on vacation is like that. You'll have some of the most memorable experiences of your life - both good and sometimes bad. But mostly good. Life outside the resort is a little more real and a lot more exciting. You'll get to mix with the locals and experience your destination in a more authentic and organic way. Whether you stay at a friend's house, book a place from VRBO or Airbnb, or seek out a boutique hotel with a unique flare, you won't be disappointed. All it takes is a slightly different mindset - you have to be OK with not having room service on tap and a chambermaid to clean up your mess.
The following travelers took the plunge and explored their chosen destinations in a different way. Go with them now as they discover the old Mexico of Tulum, traverse the backwoods of The Appalachian Trail, run from strange goats in the Japanese Alps, and eat one of the best home-cooked meals of their lives in a tiny town in Italy. Oh, and of course, more about those barracuda in Bermuda, too.
These stories may just give you the push to take your own trip down the road less traveled.
Local Life, Pristine Beaches, and Lots of Bat Guano in Tulum, Mexico
Tulum is cheap, beautiful, and chock-full of things to explore - from Mayan ruins to freshwater cenotes.
King Lee and his family recently visited as part of an extended trip to Mexico that also included a stay in Playa del Carmen. "It was something we planned to do together as a family, which included me, my wife, and three adult children," says Lee. "Tulum was a perfect fit for all of us, and definitely different from what we found in other parts of Mexico."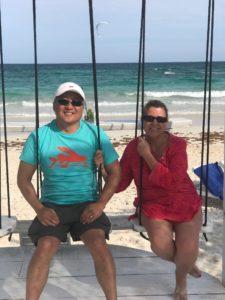 Tulum is about an hour south of Playa del Carmen and an hour and 45 minutes south of Cancun. Most visitors fly into Cancun and drive to Tulum. Although those towns are relatively close together, they're worlds apart in terms of the experience you'll have. Playa del Carmen and Cancun are built for tourists, and for parting tourists from their money. Some of the vendors you'll encounter are aggressive in the way they approach sales - which is vastly different to Tulum's laid back approach where only a few souvenir shops dot the otherwise "authentic" Mexican town.
"Tulum is a real Mexican town," says Lee. "We rented a house through Airbnb that was right across the street from a local family's home. You really mix with the local people when you visit Tulum."
Compared to the almost "Disney-like" atmosphere of Cancun and Playa del Carmen, Lee found the pace and atmosphere of Tulum to be more his speed. "It was one of the best vacations I've ever had," he says.
That doesn't mean that Tulum doesn't have its challenges. Many of the locals live in houses that would be considered poor by Western standards. The homes are largely made of found-wood without any insulation or sheetrock, so you'll see families having dinner and watching TV through the cracks in their walls. This authenticity could be off-putting for travelers who are used to resort life.
If living in a home you find on a site like Airbnb is not your speed, Lee says there are tons of options for staying in Tulum's boutique hotels on some of the best beaches in the world. And even if you're not staying in one of those hotels, access to their beaches is a very affordable U.S. $5 per day. In fact, everything in Tulum is relatively inexpensive.
"You can have a beer on the beach for about 20 pesos, which is about $1," said Lee. "And we had some fantastic meals at the restaurants downtown for very reasonable prices."
One tip Lee offers is to pay for things in pesos rather than dollars. While both are accepted, you'll usually be levied a surcharge for using U.S. currency, which negates some of the advantage you would have experienced with the favorable exchange rate.
One of the more memorable experiences Lee had in Tulum was exploring some of the hundreds of cenotes in the area. Cenotes are sinkholes that form in limestone rocks and then fill with water. Along with a guide, Lee and his family snorkeled through a large cenote - largely in the dark using a flashlight.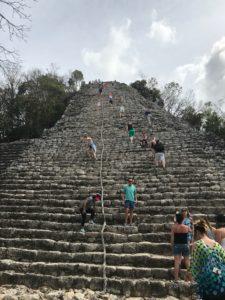 Swimming through one cave put them face-to-face with hundreds of bats hanging on the cave roof.
"It was amazing and a little scary to see all those bats," says Lee.
And those bats created a less-than-appetizing hazard.
"We had to be careful not to drink the water below [the bats] because of all the guano."
Tulum is also known for its Mayan ruins, which are a short drive outside of town. You can explore these ancient structures and even climb to the top of a few.
Lee says that Tulum was the best of both worlds: "Authentic Mexico with the luxury and convenience of the resorts without all the tourist traps."
Mopeds and Seaside Grilling in Bermuda
Bermuda may seem like an unlikely addition to an article about vacations "off the beaten path" since it's teeming with resorts and cruise ships. But any location can offer a unique experience if you know where to look.
My wife Melissa and I rented a small cottage on a large estate on the east side of the island. Yes, there were barracuda in the water - but they were a small price to pay for a relaxed, customized vacation in paradise.
The mopeds were one of our favorite parts of the trip. It gave us the freedom to get around the relatively small island and it feels like you're one with the surroundings - unlike traveling in a car or bus.
Mopeds are one of the best ways to travel in Bermuda if you have a little bit of skill and balance. Once you get over the initial jitters of zipping down a road on a fast bike, moped travel becomes a simultaneously exciting and no-big-deal way to get around. If you don't live in Bermuda, you're not allowed to drive a car on the island. This means you'll be scooting around on a moped or taking a taxi or bus.
Staying in the cottage instead of a resort completely changed the pace of our vacation. And it was healthier, too, since we had a chance to barbeque our meals on the beach instead of eating out at a restaurant every night.
When you're ready to join the tourists and have had enough of the beaches (if that's possible), two places you shouldn't miss are the historic Royal Navy Dockyard and the Crystal Caves. The Royal Navy Dockyard - just called "the dockyard" by the locals - has a variety of attractions. You'll find shopping and restaurants, glassblowing and art galleries, jet ski tours, parasailing, and a movie theater. Plus, it's steeped in history, since it used to be Britain's naval base after the Revolutionary War.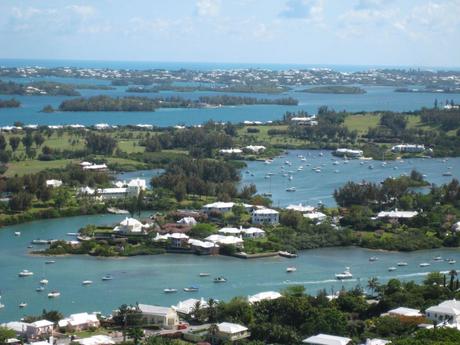 This year, the dockyard will be the headquarters for America's Cup, the iconic sailboat race series. So if you're in Bermuda during late May and early June, be sure to check it out.
The other can't-miss attraction is the Crystal Caves. The caves were really fascinating. You never imagine that something so deep, dark, and spooky will be mere steps away from the bright sunshine on the beach. The caves are filled with pools of blue water bordered by stalactites and stalagmites. They're a cool change of pace - both literally and figuratively - from the fun on the beach.
Slow Living and Home-Cooked Meals on the Italian Coast
After an action-packed few days in Rome doing all the standard touristy things, Lauren McKissic and her husband were ready for something a little different. And they certainly got their wish when they visited their Aunt Birgid in the small town of Notaresco on the Italian east coast. It was a welcomed departure from hotel life in Rome.
"We took a bus to this tiny town on the coast," says McKissic. "Not only was the view from our room just breathtaking, but it was so interesting to see the country from the eyes of the Italians. I watched Aunt Birgid cook and we ate dinner with her entire family."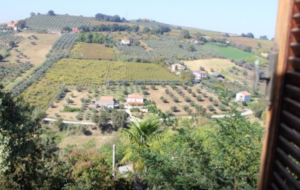 That meal was an Abruzzian classic known as arrosticini, skewered lamb meat served with bread soaked in olive oil. It was prepared with homemade red sauce from tomatoes Aunt Birgid grew in her backyard - the same tomatoes that played a starring role in most of the meals they had that week
The following night, she took the visitors to her favorite restaurant, which McKissic says is still one of the most memorable meals she's ever had. "There's no way I would have had any of those experiences had I stayed on a typical resort."
The only downsides McKissic sees are common to every bed-and-breakfast type of vacation. You have to be OK with sharing a bathroom and spending time with the owner. In Notaresco in particular, there was little nightlife and the town was quiet and sleepy, which was exactly what the couple was looking for at that point in their trip.
Hiking Hut-to-Hut on the Appalachian Trail
Dirk Pluschke and his friend did a four-day hike on the Appalachian Trail in New Hampshire. They chose the New Hampshire portion of the trail because it was the perfect mix of what they were looking for. The trail was strenuous in some spots, easy in others. They could also hike from one hut to the next within a day, spend the night, and then continue on to the next hut the following day. Along the Appalachian Trail, this is really only possible in New Hampshire. In other states, you'll need to find different accommodations - like a motel - or bring your own tent.
"The huts were simple but really nice," says Pluschke. "The ones on the mountain only have cold water, and during the peak season blankets and pillows are also provided."
Pluschke says he didn't over-plan the trip since it was just a few days; however, a through-hike on the Appalachian Trail obviously takes a lot more planning. Hiking gear is required, as are good hiking boots (not sneakers) and a base level of fitness.
"We did quite a few miles, between 10 and 20 each day... with elevation," says Pluschke. "I remember we arrived at Galehead after dark and were completely beat. While it was the hardest part, it was the most rewarding and created such a memory."
Be forewarned that on the Appalachian Trail, cell phones don't really work consistently. Pluschke really liked this remoteness since he says it was amazing to spend time in nature without distraction with one of his best friends.
"You really get your mind free," he says. "The nature there is impressive, I remember a mountain lake we swam in, it was just awesome. We also did some kayaking as we came back from the hike."
Mountain Goats and a Guy Named Lucky Pete in the Japanese Alps
Kaitlin Loyal and her husband spent a few weeks in the spring of 2016 exploring Hakuba, a village in the Japanese Alps just outside the city of Nagano. Nagano was the site of the 1998 Winter Olympics and the area is well-known for its ski resorts. However, when the snow melts and spring blooms, it becomes a hiker's paradise free from throngs of tourists.
We stayed in a place called Le Neige Honkan Hotel in Hakuba," says Loyal. "It was really interesting, like something straight out of a Wes Anderson movie."
Le Neige is an Edwardian building with stained glass windows and manicured gardens, not exactly something you would expect to find in the heart of the Japanese Alps. It was Loyal's home base for the three or four days she spent hiking around the area.
One of the goals was to hike to Happo Pond, where the majestic Hakuba peaks of Yaridake, Shakushidake, and Shiroumadake reflect in the crystal clear pond waters. While the hike itself is not overly strenuous, the time of year and time of day you go make a difference.
"We started off a little too late in the day to make it there," says Loyal. "We saw some crazy mountain goats on the path and the sun started to set, so we turned back."
The next day, they met an Australian man named Lucky Pete who runs a nearby bar called - you guessed it - Lucky Pete's. He told Loyal that it was a good thing they turned back when they did, since although it was spring there was still snow on the ground that made the trail to the pond impassable.
If you visit Hakuba, be sure to visit Hosono Suwa Jinja, a historic Shinto shrine in a forest grove near the Happo-one gondola station. The shrine is home to a 1,000-year-old tree over 120 feet high and 30 feet in diameter - it was just a sapling when the shrine was created.
Try a Hybrid Road Less Traveled to Get Started
If any of these trips piqued your interest, you can try one of your own. That doesn't necessarily mean you have to abandon everything you're comfortable with on your next vacation. Make it a hybrid - chose a destination you like that you know is well-developed for tourists, but stay in a small hotel or house instead. Or, spend part of your vacation in a small town and the rest in a major city. It may just give you a once-in-a-lifetime vacation experience that you never expected.