The first time you enter a guest room in any luxury hotel around the world, the moment of truth comes to face you and this truth you immediately experience, will impact your stay whether on business or leisure. Chengdu is a city Inspired by traditional courtyards; you will find that your guest room at The Ritz-Carlton Chengdu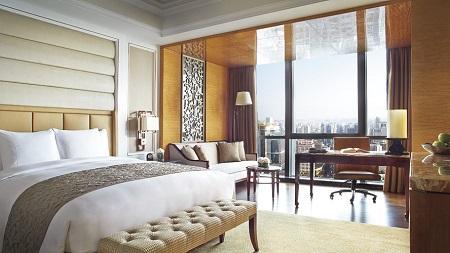 The Ritz-Carlton Club guest rooms -The Ritz-Carlton Chengdu China
brings these traditions into your stay. The Ritz Carlton Chengdu, and in particular their Ritz-Carlton Club guest rooms gives you an immediate impact this is a large space, room to breathe, comfort and peace. You enter the large hall way of the club guest room, a room with an average of 50sq.m floor to ceiling windows high above the city of Chengdu. Blending the traditional and contemporary CCD/Cheng Chung Design (HK) designed the guest rooms a design firm that specializes in hospitality design firm for high-end international hotel brands.
The design of the room gives a much larger feel and impression as you enter, the walk-in wardrobe immediately to the right has a sensor to automatically light up when you enter the room, The walk-in wardrobe has more than enough space for your suitcases, suits and shoes, the description Ritz Carlton Club guest rooms walk in wardrobe, really means "walk in." Next the double door bathroom entrance, with three sets of different light settings, so you are not hit with that cold bathroom light, has a deep bath in a marble surround a television faces the deep bath, there is a really large separate shower room. Then open the toilet door to a Toto intelligent toilet, a brand that has added "protection of water resources" to their global environment goals. I rarely see a Toto Intelligent toilet used in luxury hotels; the hygiene factor however is another statement from The Ritz-Carlton Chengdu on selection of quality environmental products.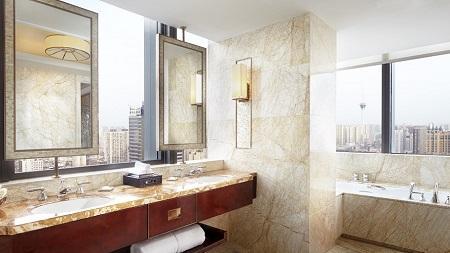 The Ritz-Carlton Club guest rooms -The Ritz-Carlton Chengdu China
The bathrooms are just pure spacious luxury, so much that this is like a hotel room unto itself, a room that any business traveler would appreciate. Amenities from the house of Asprey are found throughout the bathroom, and one of my favorites Ritz-Carlton standards are their soft head toothbrushes which always come in two separate colors so you don't mix up yours with your partners. Thick towels and soft comfortable robes, these are rooms designed to take you from business to "my time," the moment you come back from a day in the vibrant business city of Chengdu.
The Ritz-Carlton Club guest rooms -The Ritz-Carlton Chengdu China
There are some memorable touches that the room offers business travelers, for myself I often like the peace and quiet of the guest room to complete a report or give myself time to think, really think. I need a guest room that inspires, not one that will kill any creativity I may need to draw upon. At the desk area where the large ceiling to floor windows overlook the city, you are surrounded by works of art, in wooden alcoves on one side and the opposite wall a cut out art piece of leaves reflective of the tea culture in Chengdu, in this guest room, small touches to remind you of a lifestyle that The Ritz-Carlton have coined as "Let us stay with you."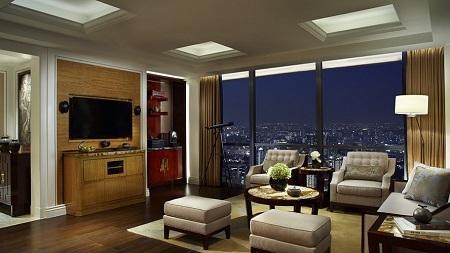 The Ritz-Carlton Club guest rooms -The Ritz-Carlton Chengdu China
While speaking with Sue Fan Public Relations Manager for The Ritz-Carlton Chengdu, I asked what was the most authentic cue in relation to Chengdu that a guest can see or experience in the club rooms, "One of the unique experiences we bring to our guests is our Chengdu Tea Culture set up,' commented Ms. Fan," The tea leaves and tea set up are brought to your room, the tea used is Zhu Ye Qing (Bamboo Green Tea) it is our custom at The Ritz-Carlton Chengdu to bring to our guests an experience of Chengdu's culture, there are many teahouses in Chengdu featuring the centuries old Chengdu teahouse culture, a culture that many of our local residents enjoy on a daily basis."
Experience the city of Chengdu with a hotel that wants to be part of your memorable journey, starting with the best guest rooms in Chengdu. The Ritz-Carlton Chengdu, 269 Shuncheng St, Qingyang, Chengdu, Sichuan, China, 610017, phone:+86 28 8358 8888.