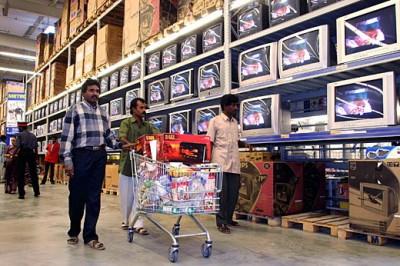 Indians shop for televisions at a big-box store. (Photo: BusinessWeek)
The middle class in emerging markets has started to draw attention as a force to be reckoned with. Economically, the global middle class has new-found wherewithal and an appetite for consumption, and in many cases is the product of upward mobility out of poverty. Politically, this demographic may bring new demands to assert itself in politics and policy. On October 9-10, Instituto Fernando Henrique Cardoso hosted a pair of seminars on "Democracy, Development, and Emerging Middle Classes." This distinctive event was a joint effort with the Centre for Development and Enterprise in South Africa and the Centre for Policy Research in India.
Now, what the middle class is and what it means proved hard to pin down – and also fertile ground for debate. Those who focus on median income observe a significant, possibly fragile, shift away from poverty in Brazil and India. Others observe a qualitative transformation among certain groups, such as the expansion of the black middle class in South Africa through public service employment or a highly educated, globally connected middle class in India. The complexion of the middle class shifts depending on whether its members rely on the state or the market for their livelihood, and whether they are new or old entrants to this segment of society.
Brazil received admiration for its simultaneous achievement of economic growth and economic inclusion over the last decade or so. While its growth has not been spectacular, the country managed a feat that other growing countries often have not — that is, expanding access to opportunity and the benefits of growth. South Africa, too, pursued policies of inclusiveness, such as expanding access to education, yet sorely needs to accelerate growth in order to benefit the poor majority.
Explaining Brazil's achievement has proved tricky. Economic reforms begun by President Cardoso and continued by President Lula increased competitiveness and access to credit. Lula is especially well known for social policy targeted at the extreme poor. Yet in somewhat higher income groups, another important story is the improvement of income through widespread movement into formal jobs. Democracy may well have something to do with the overall achievement.
Will the middle class express itself politically, and if so, how? While changes in its influence and aspirations seem likely, this hard-to-define group does not necessarily act in concert as a "class." A lot depends on the political options available, the depth of civil society, and the path taken by government. Those who have newly ascended economically and have tasted new freedoms will probably resist any moves that could take these away, and yet some would argue they will act to entrench themselves rather than open up the system that so far has brought them benefits. I might suggest that the processes that advances a productive, free, competitive class should be reinforced in order that the middle class can continue renewing itself.
These were stimulating comparative seminars with praiseworthy presentations across the board. We can look forward to the forthcoming report by the institutes on the full discussion and findings.