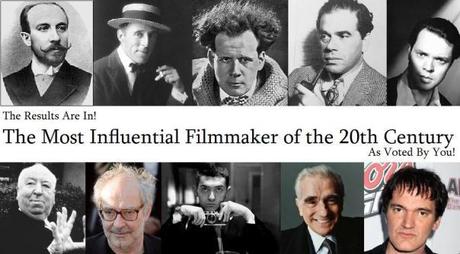 Almost exactly one month ago, I issued a poll asking you who you thought the most influential filmmaker of the 20th century was. I listed ten directors, who I had come up with from ten previous polls over the course of ten previous weeks for each of the ten decades. The directors were: Georges Melies, D.W. Griffith, Sergei Eisenstein, Frank Capra, Orson Welles, Alfred Hitchcock, Jean-Luc Godard, Stanley Kubrick, Martin Scorsese, and Quentin Tarantino. The results are as followed, counting down from the person with the least votes, to the winner, who had 22 votes.
In last place, the only person with no votes, is Sergei Eisenstein. Now, I find this incredible. If I had allowed myself to vote, he would've gotten my vote 100%. I truly believe he is the most influential filmmaker of the last century, but it seems you all disagree with me, which is fine.
With one vote is Frank Capra, who undoubtedly had an effect on cinema but I can't say it was that much.
With two votes is Georges Melies, who probably deserves more but in all fairness not many people have heard of him, which is sad.
With four votes each comes Jean-Luc Godard and D.W. Griffith. Griffith would've gotten more if not for his blatant racism, and many people find Godard's style annoying and distracting, so it's understandable that they didn't get much.
The next three contenders all had a tie of five votes each: Quentin Tarantino, Martin Scorsese and Orson Welles. I'm glad Tarantino didn't win, because most of work is influenced by people before him, so it would be unfair if he won. Scorsese got, I think, the right amount of votes. If I had to guess who would take the top spot, I would've guessed Welles, but he was beaten by two people!
In second place, with 13 votes, is Stanley Kubrick. Kubrick's influence has stretched far and wide, most notably in 1968 with 2001: A Space Odyssey, which paved the way for hundreds of sci-fi epics, including Tarkovsky's Solaris, Lucas's Star Wars and way too many alternate-universe space TV series'.
And the grand winner, with 22 votes, an astonishing landslide, is… ALFRED HITCHCOCK! Congrats Hitch, you deservingly take out the top spot after a month of voting. We've had nothing but great things said about you from commenters, so you've won First Place!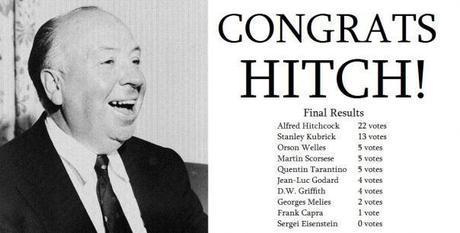 Thanks everyone for voting and passing the poll around to others. This has been a fun experiment and I'm glad we got a decent amount of votes in. What're your thoughts on the winner and the other placegetters? Does anyone else share my love for the cruelly snubbed Eisenstein? Leave a comment below!