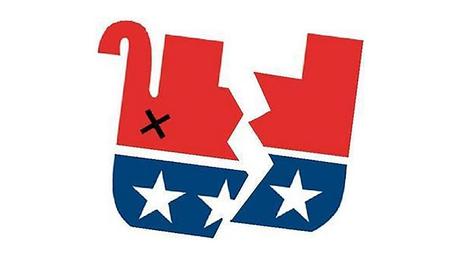 (Image of a dead and broken GOP elephant is from YouTube.)
The Republican Party used to have policies and principles. They believed in small (or no) deficits, defending our allies, opposing dictators, and free trade, among other things. That is no longer true. The GOP base is now devoid of real principles (other than promoting hate), because it has devolved into a cult of personality -- the worship of Donald Trump. And Republican elected officials are too afraid of their base to defend their conservative principles.
The following is part of an article by Edward-Isaac Dovere at Politico:


Put a blond combover on the elephant. Take down the pictures of Abraham Lincoln and Ronald Reagan.




It's over. It's Donald Trump's GOP.




The anti-Trump candidates are fleeing, and the ones who stick around are getting trampled. The chill has gone out among whoever's left: there's no more speaking up, and if there is, it's just for the sake of a speech, a protest quote that quickly disappears.




They chalk it up to party loyalty, or staying unified for the midterms. They say they still believe in the principles, but they don't tend to do more than say the words. Then, when the microphones are off, they confide. They complain. They nurse fantasies that there's a reckoning coming, that maybe this will all end with the Republican Party nominating someone like Eisenhower. Or at least like Paul Ryan.




And each time they watch another of their own go down, they wince, try to move on. Don't look back. Try to forget.




"This business is a lot like being a professional fighter: Over the course of it, you get a lot of shots to the head, and sooner or later, you're knocked out," said Rep. Tom Cole (R-Okla.), mourning fellow Rep. Mark Sanford's loss in Tuesday's primary. The race was a referendum on Trump, in the South Carolina House district where he ran weakest in 2016.




Deal with it, said Corey Stewart, the anti-immigrant, pro-Confederate symbols, new Republican nominee for Senate in Virginia: "This is the new Republican Party."




As for the people resisting, Stewart said, "They're dinosaurs. They need to wake up and understand that President Trump has fundamentally remade the Republican Party.". . .




Then there's what's happening every day. The party of free trade has gone protectionist. The party of spreading freedom and never negotiating with dictators is now full of praise for chumming it up with Kim Jong-un. The party of fighting deficits has blown a trillion dollar hole in the budget.




Family values and moralizing have been replaced by porn stars and Twitter tantrums. Trump goes to war with the G-7, and the sum of the Republican reaction is a statement from John McCain and a few comments on Sunday TV from Maine Sen. Susan Collins.




There aren't committee hearings. There aren't bills put on the floor. There aren't votes that force the president's hand. It's well into cliché that the only people who speak out against Trump are the ones who've already been chased out of reelection and are heading to their cushy cable and lobbying gigs.




They can criticize from the sidelines all they want, but they won't be around or have any power once January rolls around, and Trump and his allies will fill that space.