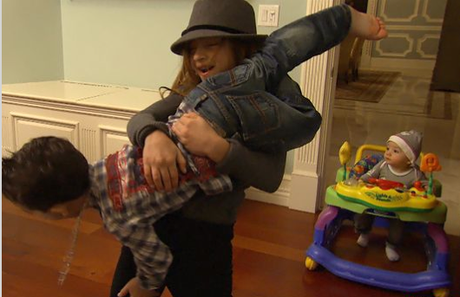 Tell me I won't grow up to be my Mother! Tell me, you little goombah!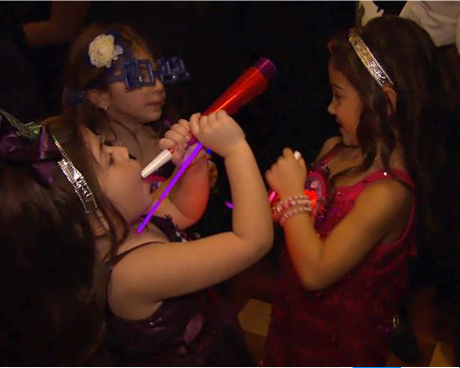 I think this is how Mom does it.
Well.
I guess the cannoli doesn't fall far from the pasta puttanesca now, does it?
The Real Housewives of New Jersey finally ended their month long Christmas Festivus, restuffed themselves into even more improperly sized designer wear, reapplied their lip stain and got ready for New Year's Eve: Joisey Style.  Always the multi-taskers, our girls were again able to sneak in an afternoon nip around the kitchen table as well as close down the Brownstone Restaurant with the best of them, all while managing to continue exhibiting nearly non existent parenting skills.
The latest episode managed to serve up another main course serving of The Teresa vs. Melissa Show, while still leaving plenty of room for a desert topped with some kind of goo that I assume was supposed to taste like the importance of Kids & Family.  I'm thinking that someone at Bravo must have thought it would be a good idea to ride the kid friendly wave of the Teen Choice Awards which had just aired earlier in the evening, in order to keep that momentum and mood alive for another hour, perhaps hoping to capture that all important Bieber demographic.
Regardless, you would think that someone else at Bravo would already know that Housewives and kids are not a good mixture, unless you are also filming a side project on how NOT to raise your kids on TV.
For starters, we got to witness a minor, or even lesser important number, scene with Nothing But Trouble Spoiled Brat Ashley, which I believe is in fact her actual full Native American name, and that Manzo Girl bickering over some sketches for a new company.
It was the skinny girl vs. the not so much skinny girl, and has been done to death since Dawson's Creek.  The only difference this time is that one of them was still wearing the Manzo tracking device bracelet which she received for the holidays, and the other was driving a new Jeep Wrangler that she has no intentions of making payments on.  Ever.
I'm thinking that every scene in this episode was story boarded to involve kids somehow, so there you go.  Check off two kids in one take.
Melissa put on a fresh application of Crest White Strips and invited Teresa and her brood of brooding kids over for a play day at the mansion, all in the name of Family Rebuilding.  Why she didn't just take a match to the place instead is beyond me, but the season just started.  Teresa's girls are all going through what she uncomfortably tried to write off as the "Terrible Twos into Fours into Maybe my kids really are just Beeotches"  as they all whined and slugged their way around the house getting ready for the day.
The Giudice Girls…Laconia, Catalonia and Zipadeedonia…whatever…were alternating mood swings of moping and screaming and tossing clothes in the air like they were searching for their meds on a scavenger hunt, to simple catatonic states.  The house has 17 bathrooms, but not one hairbrush.  Just saying.
The only semi-normalcy in their lives seems to be the bond between all the tiny cousins when they get together.  Melissa's kids were peeing their Le Baby Boutons when Teresa finally showed with her posse.  The girls all genuinely love each other and squeeze the oxygen out of each other just to prove it, in a creepy "Don't let them take me back home" kind of way.  The girls all go total spaz over each other's toys and outfits, while Melissa's boys are roughly manhandled and then go back to lying on the floor like any good Italian baby.  I swear.  I'm not making it up.  Check any episode.
The episode is worth DVRing just to see little Baby Gorga wander aimlessly thru out the house in his Rainbow Bright Pride Parade roller-walker thing.  How badly do you want to know what that baby is really thinking?  Be honest.  Guess we won't know for another 10 years until the shrink gets ahold of him.
Melissa and Teresa knock back a few bowls of milk and get Uber catty on each other while all the kids scream and run in circles like it's just another day at the Sugar Factory.
With all that marble and brass everywhere, how at least two kids didn't end up in the ER with a fat lip is beyond me.  Forget the FAO Schwarz toys…just tripping over the floor baby is a liability in that place.  They all tumbled down the basement stairs to take a look at Melissa's new recording studio/unfinished dungeon.  Yeah.  Recording studio.  I know, right?  I can bust out a tune or two, thank you, but I don't have anyone building me a complete studio from scratch in less than two weeks.  Teresa snarks that Joe just built it to keep Melissa in the house.  I'm thinking a Manzo GPS bracelet would have been a lot cheaper, dude.  She totally could have hooked you up.
Cousin Kathy got her contractually obligated scenes again, and still holds a grudge against Teresa for…well, for being Teresa.  Same song, different outfit.
So the deal appears to be that no one trusts their own children home alone on New Year's, so they bring them all together to a liquor filled restaurant in order to keep an eye on them until the ball drops.  All of them.  Even the little girls and boys.  Only Baby Gorga was lucky enough to be spared and left at home, most likely alone and probably on the kitchen floor since it was a special night.
As the adults boozed it up, the little ones got to do their glow stick hyper dancing wherever they found room, all while dressed in more sequins than a RuPaul DragU graduate.  If the Housewives can not keep an eye on their kids within the confines of their own living room, did they really think this was a good idea?  The men got sloppy and talked Jersey Shore all night, while the women flipped hair and beat the Teresa and her brother Dead Horse again.
Caroline stood two steps above everyone else and did her best Desperate Housewives voice-over about Family and something and something and then more Family, while all the Italian Joes groped their wives and significant others unaware that their kids were chewing on noisemakers and getting trampled on the dance floor.  The whole thing was done in that home shopping network New Year, New You motif.  Starting over and mending fences…blah to the blah.
All I know is that someone better get slapped next week or I'm not watching this show anymore.