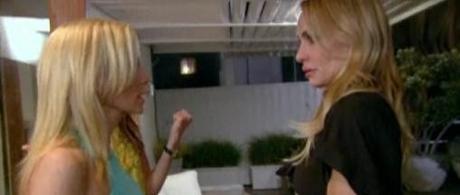 Tick. Tick. Tick…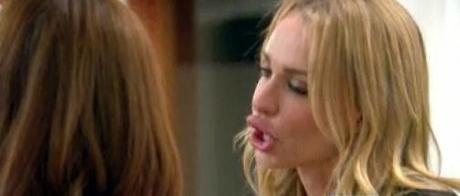 Tick. Tick. Tick…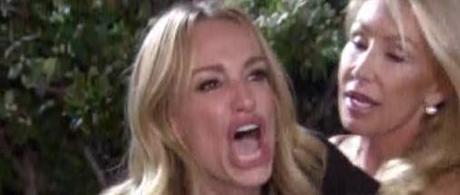 Boom goes the dynamite.
This one might date me a little bit.
It wasn't until this week's episode of The Real Housewives of Beverly Hills was all over and I had finished brushing my teeth and put on my Snuggie, that a commercial for Andy Cohen's Bravo Clubhouse Party thing came on and I suddenly realized that I hadn't just sat through an old episode of Beverly Hills 90210.
The original one.  With the rich high school girls.  That one.
Rich Girls trying to outdo each other with their clothes and their party planning.
Rich Girls fighting, screaming, finger pointing and hair pulling.
Rich Girls crying and believing they are the only ones in the whole world with problems.
Rich Girl Drama.
Seriously.  Could have fooled me.
The only thing missing was Luke Perry combing his hair in the background.  If Adrienne and Brandi had met for lunch at the Peach Pit, I swear he would have been there chillin' with Jason Priestley drinking a malted in their favorite booth.
Am I wrong?
The first high school flashback this week was Lisa and Moo Goo Gay Wedding Planner Kevin"Dahling" Lee choosing table set ups for daughter Pandora's wedding extravaganza.  It was classic Rich Girl making sure her prom outdoes all the other proms ever in the history of Proms.
I'm still not entirely convinced that Lisa even realizes that this wedding is actually for Pandora and not herself, because there is way too much "I want" and "I need" going on throughout the entire planning process.
Since the last time he unleashed his wedding fabulosity on us, Kevin had changed into a different pair of freakishly oversized tinted glasses and appeared to have also popped on a different wig for this week's Big Reveal.  Dude is definitely giving Rachel Zoe's hubby a run for his money in the Muppet Hair Best Of category.
While most of us in the Real World are cutting out bridal magazine photos and taking them to the Ramada Special Events girl, Lisa has Kevin bring in three complete tablescapes for them to experience.  All three are exceptionally pink and exceptionally over the top.  There are hanging floral explosions, fine gold laden china, towering crystal vases and pewter mugs that look like they were lifted from that Medieval Manor restaurant where you eat with your hands.
Lisa plays jigsaw puzzle and takes the best from each display to create her ultimate wedding reception table.
I mean Pandora's.
Kevin stops air kissing long enough to threaten her with a million dollar wedding, to which she lays down the law.  Personally, I don't think someone who has three complete test run tablescapes sitting in the middle of her backyard tennis courts should be squawking about chump change.  That made me raise an eyebrow.
Can't say the same for Kyle's Mother-in-law Estella though, as she get her final post-face lift check up.  Nothing is going to raise, or droop, on that face from now on.  It was a quick little scene to prove that not only is Kyle a big baby around needles, but Estella will be pushing Botox behind the school dumpster in another year.  She's got a wrinkle free monkey on her back now.  Shoot me up, Doc.
Then it's off to the Peach Pit for Adrienne and Brandi.  After all the drama filled parties at everyone else's homes, Brandi feels she should host her own Fight Club for one night.
Some people never learn.  Brandi is like that little cat sitting on the kitchen stool who keeps touching the stove no matter how many times you slap her nose. Even when she burns her paw she won't stop.  No kitty.  Bad kitty.  Put on a bra, kitty.
Since Brandi just had to move to a new place (…insert weekly LeAnn Rimes home wrecker smack talk here…) she has secured the Malibu beach front property of a friend who also doesn't know any better as a location for the girls to get together.
Since Kyle didn't seem a big fan of Brandi's original idea to bring in porn stars to school the 'Wives in all things tasty & nasty, she has downsized to belly dancing.  What could go wrong, right?  Hold that thought.
In a brief salute to Bravo's Mexican viewers, Kyle is hosting a Cinco de Mayo party complete with Tostitos and Estella's new face.  Both look better dunked in salsa.  Just saying.
Faye Resnick makes another random walk through the dining room as part of her ongoing I Knew OJ Simpson Tour.  How does she get past security?  And why is it only when there's food?
When Faye and Estella try to smile about natural looking plastic surgery it is a moment destined for the Reality TV Time Capsule.
Meanwhile, Lisa continues to drain the life, and the money, out of husband/dog walker Ken.
Renovations on the expansion of their restaurant are moving right along, and they drop by to check on the progress.  Lisa walks in like she owns the place.  Which she does, so I guess she's entitled to that one.  Ken walks in carrying Sissy Dog Supreme Giggy like it's a furry ManPurse.  Their two business partners walk in just so they can say they were on Bravo.
Lisa wants to open the restaurant asap.  Ken wants to retire.  Giggy wants to be held some more.  That was about it.
In another classic 90210 high school moment, the plain girl is at home doing laundry while all the Cool Kids are out doing stuff.
What was her name again?  I forget.  The plain girl on 90210.  Not Kim…but she is doing laundry.  And folding towels.  And eating Cheetos.
Scenes don't come much more random than that one.  Seriously, Bravo?
At least Kim got her crazy on long enough to talk to the dryer a little bit.  If you ask me, the show's not the same when she isn't screaming "Slut Pig!" at somebody.  More Kim, please.
Then it was off to Malibu, and enough drama to fill any high school gymnasium.  Twice.
Ever since Lisa's prissy tea party when Camille said "IT", she and Taylor have been on the outs.  Despite numerous texts and unanswered phone calls, Camille has had very little communication with Taylor, and they have not yet discussed the abuse allegations which were spit out all over the scone tray that infamous afternoon.  Up until Camille let it rip, none of the 'Wives have ever really confronted Taylor about Russell and whether he did or didn't or does or doesn't…you know.
Before she even arrives in the limo with Kyle, Taylor is a mess.  Now I don't claim to have a Dr. Phil degree on my wall, but it is pretty clear on the ride down the highway that this is about a whole lot more than just Camille laying it all on the table.  When Taylor can't get through a 24 hour period without melting down, then someone should be waving a red flag out the sunroof.
All the girls start arriving in a caravan of limos, because we certainly wouldn't want to carpool in this time of economic uncertainty and resource conservation.  Not in Beverly Hills, Dahling.
Lisa and Kim are no shows.  Lisa was just being Lisa, and we already knew that Kim had another load of laundry to do.  But there were enough random second string friends to fill the seats.
Camille brought  a couple of her homegirls, including bff DD whose main goals appear to be protecting Camille from anyone who dares hurt her (…insert weekly Kelsey Grammer smack talk here…) and to get her own face on the opening credits by next season.  Even on the ride to Malibu DD is egging Camille on to go for it with Taylor.  Talk it out or punch it out, bitches.  Just discussing everything Camille has gone through gets DD dramatically emotional.
Dial it down, girlfriend.  You're no Susan Lucci.
So basically we now have a high strung Taylor, a desperate to be accepted Brandi, an uncomfortable Camille and an open bar all in one room.  Again, I ask…what could possibly go wrong?
The location Brandi chose was gorgeous, and the ocean views were breathtaking.
Not so much for Brandi's see through dress, which doesn't go unnoticed by Kyle.
Now I don't know if it was just laying around the room like a party favor, or Kyle never leaves home without one, but somehow she gets her hands on a laser pointer and zeroes in on Brandi's headlights like she was presenting a Power Point lecture on white trash hooters.
After filling their tanks with booze, they all get their Belly Dance on.  Sorta.
Then the whole thing just goes down hill.
And outside.  And back inside.  And then outside again.
The whole party needed to have one of those onscreen digital countdown tickers like they do in Action films before a bomb goes off, because something was definitely about to explode.
Taylor can not deal with the "gravity of the situation", and pretty much talks in code for the majority of the evening as she dings around the house like a spazzy pinball.  DD gets all up in Taylor's face who wants to talk to Camille, and then doesn't, and then does again.
Camille doesn't want drama, and tries to shut up DD as she pushes Taylor's buttons.
Taylor starts to crack again, and as noted previously, there are only so many times you can glue that thing back together and still make all the pieces fit.
Kyle tries to break everybody up.  Adrienne tries to break everybody up.  Things get loud.
And.  Then.  Taylor.  Loses.  It.
If you didn't know any of the back story or how the whole Russell story actually ends up, it would be classic soap opera drama.  Hysteria, screaming and the kind of crying where you can't catch your breath.
But you know the real deal, and you've already read the last chapter, so it's kind of sad and you feel a little guilty for watching someone completely break apart in front of your eyes.
I really wanted Dylan and Brandon to walk down the beach on their way back from the Peach Pit just to break the tension.
But like Brandi's bra, some things just never show up when they are needed most.