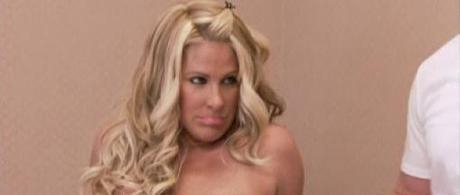 You need to get this thing out. Now.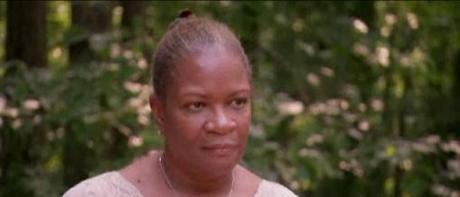 You need to get yo' money. Now.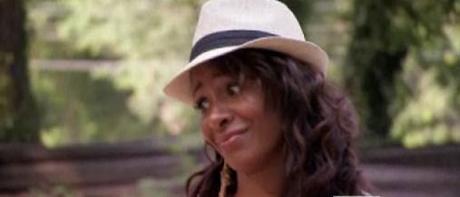 You need to get this thing built. Now.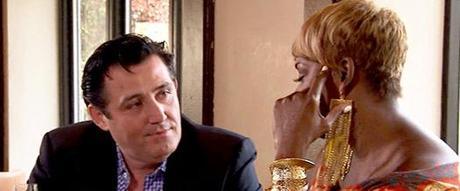 You need to dial it down a notch. Now.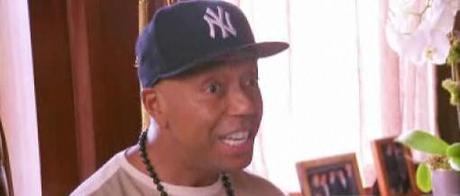 Hell yeah, I got mo' money than NeNe.
Boil some water, apply an extra roll of wig tape and tighten your weave, girls.
The Real Housewives of Atlanta are having a baby.
Dat's rite. Amidst all the drama of missing child support, Momma Joyce looking for love and a white pizza maker who thinks he's a black girl, Kim finally popped out Baby KJ this week.  And all it took was a crash cart full of drugs and a steady stream of cussing that would make a sailor blush three shades of red.  The little guy who works the censor beeper over at Bravo must have gotten hazard pay for this episode.
After putting us all through the kind of stressful, dramatic, uncomfortable pregnancy that America has not witnessed since Rachel "OhMyGod, I'm SuperPregnant, OhMyGod" Zoe birthed the Holy Fashion Child, Kim was ready to unleash her own spawn on the world.
In a scene reminiscent of Ricky and Ethel trying to get Lucy out the door in one piece, BoyToy Kroy and Sweetie scramble around the house looking for wigs and cream cheese bagel spread as Kim rolls down the staircase like a swollen Scarlett O'Hara.  At some point the day before it is clear that Kroy finally realized what he had gotten himself into and that there was no turning back, and he had lapsed into that glassy eyed stare that prisoners get when the cell door slams shut the first time.
Somehow he still managed to spike his faux hawk, though, so maybe he was more focused than we all gave him credit for as he wedged Kim into the Escalade.  The new car seat required that Kroy now slide up closer to the steering wheel so the poor oversized football player was pretty much fogging up the windshield as they headed off to the doctor's in a fume of exhaust and swearing.
While Kim was being told that there was an abnormal amount of fluid around the baby (…all the wine and beer she consumed over the last year, maybe?…) Cynthia was packing to head off to New York City.  In classic put the cart before the horse form, now that The Bailey Agency is set to open in a few weeks Cynthia decides that this would be a good time to go and meet up with some business types to pick their brains and get in a little Bloomingdale's on Bravo's dime.
This also proves to be a great opportunity for NeNe to continue her seemingly never ending  I Know Donald Trump Tour and meet up with some Celebrity Apprentice connections.  Apparently The Donald has hooked her up with an unlimited parade of business contacts, and this trip to NYC will give her a chance to meet Mr. Famous Famiglia Pizzeria himself and discuss ways to expand her brand.
Yeah.  She's got a brand.
And if there is ever an opening to mark something with her scent, NeNe is all over it…because there is no such thing as too much NeNe.  At least according to NeNe, anyway.
Look out, Kim Kardashian.  You hear that heavy clumping behind you?  It's NeNe's new Louboutins gaining up on you, bitch.
But before we got to witness NeNe in all her NeNe-ness, we had to check in on the hole in the ground that will someday be Chateau Sheree.  This time around Sheree brought her Momma Thelma to check out the World's Most Expensive non-active construction site.  With not a piece of machinery in view and no lumber or cement foundation bearing strings for miles, there was nothing to distract Momma from offering up her opinion on slacker Baby Daddy Bob who has yet to cough up a penny for Sheree's kids in over four years.
There must be a spot somewhere on the Bravo job application that asks about baby daddies, divorce, child support and crazy relatives.  There has to be.
Momma gives Sheree a little history lesson on how her baby daddy was also a no good slacker and how she had to take him to court to get some money for Christmas.  If baby Sheree had ever gotten the Speak & Spell she asked for every year then maybe things would have been different.  Or at least she would have been able to read the fine print on the construction schedule blue prints.
Where are those guys?  Seriously.  Chateau Sheree ain't gonna build itself, people.
That next loud noise wasn't a backhoe.  It was NeNe arriving in New York City, and more than likely single handedly raising the threat level to orange before she even left the hotel.
I can't imagine that the PR department for The Court hotel was too happy when, upon entering the suite on that imaginary red carpet that always rolls out under her staccato Bette Midler/Geisha Girl feet, NeNe immediately complains about the bugs on the cheese platter.  The room is already being comped, honey.  Chill.
As she goes to change into some new bling for her date with the Pizza Man, she also worries about rats.  Who needs a Yelp account when you have The Real Housewives telling you where to stay?  I'll stick with my HoJoe's Bonus Points, thanks.
Side note.  Since Cynthia is in town on business, she suddenly decides to wear glasses the entire time.  Apparently done so people think she is smart, and bullies don't punch her in the face.  Go figure.
Before we get to all the fun in NYC, we get to witness Super Star Lawyer Phaedra in action.  Or at least that's what her thug client was singing in her ear as they entered the spaciously empty courtroom.
After hearing, from Miss Phaedra herself for the last two seasons, about what a pit bull lawyer Miss Phaedra is in court,  I was sitting up on the edge of the couch waiting for her to unleash some of that  Miss Phaedra on the Judge's a**.
Bring it, girl.  Show us how you do.  MmmHmm.
Psych.  Nothing.
The client was in court for overly tinted windows on his muscle car.
I know, right?  Couldn't get a spot on People's Court, dude?
Granted, she tried to flirt with the Judge a little, but her boobs were pretty well hidden and he was wearing a bow tie.  So nobody won that one.
Then Kim had some more labor pains.
Next we were off to Barnes & Noble.  Or so I thought.  But it turned out to be media mogul multi-tasker Russell Simmons' office, which was piled a mile high with copies of his book that he was autographing and blatantly plugging.  The whole room must have smelled like self indulgence and Sharpies.
Turns out Cynthia once dated Russell when she first moved to NYC all those years ago, back when she was young and before he got caught up in that Kimora Fabulosity cyclone.
While she explains the flimsy premise for The Bailey Agency, Russell keeps mentioning fat chicks and how they'll get their heart broken in the modeling world.  Then he signs some more books, intercoms his ManBoy secretary, convinces Cynthia to change the name of her business and mentions fat chicks again.
Phat chicks are cool.  Fat chicks, not so much.
Don't tell that to Momma Joyce, though.  Kandi is helping set Momma up on an internet dating service for seniors, and they are both working hard at cramming all that Momma Goodness into tight belts and a black girdle for a calendar girl photo shoot on the hood of a Mustang.  Momma is fierce, as we all witnessed during the Redickulous birthday party tube sock toss.
Momma don't play strippers, but she has no problem spreading her stuff all over a red sports car.  That is one lucky old man who clicks on that profile.  He's got a firecracker.
Hope he's got a pacemaker.
Then Kim had some more labor pains.
And then it really got weird as NeNe met up with her Pizza Man to talk shop.
Hopefully you DVR'd this thing so you can go back and watch it again and again.  Picture Tony Soprano.  But the Regional Summer Theater production Tony Soprano.  And he is oddly hot for NeNe.  And for some unknown reason he feels that the way to a black woman's heart is by feeding her while doing your best black woman imitation.
Seriously.  Offend much?
Whereas NeNe and Phaedra can "MmmHmmm, Girrrllll…So Fine" until the cows come home, Pizza Man came across sounding more like a 9 year old boy slurping Campbell's Soup on a snowy day.
MmmMmm Good.
He gets points for getting up the nerve to feed her off his fork, since she did come at him like that shark in Jaws when it came out of the porthole, but still…
To woo his woman, Pizza Man bought NeNe some new Louboutins to better sneak up on those Kardashian girls with, and a Tiffany pen to use when they sign their first business contract.   For desert he flew in some wobbly old man from Naples to sing to her while her eyes darted around like a trapped animal.  She kinda, sorta, liked him in that odd high school cafetorium kind of way…and the presents weren't anything to sneeze at either.
So NeNe wasn't sure what she thought by the end of the night.  But it didn't really matter because she got new shoes.
Then Kim's water broke.  Finally.
After some serious swearing, cussing and gum chewing, little nugget KJ was born.
Kim's wig stayed on.  Kroy's faux hawk stayed spiked.
Sleep tight, little KJ.
But buckle your car seat.
This is still Atlanta.
MmmHmm.