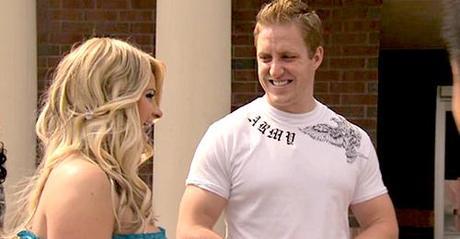 What have I done?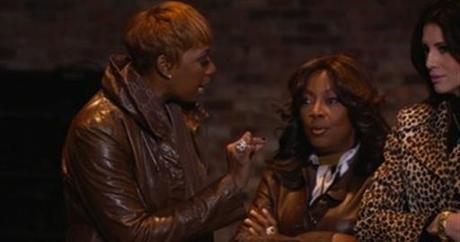 Why are you even here? This is my show, bitch.
Child, please.
If you're gonna throw down with NeNe Leakes you better make sure yo' weave is serious tight, because once she grabs hold of them tracks ain't nuthin gonna pry her loose, no matter how long ago you done her wrong.
Star Jones, and the rest of the world, learned that one tonight.
Hide all the sharp objects.  The Real Housewives of Atlanta are back.  And they're back with new weaves.  And a vengeance.
Without even having to touch our remotes, the Golden Egg of Bravo's Housewives franchise somehow magically managed to take us all around the cable box tonight, with what seemed to be a little something from every channel to keep us glued to the lounger.  I'm not sure if it was done on purpose to prevent the morning after guilts, or it just kind of happened…but regardless, it felt like we got to see every channel in the TV Guide during the premiere.
Right out of the gate we get Kim Zolciak and her new toy Kroy Biermann for a little taste of ESPN and HGTV.  Kim, who is best known for poorly lip synching on Pride Parade floats and having ginormous breasts, has hooked up with the Atlanta Falcons defensive end after meeting him at Sheree Whitfield's poor man's Dancing With The Stars benefit gala.
Kroy, previously best known for getting sacked by the opposing team is now known as the dude with the nice butt who accidentally knocked up a Housewife and ended up on a reality TV show during the NFL lock out.
If you can pig pile it on the field with 12 other footballers sitting on your face, I guess you can handle Kim and her silicone for a few minutes every day.
It's only the first episode, so I can't be certain, but Kim may eventually take the crown for Most Dramatic Pregnancy Evah right off Rachel Zoe's head and bobby pin it to her own new wig.  Waddling around like her ovaries have somehow reversed the gravitational pull of the Earth, Kim shleps Kroy and her assistant Sweetie to the storage units where she has stashed enough furniture to open a high end Atlanta Ikea.
Back when she was gold digging through Big Poppa's credit line, Kim had apparently purchased way too much furniture in anticipation of them living together, and what she couldn't sell at her Yard Sale last year now has to be moved into her new home.  And who better to move it all than a defensive end with a nice butt from the Atlanta Falcons?
Trust me.  If this was The Real Housewives of Dallas, Kim would have already branded that thing out behind the barn and marked it as her property, because she can't stop talking about it.  Or looking at it.  Or slapping it.
While Kroy hoisted a couple million dollars worth of HGTV home decor into the truck, Kim and Sweetie and a stuffed monkey (for real…rewind and look…) lounged around in the car checking him out while looking at pictures of Kim when she was skinny to kill time.  First ten minutes of the season, and I bet the poor guy was already hoping the Uhaul brakes would give way and drive the trailer hitch thru his abdomen.
And then there's NeNe, who can someone even turn car shopping into a big ol' mash up of Diva and product placement.
NeNe is currently separated from her husband, which explains why they photoshopped him out of those little nameplate intro dancing shots.  Because she sent him packing, NeNe has to now manage her two boys and her 2011 Self Promotion World Tour all on her own.  Luckily both her attitude and bank roll seem to be up for the challenge.
Son Bryson, who was given 3 months to shape up and move out the last time we saw him, is now inexplicably being given a brand new car as a reward for having no job, crashing his last truck, being arrested and cutting off his dreads.
Seriously?  Where do I sign up?
Car Dealer Mr. Jay is one of NeNe's former romantic conquests, and she is turning up the Flirt to Code Red in hopes of shaving off a couple G's on the asking price.  We get a little free advertising for some car brands, though I'm pretty sure that Chevy isn't going to be using the "Impala is so ghetto" tag line in their upcoming marketing materials.
NBC gets it's first shout out of the night as NeNe gushes over how she has mastered The Art Of The Deal by simply being on Celebrity Apprentice, almost knocking out Star Jones and talking smack about LaToya Jackson while she was still in the room.
Girl, please.  I've got a Barnes & Noble in my mall, too.  And it's on the Kindle for half price, so bring it.
Turns out that NeNe may have used some of that Trumpster wheeling and dealing to try and scam some money out of Sheree during an event in Philly last year, which we find out about when Sheree drops by her Hair Boy's recording studio session.
Lawrence, best known for…well…being Lawrence and doing a fierce weave in high heels, is trying to expand his empire into synthesized club anthems.  His new Parade Float masterpiece "Over It" is in the early stages of creation, so Sheree swings by the studio to get her groove on and check out her Boy laying down some tracks of the non-hair variety.
Taking a break from rehearsal, Lawrence comes out of the booth with the same flourish that he probably left the closet with, adjusts his table cloth/shoulder wrap scarf and sits down to dish with Sheree and get all the dirt on NeNe.
Sheree points out that Donald Trump only brought NeNe on the show because he needed an "Irate Crazy Bitch" and definitely got his money's worth.  Then without warning the two of them morph into a triple threat of BET, VH1 Bad Girls and a Mrs. Butterworth commercial as they diss on NeNe and her head bobbing, neck rolling, 'tood throwing hot mess self.
Sounds like Dr. Trumpenstein may have created a Monster.
Then it was on to the CW and America's Next Top Model.  Or so I thought at first.
Cynthia Bailey, who finally pulled it together and went through with her Jurassic Park themed wedding last season, has now begun work on The Bailey Agency, which will bring high fashion to style starved Atlanta.
Dat's rite.  She is opening up a Miss Bailey's School for Wayward Girls and Model Wanabees.
And who better to help out with All Things Fierce than Miss J from ANTM?  You don't think Tyra would play second fiddle to a Housewife, do you?  Please.  Miss J sashays his way into the cafe seat, gets all fierce and offers to help turn these poor Atlanta fashion dont's into fashion doobies.  Oh Lawd.  He gives us all the same fabulous runway poses and heel/toe walks that we've come to expect, and Cynthia can hardly breath.
It was Fashion to die for.
And speaking of…if that runway does kill anyone, Phaedra Parks may be your girl.
After losing her baby weight, but keeping her felon husband, Phaedra is now considering a career change.  With the solemn passing of her Great Auntie, she and her family make a visit to Willie Watkins and the Funeral Factory.  (I know…I thought they said Willie Wonka the first time, too.)  Phaedra, best known for some seriously big lips and sass to match, gets a crash course in over the top funerals by Mr. Wonka.
Top hats, horse and buggies and a hearse that plays the same music the ice cream truck does.  I know, right?
The only thing missing from that procession will be Lawrence sitting on the hood in stilettos throwing beads to the crowd, screaming "Show me your t***!"
With one rotation of the hearse strobe light Phaedra found her new calling.
And speaking of tasteful, or at least tasty…Kandi Burruss is expanding her career as well.  Best known for making Beyonce famous and auto-tuning Kim's "Tardy for the Party" remix, Kandi wants to grow her Kandi Koated Nights online dirty nasties into an adult toy line.  And who better to help in product test marketing than horny Phaedra and prudish Sheree?  Both the girls show up at a high end adult toy store to check out the goods with Kandi.
Let's just say you haven't lived until you've seen Phaedra Parks swinging around 12 inches of hypoallergenic rubber like she was the Black Princess Leia.
We'll just leave it at that and move on in case there are any kids out there.  Go do your homework, kids.  Stay in school.
Hopefully she washed her hands before heading to Phuneral Phun with Phaedra, because it was Mardi Gras amidst the headstones when they finally buried Great Auntie.  Mr. Wonka forgot he had another funeral to attend, so Phaedra took over as MC of the festivities and loved every minute of it.  She even busted out an impromptu graveside speech, thanking pretty much everyone but The Academy for this honor.
And finally, the loudest piece of drama this week could probably be heard by everyone except the newly buried Great Auntie.
As is customary in the Bravo Housewife religion, NeNe and Sheree meet up at a public restaurant to try and settle things and get to the bottom of who said what to who and when and why.  Bravo must have a bottomless pit of money for insurance reimbursement, because every restaurant owner has to be shaking in their boots when these women walk into the establishments.  Between table flips and glass breakage, these shows ain't cheap to produce.
NeNe and Sheree were probably in their seats for 28.5 seconds before the whole thing exploded like soda and mentos.
This is how it all went down:  According to NeNe, Sheree is jealous of NeNe.  According to Sheree, NeNe went behind her back.  It's a woman thing.  It's a black thing.  It's a black woman thing.  Star Jones is a bitch.  NeNe called Tyrone.  OhNoSheDin't. NeNe is rich.  Sheree is richer.  NeNe needs to get her teeth fixed.  Star Jones is still a bitch.  NeNe already got her teeth fixed for a stupid amount of money.  Sheree got Tyrone on her cell to prove that NeNe got him on the phone to set up the Philly event.  NeNe got Diane on her cell, whoever that is, to prove that she didn't get Tyrone on the phone.
Something about the Celebrity Apprentice again.
And Star Jones is a bitch.  Did NeNe already mention that?
I swear they went at each other like two mall chicks caught on youtube outside of H&M.
It was classic ATL.  You want some of this?
It's on.