I'm the worst at accepting (bad) gifts. I'm also fussy and a terrible liar, my face all-telling. I've had doubts about how I would react if someone were to ever get down on one knee and present a little box... God forbid I didn't like what I found (the ring, not the man).
Don't get me wrong, it was never about the size of the rock or the price tag. Rather, I worried it wouldn't suit me and I worried even more that my reaction would be misinterpreted as the answer to his question.
These worries all seem so silly now, completely fictitious. In reality, he asked and I said, "yes". There was no worry, no anxiety, no pretending, just joy and elation. I loved him, I loved my ring and there was no need to fake either. I forgot - my man has very good taste.
This month we went shopping together for our wedding bands. After 3 months of designing my engagement ring, he was already well versed in what to look for in a ring, however for me, the whole process was new and slightly daunting.
So I thought I'd share some of the tips I gathered.
I'd like to say a huge thank you to Diamonds on Richmond for the professional care and attention they gave us. We are so pleased with our rings!
Each metal comes with its own characteristics (colour, care, price, durability).
For me, I wanted it to match my engagement ring so this was a relatively straightforward decision. I went with white gold.
But for my HTB, who is always getting his hands dirty, he needed a metal that would be hardwearing. He knew he wanted it to be silver in colour and that he didn't want to spend too much - a ring was not high on his list of priorities.
Sterling silver seemed like an obvious choice: right colour, right price. But, it is one of the softer metals, which means it will tarnish faster than others.
Other silver-coloured but more durable options included white gold, titanium and platinum. Each of these he liked and so in the end it came down to price. He settled on white gold, which is middle of the price range (with titanium at the lower end and platinum at the higher end).
And, coincidentally, our bands match which I think is a nice touch.
From his experience, there are probably a few other points to make:
>>> Think about your budget - I keep bringing all my posts back to this but it is important and you need to think about this in terms of your priorities for your wedding and for your future bank balance.
>>> Think about your lifestyle - do you need a ring that can withstand the heavy-duty work that you do with your hands?
>>> Think about if you want your bands to match - maybe a little, maybe a lot.
Both your engagement ring and wedding band tend to be worn side by side, so it's important to consider how these complement each other.
I say tend because increasingly people are choosing to break tradition and wear these in their own ways (e.g. on different fingers). This is completely up to you.
For me, I considered various options from a complete replica to a simple low-profile band.
My engagement ring has beautiful detailing along the sides that I didn't want to cover. I also didn't want my band to compete with my engagement ring, so instead I chose a simple low-profile band to allow my engagement ring take 'centre stage'.
Wedding rings are a symbol of your commitment and should reflect your personality and preferences. There is no one right choice, right price, or right finger. But, your jeweller will be able to offer invaluable advice in making the best choice for you.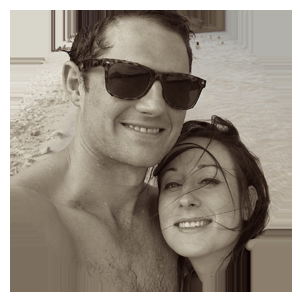 Sharleen and her fiancé's company S&R Events and Styling offers a range of wedding planning services. For more info on how they can assist you with your planning, visit
www.srstyling.com