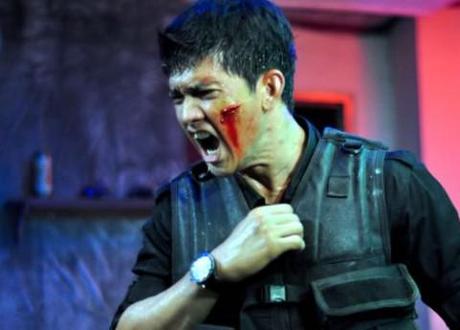 The Raid is a thrilling piece of action. Photo: Publicity still
The background
The Raid is directed by Gareth Huw Evans, and stars Iko Uwais, Ananda George and Joe Taslim. It concerns a standoff between drug dealers and a SWAT team in a Jakarta block of flats. Its hero, Rama, practices "penchak silat", an Indonesian martial art, who is a new recruit to the special forces. They must raid the headquarters of Tama (Ray Sahetaphy), a crime lord, in total secrecy and without official back-up. It happens in all-but-real time, and sees many action sequences as the police battle it out with the crims.
"Remember your first time with Hard Boiled? Die Hard? This is how it's done — a clean, hard, constant hit of adrenalin. If it's not the best action movie of the year, we'll eat a fridge," said Empire.
Evans is a successor to John Woo
Tim Robey in The Daily Telegraph recommended it "if you like your action movies pounding, proficient, and as bloody as a Boxing Day sale at Selfridges." With this film Evans shows himself "with an almighty Welsh roar" as a "successor to John Woo." But, it does have "a clanking, lockstep quality," and there's no "suspense." There's no "character development", either – but complaining about that is "the equivalent of sending a pizza back because it's not topped with Neuchatel." The musc's annoying, too.
 It's simply brilliant
Peter Bradshaw in The Guardian loved it. It's a "skull-splinteringly violent, uncompromisingly intense and simply brilliant martial arts action movie." It's "sublimely, in fact heroically simple" in delivering its action. He was "forever bleating the two clipped monosyllables of shock: 'Ohhhsh…; and 'Ohhhhf…". The block of flats exists "in a sort of expressionist-realist universe", the exterior "like a digital creation, and the interiors … are like a bad dream." The choreography is brilliant, and as a piece of film, "it's fluent and muscular and uninhibited to say the least." In fact, it's "a superb pulp shocker made with passion and flair."
 Lacks originality but has flair
It's not "original," said Philip French in The Observer, but it is "taut", and a "tour de force." The tower block "gives a fresh meaning to the architectural style known as the new brutalism." Lying behind the "chaos" of the raid is "the treachery, corruption and inefficiency of venal police and politicians." The film doesn't moralise or show sentimentality, and some the sequences are "too long." But the pace is "fierce."
 Stunning fight sequences
"In this summer of CGI Superheroes," said Filmoria, "it's refreshing to see actors perform feats that can be truly classed as super human." The fight sequences are "stunning," and Iko Uwais' performance "shows that he can more than handle the dramatic requirements of the lead role," providing the film with its heart.
 Decorum fell out the window
At most screenings for critics, said  Empire, you could "hear a spider fart." But at The Raid "decorum fell out the window." It's an "unabashed, unironic Friday night movie." There's "nothing new" about it – the dialog has been "cut-and-pasted from Action Movie Pass Notes," and the "villain is dial-a-drug-baron." But it does make you "gasp" and even "eep."
Watch the trailer here