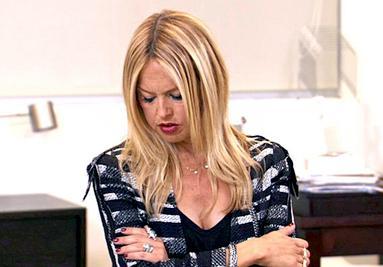 OhMyGod, Babe.     I'm literally exhausted.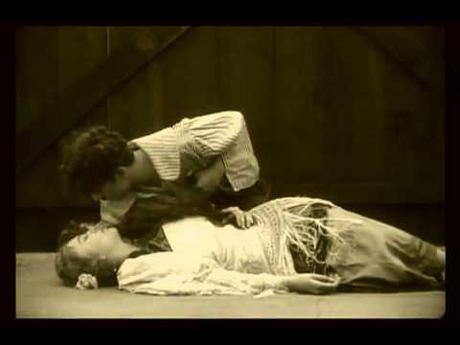 Babe? Babe?           Can you hear me? Anne Hathaway's gown was epic.
Babe? OhMyGod.     I'm SuperPregnant.
OhMyGod.
If memory serves me, according to the latest Soap Opera Digest that I was reading over that woman's shoulder while I was waiting in line at the grocery store, I thought that the soap opera  All My Children had been cancelled.  Didn't ABC cut their losses and send everyone in Pine Valley packing to cable access or the internet or something?
I only ask because I swear I just watched an hour of Erica Kane in a Chanel blazer.
The third trimester of The Rachel Zoe Project is not only giving me some major (text it as "maj" if you're a trendy hipster…) fashion tips, but also sympathy labor pains and a migraine.  If drama smells like new house paint and dry cleaner bags, then Rachel Zoe has been inhaling way too much of that stuff for a pregnant woman.
I literally would have been willing to go back in time to take over the birthing process for Rachel if it would have guaranteed that she stop talking about it for ten minutes, but that would have cut the latest episode down to about 9 minutes.
Now that she and Rodger with a D have moved into their monstrously oversized home, they are having trouble finding each other in the caverns.  Instead of GPS, they have chosen to just scream out "Babe? Babe?" as they search for human contact.  Right out of the gate there is drama as Rachel tries to squeeze her 10 pounds of baby stomach into a 3 pound sack of Gucci.  That's not going to happen, so it's taking the girl way to long to figure out what to wear.  OhMyGod she's so tired.
Plus the New York Post has just smeared their gossipy Page Six with some juicy dirt about Rachel being at war with easily flustered, easily flushed former assistant Brad Goreski.  As anyone who can't find the History Channel on their cable lineup knows, Brad cut the cord with the Rachel Zoe Megalopolous and went out on his own, scooping up Demi Moore and Rachel's rolodex on the way out the door.
It's been a pretty snarky break up, and the Post smelled that blood in the water as soon as it was spilled.
Plus, it's Oscar Week.  Not the Sesame Street one where they throw that party every year around the trash can.  The other one, with the Red Carpet and Ryan Seacrest.
Both Oscar Weeks are quite festive and involve a lot of colorful fur and feathers, but the Red Carpet one is the version that Rachel literally dies for every year.  So being preggos on top of being nutzos is not helping her mood.
Sad Sack Jeremiah and Diva Joey have a quick little conversation about Rachel giving birth, and how the baby needs to see suede as it's being born.  I got a little grossed out until I realized that they were only talking about Rachel wearing her thigh high boots in the delivery room.  I guess my OB/GYN imagination is a little over active.  My bad.
Both of the boys have been working overtime to get their hair and the house ready, as well as keeping Rachel from losing it, so..OhMyGod, they are so tired.
Since getting Anne Hathaway into 8 designer looks for one show is not enough work, Rachel has also taken on a styling photo shoot for retailer Lindex.  Driving to the shoot Rachel clutches her two phones like she is working the Wall Street trading floor on Black Monday and mentions that OhMyGod she is so tired.
I'm starting to sense a pattern in this episode.
After all the pre and post-drama surrounding the photo shoot, which basically consisted of putting a top with a bottom (ps…something that any GAP employee learns during their first week…) Rachel is even more OhMyGod tired and goes back to her cornfield maze of a home to chill out.  After another Susan Lucci entrance, she dramatically announces that she is literally going to shut down.  She needs to lock herself in her room if she can find it, to nap, regain her focus and remember what she loves about this job.
I'm thinking it's probably got something to do with free designer clothing samples and lots of money.  And I didn't even need a nap to figure it out.  So there.
For as long as I can remember, I have never been able to take a nap without kicking off all the covers or spitting out my junior high retainer, yet somehow Rachel manages a two hour nap without losing her stylish knit hat.  Seriously?  That's almost a party trick.
As the Oscars approach, Rachel gets more stressed out and catches what appears to be the Worst Cold in the History of the World based on the theatrics involved.  Every cough could detach a lung, and every move she makes seems like a scene stolen from the final hour of Gone With The Wind.
Rodger is getting worried about Rachel.  He's concerned that she is getting too tired, and that she is getting sicker.  I'd be a little more concerned that she is 8.9 months pregnant and still going up and down stairs in 6 inch Louboutins, but that's just me.  If the baby's ears are underdeveloped when he's born it's probably due to the thinner oxygen up at that level, like when you mountain climb and get nose bleeds.  Gucci makes sneakers, honey.
In what I believe was the longest advertisement ever for Apple's FaceTime for Mac, Rodger gets sister Pam on the laptop and guilts her into coming back to LA to take care of Rachel.  It would have been a better commercial if they had used the button that lets you put funny hats on each other, or add cartoon bunnies in the background.  Maybe next time.
But nothing, not even scarlet fever or a miscarriage will keep Rachel from the Oscars.  It's going to be historic.  I guess because Anne is wearing a lot of dresses, if that can be considered historic.  It is the defining moment in Rachel's career.
Too bad that Gucci didn't make Time Machines, then Rachel could have blasted into the future, found out what a hot mess that whole Anne Hathaway/James Franco Oscar co-hosting thing turned out to be, and saved herself all that stress.  Fashion has progressed, but alas…not science.
When Oscar Day finally rolls around, Rachel takes her 8 dresses and 102 degree temperature to the Kodak Theater and gets Anne ready for her close up.  It's gonna be maj.  Joey almost needed shock treatment to bring him back after he got a sneak peek at the dresses.  They were epic.  If Bravo can only put one episode of The Rachel Zoe Project in a time capsule and bury it, let's hope they use this one because the only catch phrase missing from the show was Ba-na-nas.  Every other Rachelism was right there in your face.  I was literally gagging.  Literally.
While she is off infecting all the Kodak ushers, Rodger tries to get some down time by the pool to work on his Farmer's tan.  If you're going to keep your shirt on, and then apply suntan lotion from your elbow to your knuckles…why don't you just stay inside, dude?
Team Rachel all starts straggling in to watch the telecast.  Joey and Rodger are apparently having some kind of a scarf duel showdown, because they were both wrapped up like those Dickens Christmas Carolers they sell at the Mall.  With all Rachel's money, I guess they forgot to pay the heating bill because Rodger also needed to accessorize his outfit with a winter beanie.  Or maybe he just has a low body temperature.
Joey kept his Stevie Wonder sunglasses on the entire time, so he could gaze condescendingly over the tops like a librarian while Jeremiah stood around and did his usual wet chihuahua shiver.
Once Rachel got back to the house, they needed to order take out even though she could have just picked it up on her way home if you ask me.  Naturally Jeremiah got picked to go get the grub, since he was closest to the front door.  And he's Rachel's bitch.  The poor guy is starting to figure out that Joey is connected to Rachel with a shorter cord than her unborn baby.  She'll probably only snip one on delivery day.
Even though the restaurant was only at the bottom of the hill, Jeremiah missed the entire Red Carpet Pre-Show.  Luckily E! runs it non stop for the next month, and Joan Rivers will cuss her way through the good and bad parts the day after, but it's the principle of the thing.  I hope someone on the Bravo crew gives Jeremiah a hug after the taping wraps everyday, because he always looks so sad.  Like the last puppy at the store.
So Anne looked a-ma-zing.  It was a milestone.  It was epic.  Jeremiah's hair stood straight up.  All the usual.
And she's still pregnant.
You sure this isn't All My Children?