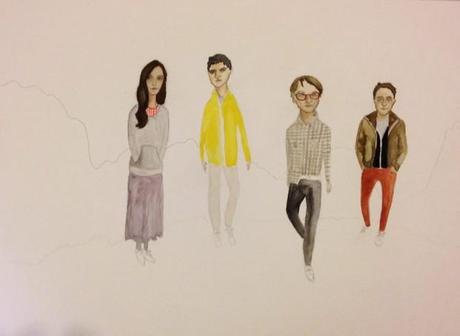 Teen Men
are illuminating the world of dreamy electro-pop with their latest single, "The Sea, The Sea". A side project of Wild Honey Pie favorite,
The Spinto Band
, you'll recognize the soothing vocals to be that of singer, Nick Krill. Surrounding Krill's charming vocals are the ebb and flow of subtle synth countermelodies, the persistent tick of the drum machine and the sweet overlay of female backing vocals. With a sound akin to the soundtrack of a mellow seaside discotheque, the song glides with a gentle force that lyrically explores the redefinition of youth. For
Teen Men
, visuals are an equal part of this musical venture, often adding a layer of oddity. Directed by Sylvio Bernardi, the video for this particular track is an endearingly quirky take on the mundanity of daily adult life from the point of view of a legless male figurine in a suit. It goes on to new adventures when the fourth wall is broken to reveal a curious gorilla. It's strangeness works perfectly. "The Sea, The Sea" is one of four enchanting tracks on their debut EP,
Apartment in the City
. The group is working on a full-length release that will reach our ears sometime in the near future, leaving enough time to get your swaying hips ready.