I received this press release from the David Suzuki foundation, and I just had to share it:
***************
Are you in an unhealthy relationship with your household cleaner? That's the question the David Suzuki Foundation's Queen of Green is asking Canadians this spring.
Starting April 10th, our month-long Spring Break-Up challenge will educate Canadians about the products they use in their homes and around their children (despite their potential hazardous health and environmental side effects) and empower them to make better choices. Sharing and participating in this campaign will offer opportunities to save money and win prizes from green retailers, and to have a lot of fun along the way.
Why household cleaners?
There is increasing evidence that many brand name cleaning products— the products we use to keep ourselves and our children clean and healthy—contain toxic chemicals. These chemicals have suspected links to environmental and chronic health problems, such as cancer, reproductive disorders, asthma and severe allergies.
"The good news is that we don't need to choose between healthy and clean," says Lindsay Coulter, the David Suzuki Foundation's Queen of Green. "There are simpler, cheaper ways to clean our homes that are healthier for us and for the environment."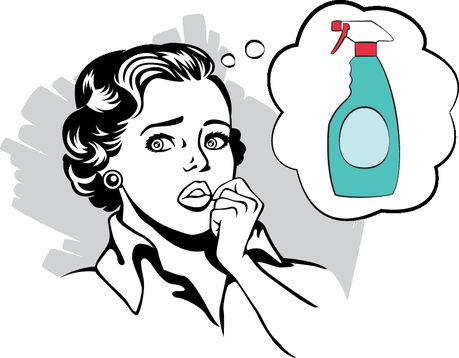 Image courtesy http://www.springbreakup.ca/
Each week of the challenge, the Queen of Green will help consumers examine their relationship with their household cleaners. Tackling some of the key barriers that keep us in loyal (even unhealthy) relationships with our favorite brands, the challenge will provide engaging and interactive content, and share-able moments, such as a Tips and Tricks wallet card, a video, and a customizable break-up letter aimed at popular brands. There will also be multiple opportunities to win prizes, and engage with other consumers throughout the month.
As part of the campaign, the Foundation is asking Canadians to complete a survey on household cleaners and advocate for legislative change to increase transparency in product labeling. Surprisingly, there are no requirements for manufacturers to disclose all ingredients or warn consumers about potential chronic health and environmental hazards associated with their products. The national survey will also help the Foundation learn more about the home cleaning products used by Canadians and the information that is, and is not, available on product labels.
"The results will help us push for safer products and better labelling of ingredients found in home cleaning products," says Lisa Gue, environmental health policy analyst with the David Suzuki Foundation. "We clean to keep our homes healthy but some of the ingredients in these products are a threat to our health and the environment."
******
I know I should take on this challenge. I don't "over clean" (despite being a complete neat freak when it comes to colour, I'm not paranoid about germs) but I'm quite certain the products I use (which lean towards "extra strength" whenever possible) are not good for me our my family.
I checked out the website and many of the tips, which are great. While I'm just not ready to jump into making my own laundry detergent quite yet, I was interested in several of the other Green Cleaning Recipes, which also include an all-purpose spray, stainless steel cleaner, and glass and mirror cleaner. All make-it-yourself products are versatile, affordable, and eco-friendly (many made with food-grade ingredients!). As a goal this Earth Day, I vow to try out one of these recipes. If the product cleans just as well, I'll convert.
Visit http://www.springbreakup.ca/ and see what you think. You can also be entered into a draw for some great prizes (including a $300 Rona gift certificate) for taking actions along the way. Are you up for the challenge?