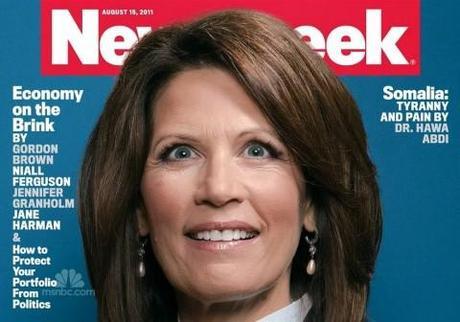 Intensity or Lunacy? Photo Credit: Chris Buck http://www.thedailybeast.com/newsweek/2011/08/07/michele-bachmann-tea-party-queen-for-america.html
Newsweek's recent cover featuring Michele Bachmann prompted outrage from America's right-wing and women's groups after portraying the Republican candidate staring wild-eyed, Rasputin-like at the camera over the words 'The Queen of Rage'. Tina Brown, editor of The Daily Beast and Newsweek, defended the photograph on Twitter, stating; "Michele Bachmann's intensity is galvanizing voters in Iowa right now and Newsweek's cover captures that." Bachmann herself has not commented on the issue: When questioned by a voter at a meeting in Atlantic, Iowa, she claimed that she had not seen it, responding, "Ah-hah. Well, we'll have to take a look at that, won't we?"
Notably, this isn't the first time that Newsweek has come under fire for running a controversial image of a controversial female Republican on the cover: In 2009, the news magazine ran a photograph of Sarah Palin in running shorts for the cover, an image that Palin called "sexist".
"The Newsweek cover is despicable on many levels," Penny Young Nance for Concerned Women of America, writing at Fox News.
Bachmann, a representative from Minnesota and a Tea Party favourite, has come under criticism for her controversial views and factual gaffes, but is doing well in lead up to the Republican nominations in 2012. She could win a straw poll in Ames, Iowa this weekend, which is often seen as an indicator for the results of next year's Iowa caucasus. But what kind of impact will this publicity have on her campaign? And does Newsweek really have it in for female conservatives?
Sexist. The National Organisation for Women, which stands diametrically opposed to Bachmann on many political issues, nonetheless came to the candidate's defense in an interview with The Daily Caller, saying that "we want women to run for office" and denouncing "these kind of misogynistic attacks". "It's sexist," said the organisation's president Terry O'Neill. "Surely this has never been done to a man." O'Neill complained, "[T]hey are basically casting her as a nut job." Fox News agreed, questioning why Bachmann and others are "forced to endure sexist and degrading attacks from the mainstream media."
Conservative fury. It wasn't long after the Newsweek cover came out that conservatives and right-wing opinion-makers got angry – really angry. Conservative commentator Michelle Malkin blasted Tina Brown on her blog, declaring, "You've resorted to recycling bottom-of-the-barrel moonbat photo cliches about conservative female public figures and their enraged 'crazy eyes?' Really?" Conservative blogger Ed Morrissey expressed similar anger at Hot Air: "Yeah, that's keeping it classy."
Not sexist, not a liberal conspiracy – Bachmann is crazy. Newsweek and Tina Brown have nothing to apologise for, Joan Walsh at Salon.com declared. "Newsweek picked a striking photo that distilled Bachmann to her newsworthy essence," she wrote; moreover, while the Palin in running shorts shot was sexist, this image was not. "I don't agree with [NOW president] O'Neill's claim that no man would ever be depicted that way: You can find plenty of shots of a deranged-looking George W. Bush and John McCain, and on the Democratic Party side, Howard Dean." Said Walsh, "The Newsweek cover was well within the bounds of what most editors would consider a striking, newsworthy photo…. The Newsweek cover captures Bachmann in all of her self-righteous fanaticism."
Remember Howard Dean's crazy eyes moment?

A ploy to boost sales? Lucas Shaw questioned Tina Brown's motivation for the cover at Reuters saying, "Tina Brown has done a fantastic job of drawing attention to the lagging publication with sensational covers." But Brown's efforts may be for naught if upping circulation is her plan – Shaw observed: "Yet while these covers have gotten journalists and talking heads to pay attention to the enfeebled publication, has it had any effect on the bottom line? It would appear not. While sales of single issues are up, overall circulation still slipped in the first half of 2011, dropping to around 1.5 million. Compare that to Time magazine, which saw total circulation increase and newsstand sales jump by 16 percent." But if Brown's plan was just to get people talking, "Mission accomplished," declared Joan Vennochi at The Boston Globe's The Angle blog: "[T]hat cover image of Bachmann will linger for a long time — and probably define her."
Unimportant. The Washington Post's Reliable Source column played down the controversy, noting, "These uproars are like summer squalls: Loud, messy and will probably pass with no lasting damage." They continued, "Magazine covers are, by definition, supposed to attract attention…. But for all the sound and fury, here's the bottom line: It doesn't really hurt the candidates and rarely influences voters. In short, it doesn't matter."