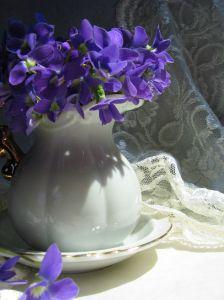 There are a lot of trash within the world. Way too many of them. I wish that they would just all disappear.
I know that the day will come when eventually they will all be no more.
The trashy type of people spoil and ruin everything with their obnoxious, undesirable, and revolting behavior and auras.
These particular individuals have an inadequate and sick mentality.
They tend to put a damper on a beautiful day, a wonderful mood, and the productive quality of life in general.
The majority of them are exactly like a dark cloud that comes to hover over as a great dread and gloom.
These kinds of people are definitely nothing at all for anyone to genuinely be brought down by mentally, spiritually, or emotionally.
However, they can be very aggravating and completely irritating to the soul who is at peace and harmony within them self and within their surroundings.
I remember as a young child first coming into contact with the trash, observing the depth of their degenerateness. I unfortunately had certain members of the family who fell into this category of disgrace.
Then, when I went to school, they were there also.
My pure and innocent bright soul wondered "what were they?" "Where did they all come from?"  "Why are they here in the world?"
When I would look at them and their appearance-their physical features, mannerisms, their tones of voice and the way that they would express themselves-I'd say to myself how could a God give life to something like them?
Something had to be wrong somewhere.
I still feel that way til this day just even stronger in and about my thoughts and facts regarding the trash.
Anyone or anything that could or would create these people into existence absolutely raised a great big red flag of warning and caution to the senses that I was definitely able to accurately perceive.
People who are of a garbage nature obviously have no class and are very jealous and envious of those who are naturally of a better stature character-wise.
Of course, money or material possession plays no part whatsoever in the determination of what is and what is not considered trash.
There are many poor and middle class people who are accurately and innately defined as substance. And many rich people who are undoubtedly the innermost epitome of what trash exactly describes and classifies as.
Garbage type of people are not limited to a specific group of people. They do come in all races.
As an African american female with much knowledge and honesty I can and will say this though, and that is that there are plenty of black people who are not worth anything to themselves or to anyone else.
They are extremely ignorant, envious and jealous, and continue to try to tear their own race down. And they make things, situations, and circumstances bad for the ones who are about something good or constructive.
All African american people are not to blame for the destructiveness of their communities and family structure.
Many have just been objects or victims of certain other people within the west Indian culture and conspires to pollute and dilute the purity, heritage, and vitality of our original innate beauty and existence.
I know this from true experience myself.
They set out to destroy by taking the special things that belong to us. The things that are of a spiritual and intellectual value, the things that are celestially sacred.
The conspiracies of the particular Caribbean people include using us African american people as guinea pigs, bribing us with money, turning us against one another-even against our own relatives.
They do also conspire against other races of people yet much of the black or African american race tend to not stick together as a unit or as a people harmoniously so therefore many of the Caribbean cultures as well as certain other cultures consider us to be stupid and uncivilized.
There is indeed prejudice and bias within all walks of life with all types of people but I must admit I never judged anybody solely on race, or on race at all for that matter.
I am so sick and tired of hearing certain black people who blame caucasian people in general for the things of the past, incidents that may have happened ages ago way before their time, and for their own inability to succeed in this crazy society.
It has been a lot of white people who have done nothing but help and encourage me during the times that I was growing up, and even now. They were nice and gave me a platform to aspire from as well as an environment to succeed and be healthy in.
It has been my own so-called race of people who sadly continued to want to hold me back in life and in the things that I was capable of doing.
I could always get along with anyone of any race that my spirit took to yet some of the west Indians and Haitians that I have come across were troublesome.
Not everyone can be influenced, persuaded, or coerced.
These people know who to go after (those with low self-esteem, the weak-minded, etc…)  and for the ones who are not able to be snatched up into the games and mechanisms of control they are placed and plagued upon by the battles that are struggled with through the tactics of evil black magic.
Absurdly, the garbage will endeavor to claim or to convert a person of substance into their own insane world of disorder.
The day that I ever become a stupid, irresponsible, immature person with no self-love and self-respect who lacked purpose by indulging in worthless gossip, excessive drug and alcohol use, nasty promiscuous sexual activity, and the constant re-population of rampant baby trash is the day that hell will freeze over.
Which absolutely means never! It is not within my celestial plan or nature.
Garbage contributes nothing that is truly substantial to society and to the world that we all live in.
All that the trash like to do is to party hard.
They are not in tune with the matters that concern our spiritual or material warfare other than the rumors and innuendoes that are spread and assumed by people who remain in the headline news.
These people are not on the level when it comes to the depth of life. They are not even on the level when it comes to the minor things that regard life, circumstances, and their situations.
If some of them can afford to they waste money on frivolity by dressing up in particular styles of weave, jewelry, and apparel only to impress other people out of their own insecurity and low self-worth.
They profile and show off in fancy vehicles.
They over compensate by trying to be more than what they actually are. Some of them even believe that they are more than what they are even though deep down inside they do recognize their inferiority.
I have witnessed these acts of ostentation and pretentious conduct for many years now.
What really kills me though is how these type of people try to cause fear into one. They always want someone to be scared and afraid of them with their loud talk and boasts of violence just to intimidate and to prove that they are rough and tough.
Usually, and in reality, they are the most cowardly kind of people that there is that is within existence. Especially the way that they take advantage of others in order to get what they want.
They do not have the courage, dignity, or ability to acquire or to accomplish anything that is worthwhile.
They do not know the meaning or the fulfillment of working hard, or working at all to gain the rewarding achievements of and on their own.
The trash have no life.
In return, and in the process of their constant degeneration, their negative energies linger around idly, vigilantly seeking to drain and to suck out the lights of positive vibrant lives and their life-forces.
Jealousy And Envy: Knowledge, Creativity, And Gifts