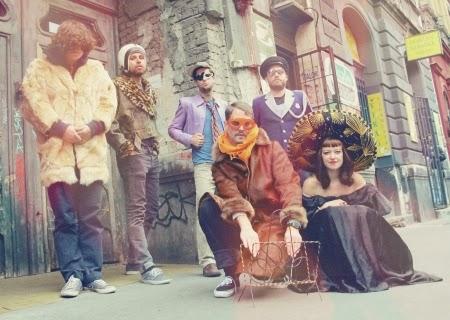 Swiss psychedelic vaudevillian blues rockers The Pussywarmers joined forces with Hungarian blues singer Réka for their I Saw Them Leaving. Using instruments that are not widely associated with rock 'n' roll - trumpet, banjo, bongos - they are the missing link between Jacco Gardner and Setting Sun. Their overall sound is lo-fi garage with hints of surf of pop. Good time music driven by lazy vocals and plenty of fuzz, echo and feedback.
If goofy freakiness is the new cool, this catchy batch of songs will cheer you up after a rough day and get you in the mood for beaches, BBQ and lots of booze.
The Pussywarmers & Réka:
Pozzo: vocals, guitar
Réka: vocals, keyboards
Dug: drums, vocals
Simon: guitar, banjo, vocals
Raoul: double bass
Pietro: trumpet, bongos

I Saw Them Leaving is released on Wild Honey Records. Digital and limited edition vinyl.
Tracks:
Under The Sea
Sunrise
Looking Over
Feeling Of Death
There Are Always Two Answers
Fading Out
This Town
Young Men Living
Something You Call Love
I Saw Them Leaving
Live dates:
04/25 Basel @ 1.STOCK
05/01 Chiasso @ Murrayfield Pub
05/03 Zürich @ Bundeshaus zu Wiedikon
06/07 Zürich @ Bundeshaus zu Wiedikon
06/08 Engelberg @ Halt auf Verlangen Festival
07/23 Nyon @ Paleo Festival