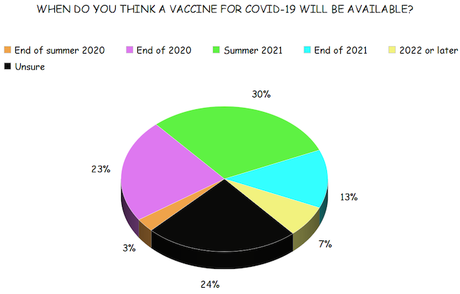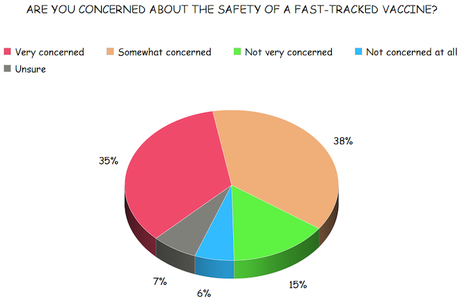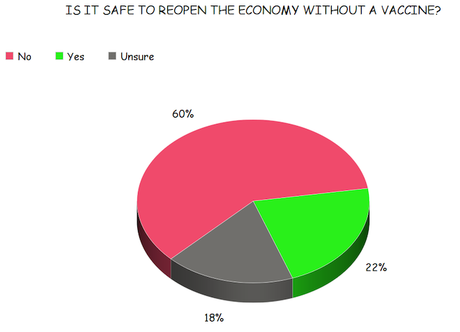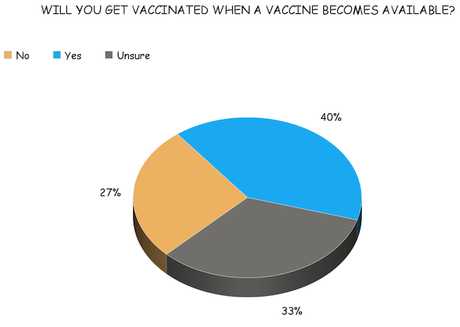 The charts above reflect the results of the new Economist / YouGov Poll -- done between August 2nd and 4th of a national sample of 1,500 adults, with a 3.3 point margin of error.
Donald Trump would like for Americans to believe that a vaccine for COVID-19 is nearly ready for the market -- and could even arrive before Election Day.
The public doesn't believe that anymore than they believe his other public health pronouncements. About 63% don't believe it will come before the end of this year, and 50% believe it will be at least the summer of 2021 before a vaccine is available.
The public is also worried about the safety of a vaccine that is "fast-tracked". About 73% say they are concerned -- 35% very concerned and 38% somewhat concerned. Only 6% say they are not concerned at all.
Trump is still wanting states to ignore the virus and reopen their economies. The public doesn't like that idea either, with 60% saying it's not safe to reopen without a vaccine. Only 22% say it is safe before a vaccine is available.
And only 40% right now say they will take the vaccine once it is available, while 33% say they are unsure and 27% say they would not get vaccinated.