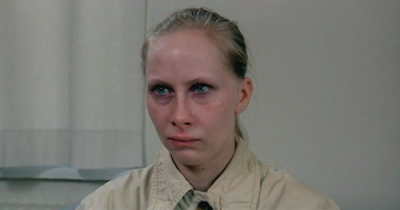 Kati Outinen in The Match Factory Girl
Three droll, alternately funny and melancholic films from Finnish filmmaker Aki Kaurismaki detailing lives of quiet desperation on the bottom rungs of the social order. Each center on excellent lead performances with the best of the lot (and the most devastating) being the concluding film.
Shadows in Paradise
 tells the story of a lonely garbage worker (Matti Pellonpaa) whose business ventures are crushed when his partner dies unexpectedly and he renews his life with a homely grocery store check-out girl (Kati Outinen).
Ariel
 tells of a coal miner (Turo Pajala), forced to start over following his termination and his father's suicide, who soon finds himself in hot water with the law. Lastly,
The Match Factory Girl
 details the life of a victim of unremitting cruelty and desolation (Outinen again, heart achingly good), whose existence is as mundane and repetitive as the matchbox making machines she mans.