Some creative thinking has gone into this latest scheme to try and protect the rhinos of South Africa, and the outcome has resulted in some pretty stylish looking rhinoceros roaming the grasslands of a private game reserve.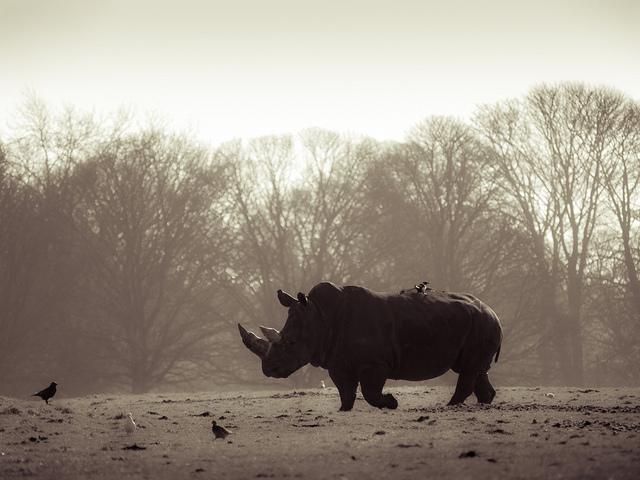 Image courtesy of wwarby

Normally, we humans would think nothing of donning something brightly coloured (be it makeup or clothing), and would infact think that it goes towards improving our appearance and making us look much more attractive. But in this case, the aim is to use color to make poachers less inclined to want to hunt rhino. Wildlife workers at Sabi Sand at the southernmost tip of Kruger National Park, have used some clever logic and have injected a specially formulated substance into the horns of the rhinos that live in the reserve. This cocktail turns the horn pink, which makes it a far less valuable prize for any budding horn hunters that may have previously been thinking of poaching those very rhinos.
Not only does this concoction turn the horn pink in color (and immediately making the rhino look like it is off to a full moon party), the pink dye can be detected by airport scanners even when the horn has been ground into a powder. This gives hope that if the pink colouring wasn't enough to deter poachers, they would have a high chance of being caught when attempting to smuggle the powder through airports. The risk of transporting illegal product will increase, and thus it is hoped that the attempts to illegally transport rhino horn will decrease.
But the interesting story behind the pink rhino horn doesn't stop there; the concoction that turns the horn pink also contains poison. The dye is mixed with parasiticides, and is not meant to kill poachers or consumers who ingest the powder; it has some strong and unpleasant side effects that include nausea, vomiting, and diarrhoea. Which are ironically, some of the symptoms that rhino horn is usually misguidedly used to alleviate, despite the horn containing nothing that could alleviate these symptoms.
While this could be a useful deterring tactic to prevent the needless slaughter of rhinos for a cause that is pointless, unfortunately it won't stop all poaching, as in the case of horn carvings the pink horns can be simply bleached white again. But it has drawn attention again to the plight of the rhino and the overwhelming illegal horn trade, and so there are sure to be some positive outcomes from the strategy. However not all wildlife advocates are sold on the technique, as it is unsure if the dye has been properly tested and isn't harmful to the very animals it is tasked with saving.
But for Sabi Sands, this tactic could work and if proved completely safe for the rhinos already injected, could be copied elsewhere with resources to carry it out. The message is simple, and hopefully effective - do not touch our rhinos, or there will be consequences. And for once, it is good to know that the poachers don't have the upper hand in this situation.
By Ellie Cambridge
Get involved in wildlife conservation of Africa's Big 5 and their smaller friends on any of Frontier's South Africa game reserve projects.
Join the Frontier Community online with Facebook, Twitter, and Pinterest.
See more from volunteers on Flickr and YouTube.