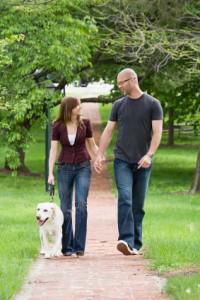 When I was newly pregnant with my daughter my mom's pregnant cat, who was shunning everyone else at the time, jumped on my lap and wouldn't get off. It was as if she was trying to say: "We're the same, you and I!" Pets, apparently, know when you are pregnant. Sometimes even before you do.
Some people might dismiss it as impossible, but this cat definitely felt that I was expecting a baby. But apart from being a living pregnancy test, pets might actually help you cope with the stress of trying to get pregnant and then sail through pregnancy more easily once you do conceive. Do you think I attributed too much power to our furry little friends, whether they are a dog, cat, ferret, or another animal? Just stop and consider what your pets do for you.
Keeping you fit
If you have a dog, you will almost certainly be someone who is physically active. Dogs have a way of making you go for a walk much more often than you would really like, don't they? And everyone knows that regular work outs reduce stress and boost your fertility – thereby making it more likely that you will conceive.
Relieving stress
For many couples, wanting to have a baby brings some tension. Making love was once fun, but now that an ovulation calendar and a definite time frame entered the equation, doing the deed can now feel like a chore. Your loyal pet will always be there – and you bring each other comfort and cuddles. When we were trying to conceive with the help of a fertility clinic and intrauterine insemination, our (sadly now deceased) dog always picked up on our stresses, and helped us stay centered.
Preparing for parenthood
Are you thinking about how to get pregnant, but have no experience with babies and children? This certainly described my husband and me when we were trying for our first baby. Many people definitely treat their pets as "substitute children", and their needs are not always dissimilar to those of small babies. Pets too make their needs clear in non-verbal ways, and sometimes make you wake up at inconvenient times. When you are attuned to your pets' needs and are a good "pet parent", being a new parent might just be easier for you.
Olivia writes about fertility, how to get pregnant, and parenting babies at Trying To Conceive. She also has experience with lots of "pet babies": dogs, cats, ducks, and chickens! Women who are hoping for a visit from the stork can sign up for the free ovulation calendar on her site.