New to little Indiana? Subscribe for free to my RSS feed. Thanks for stopping by!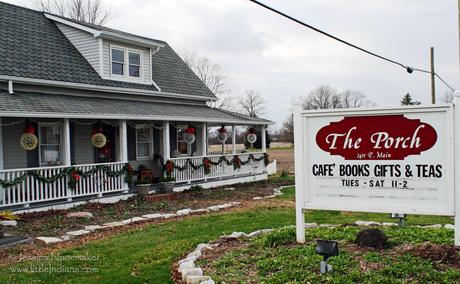 The Porch Cafe and Books in Danville, Indiana
Danville, Indiana
But more than a cafe, this Hendricks County lunch hot spot has books, gifts, and teas on the brain!
The Porch in Danville, Indiana
When seated at the table,  we were handed a menu a mile long–and I'm just talking about the teas!
Black teas, herbal teas, decaf teas, Oolong teas, and even White tea, they had everything from Almond Tea to Yerba Mate Tea. A – Y? That's pretty good!
Finally, I made a choice: a pitcher of decaf Peach Tea (even our boys are tea fans). Hubs ordered the Organic French-Press Coffee.
The Porch Food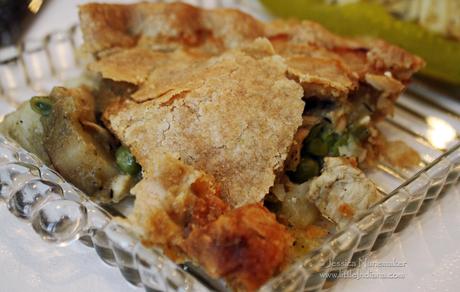 The Porch Cafe and Books in Danville, Indiana Chicken Pot Pie
The Porch Menu is short and sweet. There are your lunch basics like soup and sandwiches as well as changing seasonal specials and dessert.
I quickly decided on the Chicken Pot Pie with Ridge-Cut Salt & Pepper Chips. A weird combo, I know but they sounded so good!
Hubs went for the White Chicken Chili, a popular seasonal menu item, served with a slice of toast.
The boys had sandwiches and a side of carrot and celery sticks. It was superb!
Homemade and Organic Food at The Porch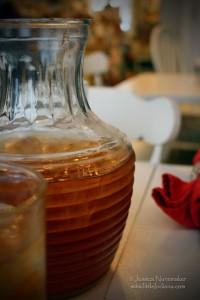 The Porch Cafe and Books in Danville, Indiana
Now THIS is delicious food! Like in so many small Indiana towns, little Indiana and family were pleased to discover yet another fantastic place to eat and to share with all of you!
But more than food–being surrounded by books, teacups, and other home decor made for a very cozy atmosphere.
We watched one couple pick out books right from their table. How convenient is that? Did I mention The Porch is also kid friendly? Now that's a winning combination!
Just don't forget to tell 'em that little Indiana sent you.
Find The Porch cafe and other pictures in Indiana on my Flickr photostream.
The Porch
2411 E Main Street
Danville, Indiana 46122
317.745.5792

View Larger Map
little Indiana: Where to Stay, Play, and Eat in Small Towns in Indiana. Discovering Indiana's best small towns! Now get little Indiana on your Kindle.
Targeted. Relevant. Affordable! little Indiana Advertising