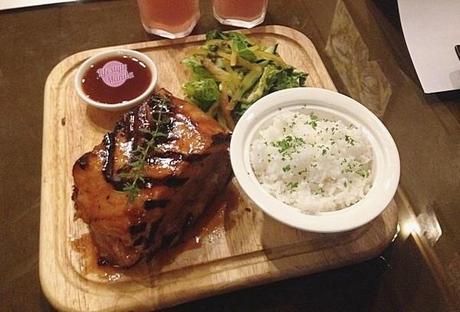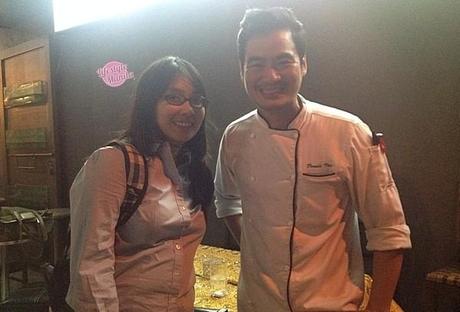 Here I am with Head Chef and co-owner Dennis Tan!
Not gonna lie: Several years ago I thought it'd be cool to have a restaurant that served different food from a specific country every month. And I even had a name ready for it too: Food Trip. So yeah just imagine my disappointment when reality hit me like a grade school substitute teacher in 90s Manila and someone just flat out told me a Food Trip restaurant already exists somewhere in Marikina. But I digress. This entry is really about The Pilgrim, a snazzy new restaurant that takes diners on a gastronomic journey through its uniquely composed dishes. Heck, even before you get to 
travel 
through the varied dishes, you will need to
travel
just to find the restaurant, too! Don't get me wrong, though: The place is worth the trouble, since the restaurant offers dishes that are hard to find outside Maginhawa.
The Menu Offerings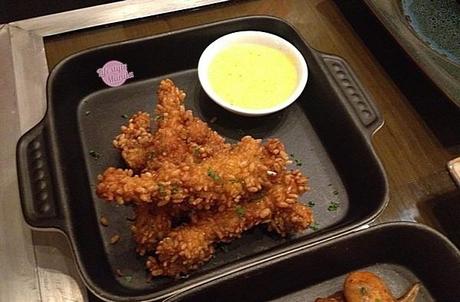 Chicken fingers with rice krispies and homemade mayo Php180
This is a must-try, mostly because you would be hard-pressed to find another restaurant offering chicken fingers coated with rice krispies. Indeed, these chicken fingers have been fried to golden brown perfection. Each finger isn't too greasy--in fact, it's crispy, lightly breaded, and has a tiny, tiny hint of acid (just the way I like it).
Bacon wrapped prawns with paprika bechamel and roasted potatoes Php320
Kudos to the salad vinaigrette! I'm not sure what it's made of, but it's tangy, light, and works well with the bacon wrapped prawns.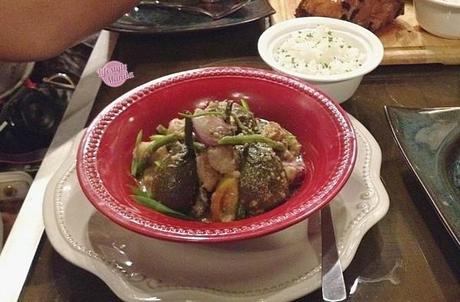 Khmer green curry (chicken or fish) with rice Php195
For me a bowl of Khmer green curry should be coconut-y and fragrant with kaffir lime and lemongrass. The Pilgrim's version, though, chooses to compensate for the absence of that delicious lemongrass flavor by adding extra amounts of salt, which I personally do not like. I was informed that most diners enjoy the salty flavor, though. So to each his own.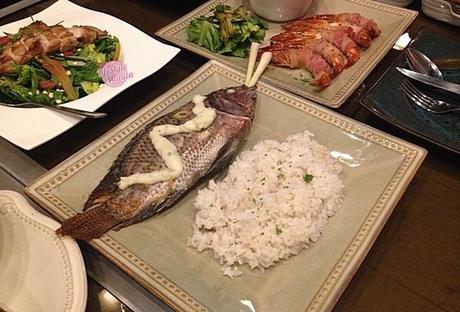 Baked Packet St. Peter's Fish with bechamel sauce and coconut rice Php220
The weakest dish among the bunch, since the baked fish was a bit on the bland side. Coconut infused rice will always be the bee's knees, though! You know why? Because I love Cambodian food, and coconut infused rice is uniquely Khmerlicious.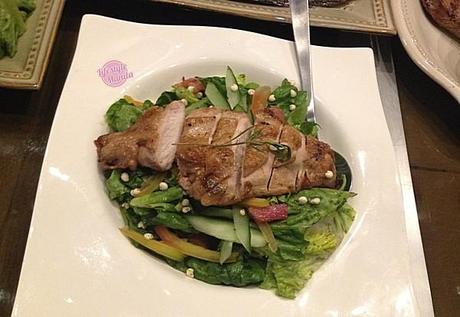 Waywurd house salad with grilled chicken and basil tarragon dressing Php160
This dish made of fresh, tropical greens (lettuce, tomatoes and cucumber) and equally enjoyable, super tangy basil tarragon dressing is highly recommended! Though the chicken breast is on the slightly dry side, it has enough amount of flavor to satisfy a discerning tummy.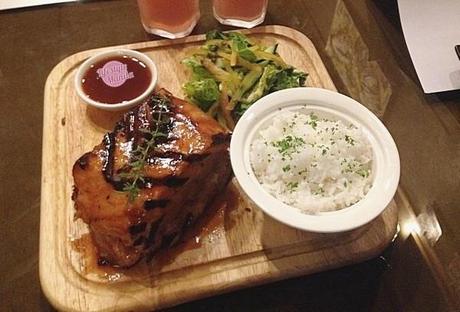 Baby Back Ribs by Mr. T with homemade BBQ sauce Php380
Move over, Racks. Mr. T's baby back ribs and homemade BBQ sauce can definitely outshine you! The Pilgrim's dish is essentially thick slab of meat that is so tender that you would think it had spent a lifetime in the kitchen covered with BBQ sauce that must have been sent down from heaven. An order includes your choice of side, too. So take your pick: Do you want parsley rice, roasted potatoes, stir fried veggies, french fries or grilled corn?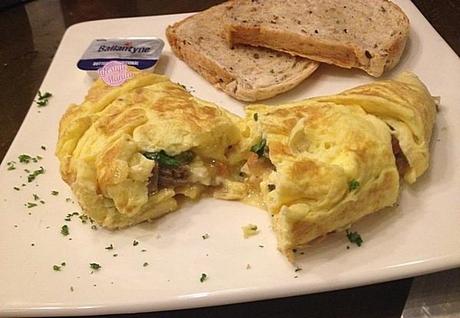 Here's a good one at The Pilgrim: You not only get to
travel
through the food, you also get to make your own food! But in this case, just the omelette! Sure, omelettes are pretty common here in Manila. But where else can you find a huge serving for only Php 190? At The Pilgrim, you get to choose your egg, choose two among the available fillings (bacon, farmer's ham, pastrami, mortadella, spinach, onion, bell peppers, tomatoes, jalapeños, red chillies or basil), select the cheese you want (cheddar, american, cream cheese or mozzarella), and choose the bread (whether white, wheat or baguette). Since I prefer my omelettes a little bit fluffy and a little less dry, I was on the fence with what I tried. An omelet is still an omelette, though, and this dish at Php 190 is already a good, filling meal for two. So take heed, lovers on a budget!
The Verdict
Check out The Pilgrim at 189 Maginhawa corner Makadios Streets, Quezon City!
Price 
4/5
Taste 
3/5
Value 
3/5
Overall 
3/5 The baby back ribs will make you come back for more, seriously. No wonder they're called "
baby back 
ribs" eh? The rest of the offerings could need a bit of tweaking in the kitchen, though, but the dishes were pretty decent overall.