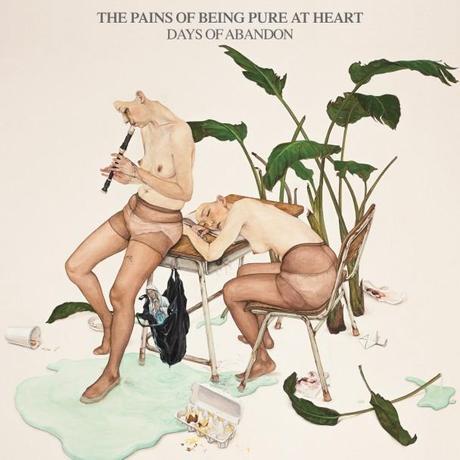 Days of Abandon, the third full-length release from Kip Berman's indie pop project, The Pains of Being Pure at Heart, is very much a product of what has come before. The whimsical, teenage verve and spirit of the band is in the same ballpark as previous efforts, but the significant difference here is that the production and delivery is a lot more refined and streamlined.
Not so much shoegazing as it is starry-eyed, Days of Abandon is a record that sees Berman write genuinely infectious, love-struck songs of hope and innocent naivety. His songwriting is simple enough, but what it offers in exchange for its uncomplicated demeanor is a genuine state of youthful optimism and sweeping bursts of grandiose emotion. This, of course, is propelled massively by the musical DNA of its instrumental support. The lo-fi roughness and textured fuzz of their self-titled debut has been stripped down and ironed out into a cleaner, more presentable state. Despite its rounded edges, though, the music still maintains the core essence of its dreamy, 80s alternative feel. Combine this with the structural influences and guitar sounds (which pen an audible love letter to the likes of The Smashing Pumpkins and other 90s alt rock figures) that their second record, Belong, showcased, and you have Days of Abandon, the natural progression of a band who has gradually but strongly built on an initial potential.
Although very much an amalgamation of ideas, sounds and styles previously worn by the band, what makes Days of Abandon the finest outing for Kip Berman and company is that its more than just the sum total of their previous work. The recording, production and overall presentation on the album is cleaner, bolder and more robust than before. There's more layering, more instrumentation and more thought within each composition. It's not a record full of academic songs and over thinking; it might be smarter and more professional, but it never loses its sense of fun or the carefree feeling that The Pains of Being Pure at Heart have always possessed.
It's far from perfect, but it's a definitive example of growth from a band who has continuously improved on each record to date — furthermore it's an absolute joy to listen to whether you've come for its sentiment, its sound or both.