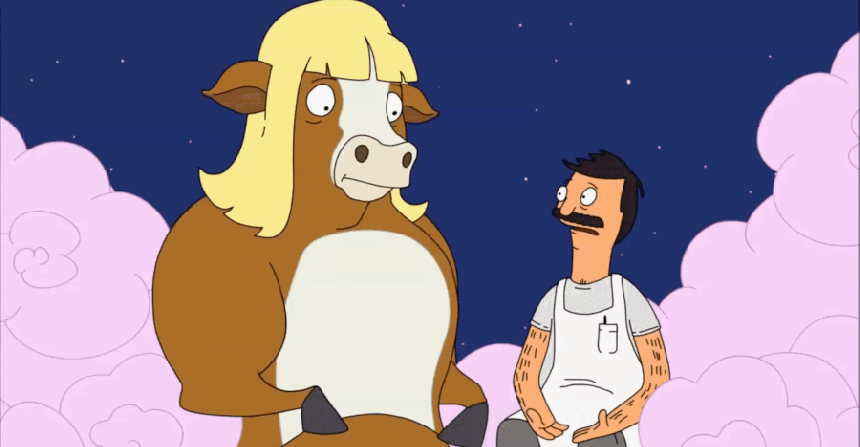 The Oxherd Series
 is a collection of 10 images and commentary on the quest for enlightenment.  Its source is the Zen tradition. What you're reading here is a satirical, but not all together purposeless, treatment of these so called stages. Using excerpts from one of my favorite cartoons,
Bob's Burgers
, I hope to bring this old story into the present.
We are guided here to do the work, and to do it ruthlessly. The poem accompanying the drawing tells us whip and rope are necessary. Who is training this ox? Is it really training ourselves? What do we train towards? If it's not samsaric work, then what do we do?
The work is a undoing our samsaric patterns of being.  Patterns of habit and not looking.
Near the end of the Bob's Burgers episode, the steer dies in an apparent heart attack after nearly being hit by a van. Bob faints and falls into a dream where he discusses the situation with Moolissa (yes that's the cross dressing steer's name).He comes to some epiphanies about his life, eating meat, and the world as it is. Bob has the wherewithal to note that this is of course his subconscious telling him what he wants to hear, but there is an undressing of the world here that is both good story and relevant to our quest for enlightenment.
First, mind is a double edge sword. Mind is the cause of our divorce from the world, but it also is the tool we use to recognize the split. Caught up in mind we loose touch with our senses.  Recognizing the break, we can choose to return to our senses. This work is different than samsaric work; subtler, and less about doing than being. A well trained ox is attentive to the signals of his master, and effortlessly responds. We would do well to be attentive to our world, letting go of the obfuscations that can hinder our relationship with it.
The whip and rope are necessary,
Else he might stray off down some dusty road.
Being well trained, he becomes naturally gentle.
Then, unfettered, he obeys his master.
Next: Riding the Ox Home
I'd love to hear your thoughts in the comments below.
Modern Koans
is an ongoing series that recognizes that good questions are often more important then their answers.
The riddles of God are more satisfying than the solutions of man. ― G.K. Chesterton
Get Each Week's Modern Koans In Your Email Box
If you enjoyed this post,  please like and share.







The post The Oxherd Series – Taming the Ox – Modern Koans appeared on Andrew Furst.