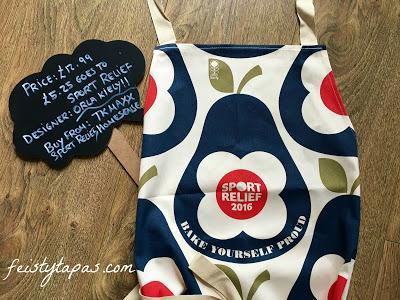 Calling all Orla Kiely fans. This gorgeous Sport Relief

apron

is now available to buy from TKMaxx both in store and online here, Homesense stores and Sport Relief later on. It retails at £12.99, with at least £5.25 going to Sport Relief. There are also matching tea towels in two designs on sale at £4.99 (£2.50 goes to charity). Meghan from the Feisty Tapas Facebook communities has had the awesome idea of buying both the apron and the matching tea towel (which she has already done) and use the tea towel to sew a pocket onto the apron.

The winners of the The Great Sport Relief Bake Off will receive one each night so you can pretend to be a bake-off star in the comfort of your own home. The The Great Sport Relief Bake Off starts today, Wednesday 27th January, at 8.30pm on BBC1. If you are a member of the Feisty Tapas Thermo Cooking UK with Feisty Tapas, Rosemary is sure to remind you later! Thank you Rosemary for the daily "what food programmes to watch" updates.
My

apron

was sent to me to help promote it, I am a huge Orla Kiely fan so I'm very excited and Sport Relief is a very good cause! I will donate the money it would have cost me (£12.99) to buy the

apron

to Sport Relief aaaand, the moment 20 of you buy one of these and share a photo as proof, I will share a photo of me wearing it. 


If 50 of you buy it and share a photo, I'll pose for a photo while pulling a silly face. You all know I don't do cameras, right??? Aaaaand, the big one...




If 100 of you buy it, I'll do a nice giveaway of some sort.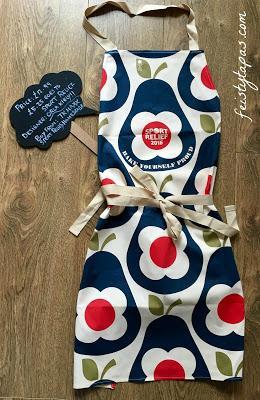 I posted the above in my Thermo Cooking UK with Feisty Tapas Facebook group the other day and tons of members have been to buy theirs and ordered online already so basically I am doomed! I should really look into covering the greys or improving my photo editing skills!




In the groups, just post on the apron thread from the other day or onto the wall. If you're not a member of my groups, make sure you tag me on Instagram, Twitter or Facebook.




Obviously, feel free to include baked goods and recipes in your photos to keep the fun going! And make sure you tell everyone in your social media and offline that it's all that Feisty Tapas woman's fault. So that's Instant Pots, Foodsavers, Mia Tui bags and aprons that I am guilty of you all buying, just that, right? Ah I forgot the Philips pasta maker that you've all been getting your paws on. I can only apologize people and make sure that you use them all regularly.


While you're in TKMaxx, don't forget to take a look at the cooking section for the amazing Nordic Ware baking tins at really good prices! If the section is as big as the one there is in the TKMaxx in the center of Cambridge, it's worth canvassing it once and then do it another go. I tend to find one, sometimes two tins. Oh and look out for the Dumpling Cube too, we will be having another dumpling cook-off in a few weeks, I just need to get the right attachment for my Philips pasta maker, the one that makes thinner sheets.


Apron

price: £12.99, at least £5.25 goes to Sport Relief.
Tea towels: £4.99, £2.59 goes to Sport Relief.
Ready? Steady? Go bake yourselves proud!!