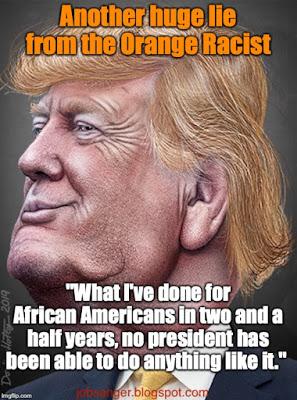 The Orange Racist currently occupying the White House is trying to fool the public again. Recently, he has been exposed again as a racist, and he doesn't want the public to know that. So he's come up with another lie to cover for it.
He is now claiming to have done more for Blacks in America than any other president ever has done. He's trying to base that claim on a fairly low unemployment and poverty rate for Blacks.
What he won't tell you is that both trends started under the Obama administration -- and he just hasn't been able to screw it up yet (although he's tried with his racist statements, tariffs, and trillion dollar deficits).
He also ignores the fact that Black unemployment is still much higher than that of Whites, that Black income and wealth is only a tiny fraction of that of Whites, and that he opposes any higher wages to remedy those problems.
It's ludicrous to think that he has intentionally done anything to help Blacks in this country -- and his claim of doing more than any other president could only be believed by his idiot base.
Here (from PolitiFact) is what historians think of his bogus claim:


It's impossible to ignore the impact of Lincoln's actions on behalf of black Americans. "The Civil War, the Emancipation Proclamation, the 13th and 14th Amendments – no president has done more for black Americans," said David Greenberg, Rutgers University historian and author of "Republic of Spin: An Inside History of the American Presidency."

Second place, historians say, almost certainly belongs to President Johnson.

"His accomplishments on behalf of African Americans — the Civil Rights Act, the Voting Rights Act, the Fair Housing Act — were historic," said University of Texas historian H.W. Brands, author of many books including "The Man Who Saved the Union: Ulysses Grant in War and Peace." "Trump's accomplishments were incidental, side effects of a pro-corporate agenda," Brands said.

Johnson, a skilled legislator from his years in the Senate, deliberately crafted his agenda and pushed it through Congress with personal persuasion, to a far greater degree than Trump, historians say. (Republicans played a key role in passing the Democratic Johnson's agenda.)

Jeffrey A. Engel, director of Southern Methodist University's Center for Presidential History, said a good way to compare the presidents on race is to gauge whether they are "ahead or their times" or "behind their times."

Engel sees Johnson and President Harry Truman, who moved to desegregate the military, as being among those who were ahead of their times, while President Woodrow Wilson was behind his, reversing some earlier policies that had banned discrimination in federal hiring.

"Trump in this sense is way behind the times," Engel said. "We have not had presidents since Ronald Reagan that so openly used race as a political weapon. Trump is blunt well beyond the norms of his time."

Several historians said Trump's rhetoric has undercut his economic record.

"To be very honest, his posture as president really does not compare to anybody's posture as president," at least in recent years, said Dwight D. Watson, a Texas State University historian who specializes in African-American history and the civil rights movement. "You might have to go back to Woodrow Wilson."

Trump's personal attacks — combined with remarks such as saying a group of white nationalist marchers in Charlottesville included "good people" — are a jarring departure from longstanding public norms, said Max J. Skidmore, a political scientist at the University of Missouri-Kansas City and author of "Presidential Performance: A Comprehensive Review."

"On balance, the good that he has done has been largely, if not entirely, inadvertent," Skidmore said, "while the harm is deliberate and calculated to maintain his hold on political power."