New to little Indiana? Subscribe for free to my RSS feed. Thanks for stopping by!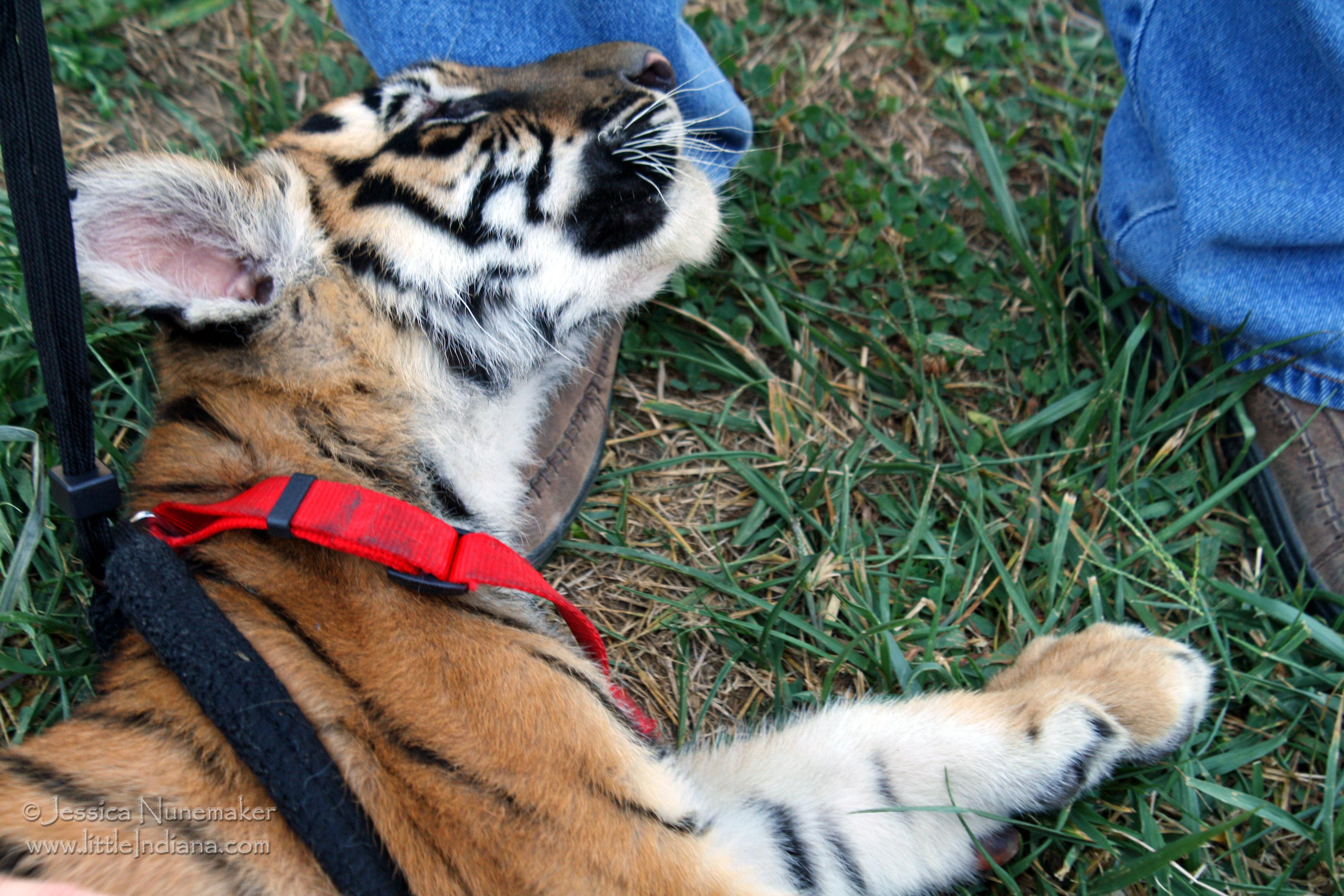 Stapps Circle S Ranch: Greensburg, Indiana
Stapps Circle S Ranch in Greensburg, Indiana is many things: Amazing, incredible, fun, and educational!
During our little Indiana visit, I had the chance to pet a baby tiger. Yes, you read that right–a living, breathing baby tiger in a small Indiana town.
Greensburg, Indiana: Stapps Circle S Ranch
Pulling up to Stapps Circle S Ranch, you will immediately find yourself surrounded by a variety of animals in a variety of pens stretching over more than 30 acres.
I know that when someone mentioned that they had a baby tiger and I could pet him, I was pretty sure I misheard. Until I got to pet him!
That was a ball of cuteness wrapped in sleek, stripey fur! Like a domestic cat, he just wanted attention–and lots of it! As soon as the owner walked away and left him, he cried for him to come back! It was so sweet. It's easy to see that the owner cares as much for these animals as they do about him!
But, we had a tour to take. So, we hopped in the big "train" and away we went!
Tigers, Bears, and little Indiana–Oh My!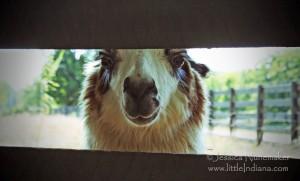 Stapps Circle S Ranch: Greensburg, Indiana
At Stapps Circle S Ranch I learned that llamas do not like me. As you can see from the image on the right, I was given the stare-down.
But it was so cute, I couldn't stop taking photos. Just look at that face!
We saw (and sometimes even fed) plenty of other animals as well: Goats, Ring-Tailed Lemur, Sheep, Tortoise, and big exotics, too.
Our boys fed a Capuchin Monkey, the same type of monkey found in the movie A Night at the Museum–Kid #1 loved that!
Go There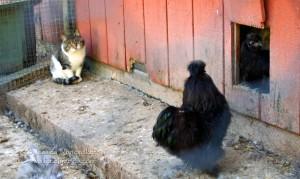 Stapps Circle S Ranch: Greensburg, Indiana
I can't begin to tell you how much fun all of us had at this unique Indiana attraction.
Just look at the image to the left. Now that was the strangest chicken I ever did see. Apparently, that kitty has lived in there since birth–and does not want to leave!
Just don't forget to tell 'em that little Indiana sent you.
Find Stapps Circle S Ranch images and other pictures in Greensburg, Indiana on my Flickr photostream or on the new little Indiana Tumblr blog.
Stapps Circle S Ranch
4858 East SR 46
Greensburg, Indiana 47240
812-663-6709 or 877-474-2327

View Larger Map
Don't miss a moment. Subscribe to little Indiana and receive instant updates to stay on top of everything "little."
little Indiana: Where to Stay, Play, and Eat in Small Towns in Indiana. Discovering Indiana's best small towns! Now get little Indiana on your Kindle.
Targeted. Relevant. Affordable! little Indiana advertising.