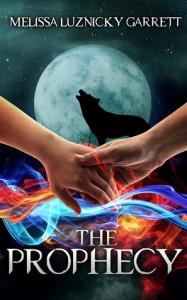 It's summer break down here in SW Florida which means that the streets (and beaches) are overflowing with teenagers who are looking for something to do. Some take jobs, some sign up for water ski camp and others volunteer to help at camps for younger kids. But the majority find ways to hang out with friends and spend mom's money at the mall, in local restaurants and in beach shops along the shore.
There are exceptions. In my church there is a 14-year old girl who is helping to shape the music ministry for kids in our church. If you talk with her, you'll find that music is her passion, not just a passing hobby, and it's how she plans to leave her mark on the world one day.
The group of teenagers in The Prophecy by Melissa Garrett may have wanted to be your average group of kids, but they are destined to be set aside for something so much more.
The story begins where the prequel, The Spirit Keeper, leaves off. Shyla has given Sarah the spirit of their goddess Katori and all the magic and trouble that comes with it with the promise that one day Sarah will marry a man in her tribe and produce an heir to pass the magic on to. Not a problem considering she's madly in love with Shyla's brother, Adrian, and the two have become inseparable all summer long.
Now Sarah must face her biggest challenge yet as she visits the Katori tribe and proclaims herself a guardian over the people that shunned her as an infant due to her mixed bloodline. The tribe welcomes her reluctantly and besides a cold brush with her dead mother's childhood girl friend, Charlie, all goes pretty well. She even meets two other kids in the tribe her own age.
It isn't until she returns home that the troubles of her new found status within the tribe really puts her in danger. The warning comes when Charlie suddenly moves herself and her two kids to up-state New York under the pretense of needing to protect Sarah now that her new status within the tribe has been revealed. She enrolls her kids in Sarah's school and keeps close ties on the family by stopping in unexpectantly.
What Charlie doesn't know is that her son Caleb has revealed his secret to Sarah. The secret that he too can manipulate the elements. While Sarah has a knack for healing and fire, Caleb's strengths are found in water, earth and wind. But their new found comradery has Adrian sitting on the fence as to how his relationship is going to play out with Sarah.
In the meantime, Charlie's warnings may be coming true as a member of Sarah's father's tribe has begun actively tailing her at school and after school. This tribe is bad news for the Katori people and Sarah's father is already responsible for one death in the community.  Also, Adrian's father Victor has been in contact with Adrian again. The last time Victor was in town he tried to kill both Sarah and Adrian.
How will this all play out in the end? You'll have to read to find out. I promise you won't be disappointed as Garrett does a great job with mixing modern ideas and attitudes with the ancient legends of the American Indian tribes in her stories. She does a flawless job of creating both the villains and the heroes and you'll never know what's coming next.
I give this book 4 stars and recommend it to anyone who is looking to continue the story from The Spirit Keeper. It's a good Young Adult read and will have both us grown ups and the teenagers looking for more from this author.
Do you think books should have a concise ending that's all wrapped up and completed or do you like it more when books end with a potential cliffhanger?