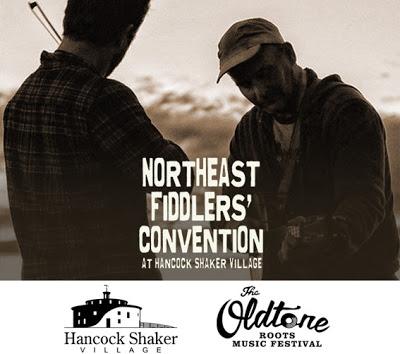 This Saturday

!
Oldtone Productions and Hancock Shaker Village present:
The Northeast Fiddlers Convention
with
Bill and the Belles, Nils Fredland, and Tara Linhardt. The day includes workshops with Bill and the Belles, Fredland, and Linhardt, jamming in historic barns, instrument contests with cash prizes (courtesy of Rock On), a concert and a Square Dance.  Hancock Shaker village demonstrations available throughout the day, included in the ticket price. Follow @northeastfiddlersconvention on instagram and Oldtone Native on FB for news and details. Pre-registration required for the instrument contests. Email 

[email protected]

 to register for the contests. 
June 9th from 2pm to Midnight

!
Hancock Shaker Village events available for Fiddlers' Convention ticket holders as early as 

10 am.

  
TICKETS TO THE NORTHEAST FIDDLER'S CONVENTION
SCHEDULE
10am

   Village opens 
(Hancock Shaker Village displays, trails, and demonstrations available to NE Fiddlers' ticket holders
2-4pm

   Workshops


4-5pm

   Open Jam in the Round Stone Barn


5-7pm

   Fiddle & Banjo Contest


7-8pm

   Open Jam


8pm-Midnight

 Square Dance
CONTESTS
Contestant Sign-up is REQUIRED!   Space is limited, and walk-ins are not guaranteed a contestant spot. All signups get Oldtone & NE Fiddlers' Convention stickers at check-in!
Fill out the form below or email 

[email protected]

 to register for the contests.
Judged Contests for the following categories*:
Fiddle  /  Banjo   /  Guitar  /  Mandolin  /  Dobro
2018 Prizes for each category are:
1st PRIZE: $100 cash! + 1 Full Camping ticket to the 2018 Oldtone Roots Music Festival
1 ticket to the 2019 N.E. Fiddlers' Convention
2 tickets to Supertone Music Festival
Fiddlers' Merch Bag
2nd PRIZE: $50 CASH!
A ticket to the 2019 N.E. Fiddlers' Convention
Fiddlers' Merch Bag
3rd-PRIZE: Fiddlers' Merch Bag!
For Contest Rules CLICK HERE
WORKSHOPS
We anticipate these sections to be small in class size and intimate, the leaders will assess the skill levels in the room and try to address a wide range of instruction and knowledge in their particular subjects. No sign-ups are necessary for the workshops, and reservations are not accepted.
Workshop Instructors:
Tara Linhardt: Mandolin: "Monroe and Beyond"
Kris Truelsen: Guitar & Band Styles: "Evolutions from the 20s & 30s"
Grace Van't Hof: Banjo: "Bluegrass Drive to Old-Time"
Kalia Yeagle: Fiddle: "All Things Fiddle"
Karl Zerfas: "The Bass"
Nils Fredland: "Square Dance History Through Your Feet"
Tickets on sale here
Day tickets (

10am-7pm

) $20 advance/$25 day of.
THANKS TO OUR SPONSORS!!