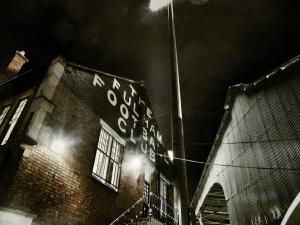 Does anyone really dislike Fulham? I'm sure I can see some hands at the back of the room belonging to some QPR fans, but gents you should really worry about what 'Appy 'Arry is doing rather than your rivals down the Fulham Palace Road. No, I didn't think so. In a city where Premier League rivalries are so intense, it is always amazing that Fulham sit in the middle, completely unaffected by the missiles flying over their head. A bit like Switzerland really. Neutral, steady but with less chocolate. Even with a money bags chairman who essentially bought his way into the Premier League over a decade ago they still rarely offend anyone.
Back in the mid 1990′s the club were on the brink of losing their existence. They had fallen almost as far as they could have gone, finishing in the lower reaches of the fourth tier of English football in 1996. Around this time I adopted them as my second team. I was living in North Kensington (a posh way of saying Olympia) and with the Cottagers playing at home on alternate weekends to West Ham and the then FMF (Future Mrs. Fuller) working on a Saturday, I would wander down North End Road, with a few stops enroute at the The Clarence, Old Oak, Seven Stars and the Elm with my flat mate Marc. We would pay our £6 to get in and could stand on a crumbling terrace, watching some terrible football. We were actually two of the attendees in the game versus Scunthorpe United that attracted just over 2,000 spectators, the lowest attendances for a league match in the club's history.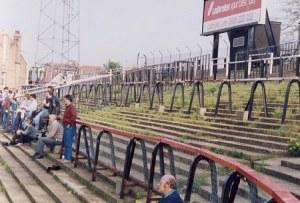 Thanks to Flick to Kick for this picture
The club around this time launched its Fulham 2000 appeal. It was a last throw of the dice to try to secure a future for the club, with the Royal Bank of Scotland refusing to discuss the future of the club and the ground. I signed up, in what was a prototype for the current Community Ownership schemes such as Lewes's, and even became an "agent" for the club, selling the £10 membership packages (a letter from Jimmy Hill I remember was my highlight). The club soon pulled in a few football luminaries such as George Best and Johnny Haynes to become members and within a remarkably short period of time, the bank had come back to the negotiating table. The immediate future of the club was safe.
And then overnight the club were propelled into the spotlight. Micky Adams took the club to promotion, finishing second to Wigan Athletic (another current Premier League club it is hard to dislike) but in the summer the club was bought by Harrods owner Mohamed Al-Fayed. Out went Adams and in came the heavy weight team of Kevin Keegan and Ray Wilkins, with a vow to bring Premier League football to the Cottage within five years. And as good to their word, they rose through the leagues in the next few years, reaching the promised land in 2001.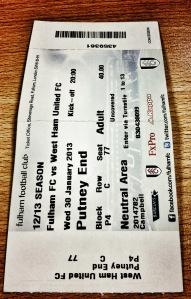 But that was then, and this is now. West Ham were the visitors and I had managed to snare a ticket, thanks to Dagenham Dan in the "Neutral" seating for this game, with the Hammers taking up their full allocation at £40 (!) a head. Premier League football at Premier prices. The Hammers. once the apple of my eye (before the arrival of SuGo and Allardyce) were having a rough spell. Since beating Chelsea (not exactly hard these days I know) in early December, the team have won just once in eight games. Whilst every team goes through rough patches, the fact that Allardyce still hasn't managed to solve the basic issue of scoring goals is a major problem. Our leading scorer this season is Kevin Nolan. With Andy Carroll (1 goal) injured for most of the season, Carlton Cole (2 goals) carries the goalscoring hopes on his shoulders. Not scoring many is fine as long as you don't concede. But shipping five in at Arsenal and three at Sunderland in the last two Premier League away games suggests the Hammers may have a problem if things do not improve soon. It's not as if Allardyce (I refuse to use the BS monocle for him unless the word "head" is used in between the two words). Rest assured based on that scoring form I'd used my free mobile bet to back Carlton to score first at 8/1.
This was going to be just my second Premier League game of the season. £41 was 33% less than what I had paid to see West Ham v Arsenal earlier in the season, but would it still be value for money? I think that would depend on the result!  I met up with Eddie Freemantle, Fulham's foremost tipster, pre-match in quite a unique pub.  The Bricklayers Arms is known for its real ale, with ten different ales on tap.  All very good but when nine are "off" and they are on the last barrel of "Bashing the Bishop's Park" I think they lose some of that credibility and bluster.  As the thirsty crowd went back for one for the road, that beer gave up the ghost and it was Carlsberg or bust.  We hit the road, walking through the park lured by the floodlights in the distance.
Team news set our mobiles alight.  Allardyce went with a midfield five of Jarvis, Cole, Nolan, Noble and Diame, which meant nobody would have a clue where each other would be playing à la Old Trafford and The Emirates.  Up front we had Marouane Chamakh, on loan from Arsenal.  For a forward to be out of favour at the Emirates when Wenger has the "talents" of Giroud and Gervinho says a lot about his abilities really.  At the back there was the pace of O'Brien, Demel, Tompkins and Reid.  Despite Eddie telling me Fulham were heading down the table fast, I feared another away day nightmare.
Fulham 3 West Ham United 1 – Craven Cottage – Wednesday 29th January 2013
To concede five to rampant Arsenal, in full flow can (and has) happened to the best of teams, but with the resources he has available, Allardyce should today be hanging his head in shame at this performance.  Sometimes the scoreline doesn't reflect the game, and in some ways 3-1 to Fulham was being disingenuous to their work rate and effort.  West Ham meanwhile were appalling.  I fully expect to get my usual marketing spin email saying that the "spirit is good", "we just need a bit of luck", "the new lads are firing in training" and then "Click here to buy your tickets for Swansea".  No, no, no.  Face up to the fact that Allardyce has taken this team as far as he can….(STOP PRESS: Today's comes from Neil "Macca" McDonald and says "It was great to see Andy Carroll back and he is going to be very important. We have lots of players back fit and that was probably the strongest bench we've had this season" Brilliant – so we have the strongest bench in the Premier League)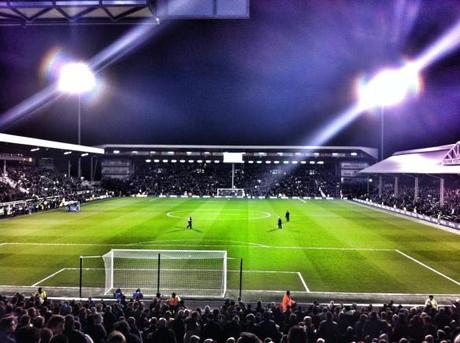 Midway through the second half there was a full and frank exchange of views between the players.  Not opposing players, but the West Ham central midfield pairing of Noble and Nolan.  When we conceded the second goal, allowing the Fulham player to out jump THREE West Ham defenders marking just him.  Queue scratching of heads on and off the pitch.  Things are not well in the West Ham camp.
As soon as David "Diddy" Hamilton announced that it was Berbatov's birthday you simply knew the West Ham defence would give him a present of a goal.  And sure enough after just eight minutes they decided to leave Duff's free kick from the right and Berbatov was unmarked at the back post to nod home.  Shades of offside perhaps but that doesn't excuse leaving the Fulham "Danger man" unmarked.
It was at this point that the confused midfield formation was starting to cause issues.  Sidwell, perhaps lucky to only get a yellow for a late and high tackle midway through the first half had far too much time on the ball, whilst Karagounis was able to roll around on the floor in agony before miraculously recovering whenever the ball came near him to their heart's content.  Only Diame looked like he was up for the fight, which is worrying as the odds are that by Saturday's visit of Swansea City he would be gone, on his way to Arsenal.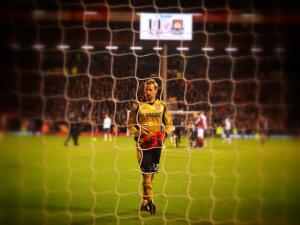 Half time arrived and a general chorus of boos greeted the team as they made their way across the pitch.  Whilst the Hammers were winning in possession terms, they appeared toothless up front.  Time for a change?
Whatever was said in the dressing room had the desired effect.  In almost a carbon-copy of Fulham's opener Nolan stole in at the far post to steer home.  Back in the game…..for all of one minute as Rodallega headed home from Duff's cross, making the three West Ham defenders look like statues. Back to square one.
The frustration was easy to see and hear in the ground.  West Ham threw on Carroll and Cole and changed their style of play to suit the two big men.  But Senderos and Hangeland are experienced internationals with over 100 caps between them.  Dealing with the threat of the dynamic duo was a piece of cake. Despite one good effort from Carroll, the West Ham threat was almost non-existent.
With the game moving into injury time, West Ham tried to find an equaliser but were caught out again as the ball seemed to be heading out of play after Jaaskelainen made a good save and Petric nipped in and turned the ball goalwards again which struck Joey O'Brien and went in to add insult to injury.  Three more goals shipped away from home.  All of a sudden the bottom of the table looks a little bit too close for comfort.  As the fans left in their droves into the cold January night they made their displeasure towards that performance very clear.
A good evening spoilt 90 minutes of poor performance….as the Current Mrs. Fuller said when I returned home.  I am not sure whether she was referring to the West Ham game or last Saturday night.  But I gave her the benefit of the doubt that she was talking about my evening.  I hope I was right.