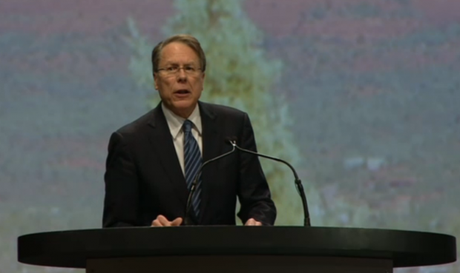 NRA executive vice president and CEO Wayne LaPierre speaks on universal gun registration. (Photo: NRA)
The Blaze
National Rifle Association executive vice president and CEO Wayne LaPierre continued speaking out against President Obama's recent gun control proposals Saturday night, zeroing in on "the real consequences of background checks." The organization has been targeted by many on the left in the wake of the tragedy at Sandy Hook Elementary last December.  While the NRA argues that more guns in the hands of law-abiding citizens creates a safer community, many in the administration and on the left disagree, saying it leads to more gun violence and accidental deaths. Most recently, the NRA has been publicizing a memo it by from the Justice Department that says the success of universal background checks would depend in part on "requiring gun registration," and says gun buybacks would not be effective "unless massive and coupled with a ban."
I agree that background checks should be combined with licensing and registration in order to be optimally effective, but who says the one necessarily leads to the other?
Well, obviously the Supreme Spin Doctor La Pierre says so and for the same obvious reasons he lies about other things like "jack-booted thugs" will come to your house.  He wants to increase the fear-driven resistance to reasonable gun control laws.
The fact is most gun owners are law-abiding and would continue to obey whatever laws are implemented.
There are exceptions of course
, but since most would cooperate, it would be that much harder for criminals and mentally ill people to get guns.
What's your opinion?  Please leave a comment.