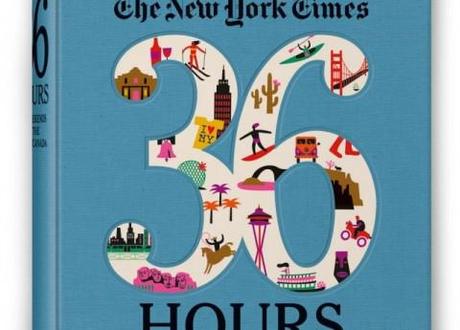 The New York Times's 36 Hours.
From the book's blue fabric hardcover to its 744 beautifully illustrated pages, everything about 36 Hours: 150 Weekends in the USA and Canada is appealing to the reader. And contrary to most coffee-table books, this one's just as useful as it is pretty – though it's perhaps too heavy to carry around with you on your travels.
Edited by former Times travel editor Barbara Ireland and published by coffee table book masters Taschen, 36 Hours dissects 150 cities in 600 restaurants, 450 hotels and a collection of nearly 1000 photos. This directory of meticulously researched weekends, a compilation of the paper's famous "36 Hours" travel reporting column, is divided into five main regions: The Northeast, The South, The Midwest, The Southwest, The West. Each region is colour-coded and indexed to make it as easy as possible for the reader to find their way around the entire North American continent. A veritable reference book of things to see and do all over the continent, 36 hours provides readers with the essential things not to miss out on in the continent's major cities.
Each city profile is a couple of pages long and is glowingly illustrated by some of the best images from New York Times photographers, including unpublished images. And each article, written by Times writers and sometimes locals, is spot-on at conveying the atmosphere and general attractions of a city, without going into lengthy and tedious descriptions. Just enough information is given about where to sleep, eat and drink, as well as things to see and do; the content is straight to the point while remaining just descriptive enough to pull you right in, without sounding like a press release. Not having every single point laid out in detail also means that travellers are able to experience the aspect of discovery at each destination, leaving room for the unexpected – a tricky quality to master that most guidebooks tend to miss by a mile. All the key points are there to help you organize your holiday, including tips on seasons and budget to plan for, accompanied by an easy-to-use map indicating the journalists' recommendations of places to eat and sleep. Articles are also divided into Saturday and Sunday, which gives you an idea of how much you can pack into one day without having to run around manically ticking things off lists.
Although aimed at a primarily American and Canadian audience, the book can be used just as easily by travellers looking to spend longer than 36 hours in North America; each weekend can be put back-to-back to make a fun and interesting trip without having to spend more time researching your holiday than needed.
From the glamour of New York to the brashness of Las Vegas, and from glitzy Miami to arty Toronto, it's all in there; they've done the hard work for you – the rest is now up to you. That the book looks beautiful and would be an excellent addition to any coffee table is a bonus and makes this one a must for our top reads – and gifts – this year.