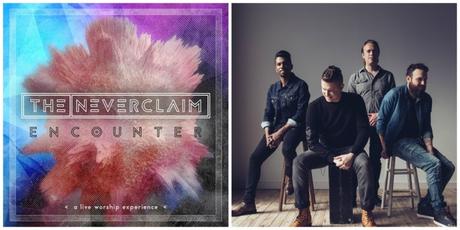 New Worship Songs Come From A Place Of Healing For Lead Singer Jeremiah Carlson,
Whose Past Consisted Of Abuse, Depression, Hopelessness
Acclaimed pop/rock/worship band The Neverclaim releases its first full-length live worship album, Encounter: A Live Worship Experience, Sept. 30 from Radiate Music. Recorded live at the Franklin, TN-based Vineyard Church just outside of Nashville, the album was produced by the band's Jeremiah Carlson (lead vocals), Mitchell Maldonado (guitar/keys), Chuck Hill (bass) and Beji George (drums), and expresses the band's story of being broken people who are now a testimony to the extravagant love, grace and goodness of God.
Encounter finds The Neverclaim reconnecting with their roots as a worship band and during a season where they are heavily investing into the local church. Carlson is the Young Adult Pastor at Vineyard Boise where Maldonado is Director of Media Production, George is at a Houston Vineyard church, and Hill is part of a Vineyard church plant in Bloomington, IL.
"Every story of hope in a desperate situation starts with an encounter with Jesus," shares Carlson, underscoring the passion for this project. "He alone holds the power to break off chains of fear, shame, anxiety and depression. He alone can redefine who we truly were made to be. He can take all the brokenness from our past and turn it into something beautiful."
Framing the overarching theme of the album, the anthemic title track gives worshippers language to call on God to intervene. "Through a simple encounter with Jesus, everything changes," says Carlson. "No matter what kind of life people have lived when they encounter Jesus, they are wrecked for anything else but Him."
The song "Testimony" on the album is the natural progression of an encounter with God, and is a collective shout of praise for Christ's redeeming work, while "Through Christ," first featured on The Neverclaim's 2015 album, The Joy, comes from a very personal experience in Carlson's story. Born out of an extramarital affair and sexually abused as a child, Carlson says he experienced anxiety, self-hatred and was suicidal.
"Christ alone has been my strength, guide and the only one who could speak the reality of my true identity in Him," says Carlson through the healing process of all these broken situations. "I am His child and through Him every battle I have ever faced and will ever face is already won in Him."
The album also features The Neverclaim's version of the classic hymn "How Great You Art," as well as the live versions of "Rules And Reigns" and "Our God Wins" from The Joy.
The full Encounter tracklist follows:
Our God Wins
Testimony
Through Christ
Encounter
Where You Are
Breathe
Man Of Sorrows (Jesus Our Victory)
Rules And Reigns
Touch The Sky
How Great Thou Art
About The Neverclaim:  The Neverclaim soared onto musical radars with 2012's Revival being named a top 10 Worship Leader Magazine album of the year. The recording was followed by the band's self-titled Essential Records debut in 2013 climbing all the way to No. 34 on Billboard's Top Heatseekers Albums chart and earning a top 5 worship album of the year nod from NewReleaseTuesday.com. Seeking to see lives transformed by experiencing God and His love and having gone through a series of personal and professional refining, The Neverclaim released The Joy amidst acclaim in 2015. The Neverclaim also partners with One Child Matters (www.onechildmatters.org), and has toured with Third Day, Skillet, Newsboys, Amy Grant, Michael W. Smith, Kutless, Tenth Avenue North, Matt Maher, Sanctus Real, Phil Wickham and Jamie Grace. They have further been featured on The Rock & Worship Roadshow, numerous festivals and at events like Walt Disney World's Night Of Joy.
All the latest The Neverclaim news, tour dates and more can be found at www.theneverclaim.com, Facebook, Twitter, YouTube, Bands In Town and Instagram.
About Radiate Music:  Founded by GRAMMY nominated, two-time Dove Award-winning Producer of the Year Ian Eskelin, Radiate Music launched summer 2015. Eskelin's 20-plus-year resume in the music business, ranging from being a recording artist to a record executive, gives him a unique perspective in partnering with artists who are passionate about impacting culture with music. Eskelin, who has recorded more than 50 Top 10 singles in the United States alone, including 18 No. 1 songs, and whose songs have been licensed for use by ABC, NBC, CBS, Spike TV, Style Network, Soul Surfer and many other movies, is looking to break additional ground with Radiate. In addition to The Neverclaim, Radiate's artist roster includes About A Mile, Austin & Lindsey Adamec, Pearl City Worship and Aaron Buchholz.
~ ~ ~ ~ ~ ~ ~ ~ ~ ~ ~ ~ ~ ~ ~ ~ ~ ~

It would be great if you would stay connected with me!! You can follow me on Twitter @DebiL1611, like me on Facebook at 2014 and Beyond, circle me on Google+, follow me on Tumblr, Instagram and Bloglovin', subscribe on YouTube, or connect with me on LinkedIn and Pinterest.

Please make sure to visit my homepage and subscribe to my blog for more great posts on running, fitness and lifestyle topics as well as food, product, music and book reviews, and more!