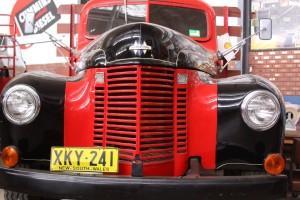 So where do old semi's, trucks, road trains and other wheels of the road go to rest? If it is in Australia, most likely to the National Road Transportation Museum in Alice Springs – a small community located along the legendary Ghan train line about one half way between Adelaide in the South and Darwin in the North.
When your focus is on large vehicles you need a significant amount of space! This privately owned museum is just outside of town on 2,000 acres of land. The museum and displays take up just a fraction of this enormous property however this is not a little country museum you show up to, spend an hour and then leave. This place is huge and transportation enthusiasts can easily spend half a day here if not well more than that.
Founders Liz Martin and Kel Davis opened the museum with merely two vehicles in 1995. They wanted to preserve Australia's trucking industry and were concerned at the time that many of Australia's old vehicles out on the cattle stations were rusting away and or being dismantled for various parts. Liz has been a truck and bus enthusiast all her life and Kel used to drive motor coaches.
As Liz says, "you don't necessarily need to be interested in trucks because what we try and portray is the history of Australia from a trucking perspective but we try to bring in the personal aspect of this industry. We don't just look at all the motors and the technical specifications of the vehicles – rather we look at the industry as a whole, the hardships of the industry and also some of the characters that are larger than life. Those that drove the vehicles and made all sorts of crazy modifications to keep them going in the bush".
Some of these road trains have their own "fan clubs" and people come from around the world to visit some of the more unique trucks on display!
Trucks are donated from individuals throughout Australia. One gentleman donated an old truck – it was the only one he owned for 26 years. Why donate it now when he was still working? He told the museum when they posed that question to him: "I want to come and see it when I am 85 years old and in a wheelchair – to give it a pat on the hood for supporting my livelihood for so many years".
Individuals are not the only ones who donate vehicles – a number of prominent trucking companies sponsor displays or in the case of Kenworth – donated upwards of 10 million AU dollars for the construction of a building on site to house both current and historical Kenworth vehicles used in Australia. You see these trucks on the road all the time – but when you stand next to them you realize just how massive they actually are.
Then there is Kurt Johannsen, the inventor of the modern Road Train in Australia. He dropped out of school at age 11 – never was formally trained in any vocation but was a natural born engineer. He developed a unique vehicle with steering wheels on each trailer – this was instrumental in helping navigate some of Australia's very narrow and windy bush tracks. His vehicles were somewhat snakelike in function. Some of his original vehicles are on display.
What is truly a classic historical truck is the AEC government road train (one of their first two vehicles acquired for the museum). A camelier located this vehicle rusting away in a scrap yard with a tree growing through it! AEC is Associated Equipment Company – and this is the only vehicle of its kind in the world. It was built in 1934 and contains 8 wheels down each side.
Three hundred plus vehicles are on site – both on display and in storage. A large building that was recently constructed now houses even more vehicles. The museum works with groups and tours to offer private lunches or dinners on site often combined with a personal guided tour. With a commercial kitchen on site, they do most of the cooking in house.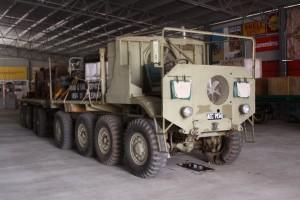 A number of rooms organized by specific categories depict themes such as military, women in trucking, coaches (did you know Greyhound was founded in Australia!?), engines and more.
For those taking the Ghan, a special rail depot next to the original train track focuses on the history of this cross country train – stories from those who rode it's rails, a video showing the last Ghan to arrive on these tracks and items from within the railcars are on display. Several Ghan cars are available for inspection both inside and out – on the nearby train tracks. You can walk through history – one car dates from the early 1940′s and other car from the 1960′s.
The museum helps operate through the kindness of volunteers. They are always on the lookout for the "grey nomad" as they say – someone who perhaps is retired and has an interest in vehicles and wants to donate time. With all the land, they let their volunteers live in their RV's on site while volunteering.
The site is also home to the National Railroad Hall of Fame and hundreds of plaques line the walls with inductees.
Both Liz and Kel work on site and are always around. Personal tours with them can be arranged ahead of time.
Location: Norris Bell Ave (about 5km south of town) – they are open 7 days a week. For more information visit: www.roadtransporthall.com
Australia's first Hybrid truck
Kenworth, Pretty in Pink
Kenworth Display Hall
License plates as far as the eye can see up the wall!
Historic Ghan Railway Car
What a place! National Road Transport Museum Alice Springs #NTAustralia #epicOZ. Could spend days here! 2000 acres! pic.twitter.com/F42hwkJ76N

— Dave's Travel Corner (@DaveDTC) February 5, 2014