Opened only a year ago, Narita International Airport Terminal 3 is the newest of the three terminals at the mega-airport. As the only airline operating at the said terminal with flights to the Philippines, Jetstar Japan gave me the chance to experience it recently. Read more…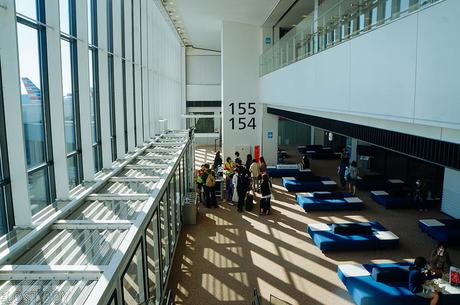 THE AIRPORT
Opened on April 8, 2015, Narita International Airport Terminal 3 was built as a response to the growing demand for low-cost carrier (LCC) travel in Japan. According to the airport:
Three basic concepts have been used to design the Terminal 3: Casual, Functional and Exciting. The objective is to enable travelers to relax in a comfortable environment that is simple and easy to use. For the LCC tenants, the new terminal comes full of innovative ideas that will allow them to operate efficiently at low cost while, for passengers, navigating through the facility will be easy thanks to the prominent information signage. Opening of the Terminal 3 is a fitting tribute to the age of LCC travel, and will offer travelers a broader range of options and add so much more convenience to use Narita Airport.
Although meant for low-cost carriers as mentioned, the airport's administration seemingly did not skimp on design. It commissioned Japanese creative lab PARTY to undertake the terminal's design with the help of architectural firm Nikken Sekkei and renowned retailer MUJI. The result, which without a doubt successfully married functionality and style, was so well-received that it became the first airport recipient of Japan's Good Design Gold Award in 2015.
ARRIVAL
We arrived in Tokyo-Narita aboard the inaugural flight of Jetstar Japan GK40 from Manila. Upon stopping at the assigned parking bay, we were deplaned using airstairs rather than an aerobridge like all flights at Terminal 3. We then took the awaiting buses to the terminal building, and the ride across the tarmac, with a full view of the ground activity, was brief.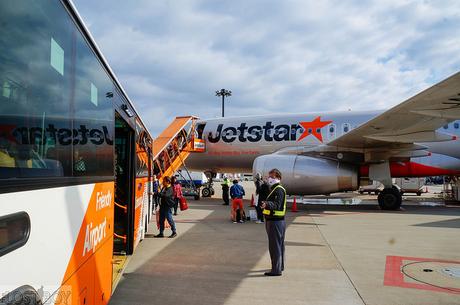 At the terminal, well-designed directional signage greet arriving passengers. It only took us a few minutes' walk to get to the immigration queues, and since we were arriving early morning, we were the only flight being processed at the time—the wait wasn't long at all.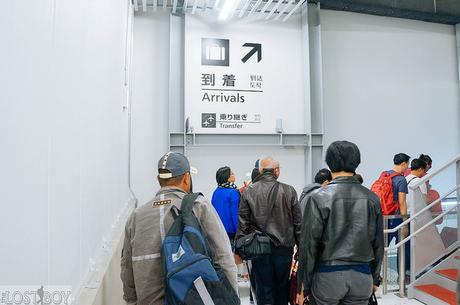 What caught me by surprise was that upon descending to the carousels, our baggage were already being rolled out. Jetstar Japan's baggage handling is clearly efficient.
To get to Tokyo, we opted to take the JR Narita Express. At the moment, the stations of the airport trains (JR and Keisei lines) are at Terminal 1 and 2 only. Nearer of the two to Terminal 3 is the latter; passengers going there may either take a free bus service or walk about 550 meters.
To get to know the terminal better, we chose to walk the pathway connecting Terminal 3 and 2, which rather uniquely, has colored "running tracks" to guide passengers. It took us about 10 minutes, luggage in hand, to cover the distance. It was cold out, so it was an easy walk.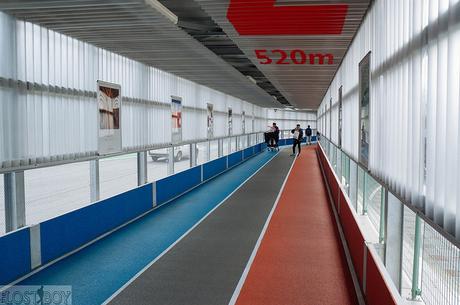 DEPARTURE
I took the JR Narita Express again from Tokyo to get to Narita Airport. I disembarked at Terminal 2, and clear signage directed me to the tracks leading to Terminal 3. Carrying heavier luggage with me, I chose to take the bus. Luckily, one was already waiting to depart when I got to the stop, so it only took me ten minutes total to transfer between the terminals.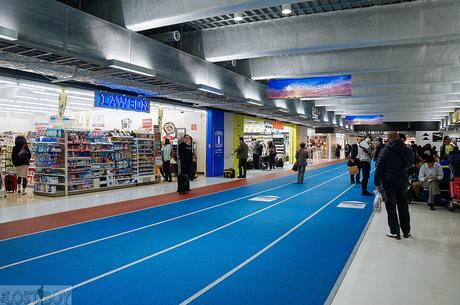 The Jetstar Japan check-in counters, which are shared by Jetstar Airways for Australia flights, are easily found near the departures entrance. Despite a long line, I didn't wait for too long to be processed—it seemed that my flight was the only international one being handled at the time.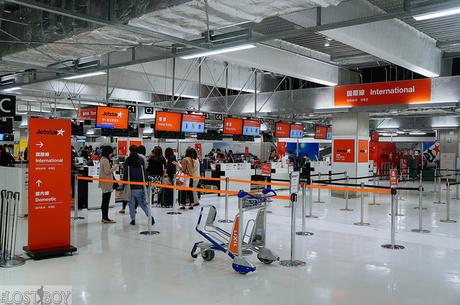 The Jetstar Group's presence at the terminal is very apparent. After all, Tokyo-Narita is one of their hubs, and they are the biggest LCC not only at the airport but in all of Japan. Aside from the many check-in counters, what caught my attention were the self check-in pods with large touchscreens—I'll definitely use them when I fly domestic with Jetstar Japan.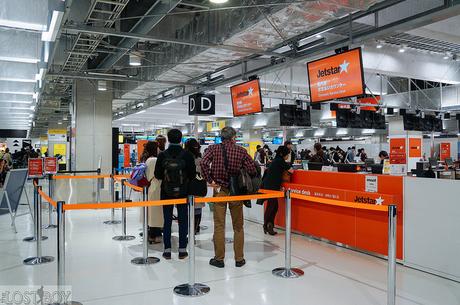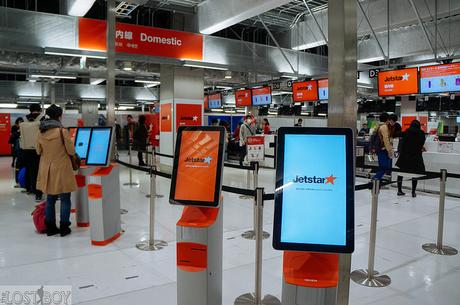 As I had time to kill, I grubbed at the food court, which has a respectable array of international food choices. Notable were the beautifully sleek wooden tables and chairs by MUJI.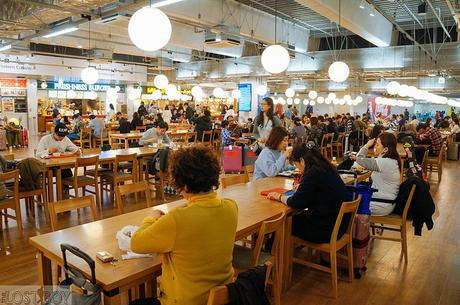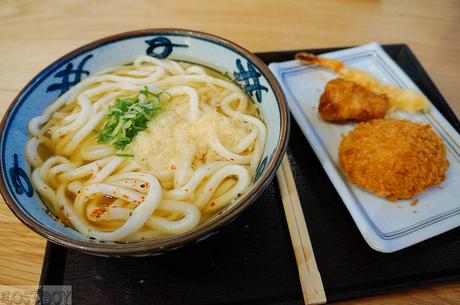 Security and immigration checks were smooth and hassle-free, and I love how straightforward the process was.
Likewise, I loved how simply laid out the departures concourse is. Although admittedly, it does lack the amenities of other airports, it makes up for it with its clean design, modern feel, and sleek furnishing by MUJI. And honestly, I was happy that I didn't have to walk too far to my gate.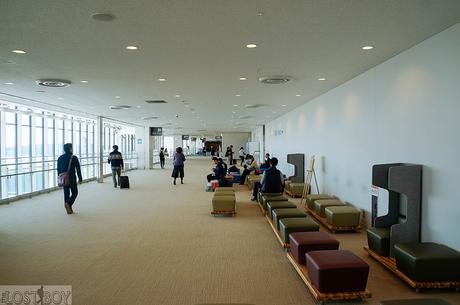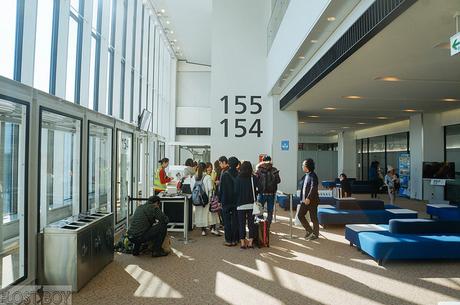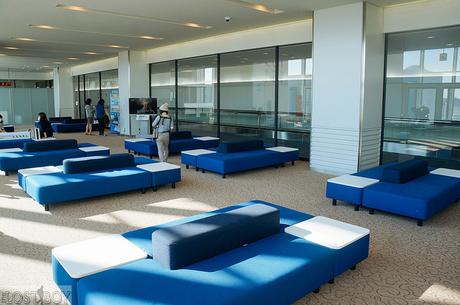 Boarding was swift and thankfully orderly, and again, instead of an aerobridge, we used airstairs right outside the building. It wasn't a problem though, as I had the chance to take a shot of our plane bound for Hong Kong that morning.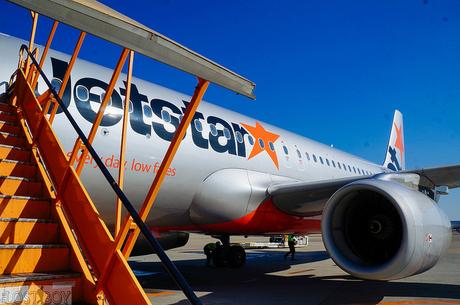 TRANSIT
Surprisingly, Narita International Airport Terminal 3 does have facilities for international transfers, allowing visa-free connections to the other airlines that have a codeshare or interline agreement with Jetstar Japan or Jetstar Airways. It's something I will discover next time.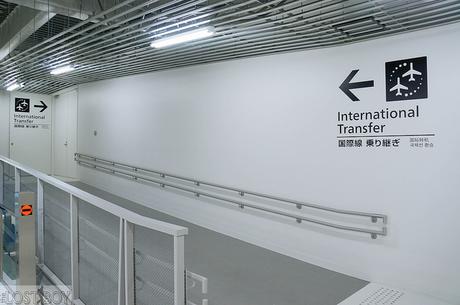 Jetstar Japan flies up to seven times weekly between Manila and Tokyo (Narita). Starting April 1, 2016, it will introduce Nagoya, flying also up to seven times weekly, while starting April 7, 2016, it will have up to four times weekly services to Osaka to complement Jetstar Asia's four times weekly service. The cheapest fares may be booked at jetstar.com.
RELATED ARTICLE
Jetstar Japan: What You Need to Know
Jetstar Japan Now Flying Between Manila and Tokyo (Narita)